Russia's Regime-Change Experiment in Belarus Runs Into Difficulties (Part One)
Publication: Eurasia Daily Monitor Volume: 17 Issue: 140
By: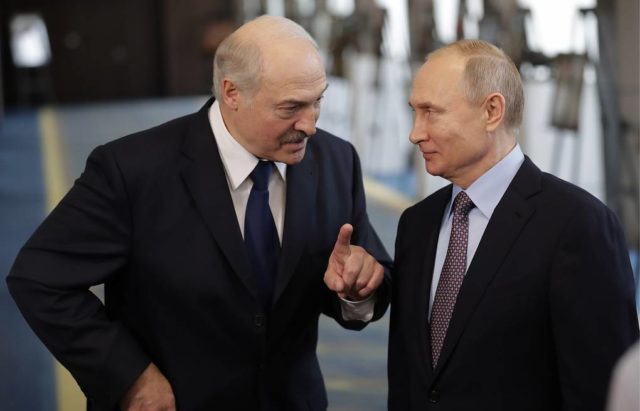 The Kremlin is conducting a regime-change operation in Belarus, the first-ever Russian operation of this type in its "near abroad." Belarus's presidential election campaign from May to August and the election's aftermath have provided the launching pad for this operation.  It is premised on the political objective to replace the disobedient President Alyaksandr Lukashenka with a weaker regime, more amenable to Russian interests in the political, economic and military domains.
Lukashenka had strongly and skillfully resisted integration with Russia in these domains for many years. He finally exasperated the Kremlin through his uncompromising stand on Belarusian sovereignty. Lukashenka's government basically adheres to the terms of a 20-year-old grand bargain with Moscow: explicitly renouncing Belarus's integration with the West in return for Russian economic subsidies and respect for Belarus's state sovereignty. Lukashenka has based this resistance on impregnable political power in the country, the governing class's ever-deepening stake in sovereign statehood, the population's interest in preserving the advantages of the Belarusian social state, and an increasingly creative multi-vector foreign policy (the latter was never intended to presage integration with the West).
Those sources of regime strength help explain its resilience vis-à-vis the protest movement as well as vis-à-vis Russia. Only the rapprochement with the West has been wholly derailed by the unvarnished rigging of the August 9 presidential election, the unjustifiably harsh repression of post-election protests, and Lukashenka's theatrical anti-Western rhetoric to appease Moscow. This has isolated him and his government from the West, playing in favor of Russia's undertaking for regime change in Belarus (see EDM, September 10).
Planned ahead of the presidential election in Belarus, the Russian undertaking is designed as a soft variety of regime change. As such, it envisages easing out Lukashenka, securing or compelling his cooperation over a transitional period as part of a constitutional settlement that would turn Belarus into a  parliamentary republic. Moscow aims to arbitrate this process and seize the key levers of influence over Belarus through controlled political parties and state property takeovers, preparatory to a "deeper integration" of Belarus with Russia.
As a collateral benefit, that kind of constitutional reform could be presented as Russia's constructive contribution to peaceful stabilization and even a democratic opening in its neighborhood. This argument could then serve to support, or at least test, a new "reset" in the West's relations with Russia.
Moscow had initially decided to use Belarus's presidential election as an opportunity to undermine Lukashenka through the candidacies of Viktar Babarika, Valery Tsepkalo, and Siarhei Tsikhanouski (replaced by spouse Sviatlana Tsikhanouska). They could not be expected to win the presidential election in August but could have complicated Lukashenka's situation in the election's aftermath, launched political parties or movements, split Belarus's ruling establishment, pressed for system pluralization and power-sharing, and set a regime-change process in motion from the post-election period onward. Coupled with drastic cuts in Russian economic subsidies to Belarus, this kind of controlled destabilization could have turned Lukashenka into a lame duck, and made room for successors more amenable to Russian interests (see EDM, September 16).
That advanced planning, however, was thrown off course (at least temporarily) by two factors: First, the magnitude of post-election protests in Belarus, far exceeding anything that Minsk, Moscow or the West could anticipate. And second, the resilience of Belarus's governmental apparatus, holding out (thus far) confidently in a two-front struggle—against domestic protests and against Russia's demands on Lukashenka to initiate his own abdication.
The Kremlin and the Belarusian protesters (or at least the political figures speaking for the protesters) share the common goals of removing Lukashenka from power and turning Belarus into a parliamentary republic. However, they differ starkly over the process of implementing such changes.
Politicians speaking on the protesters' behalf deem Lukashenka  illegitimate and call for an undelayed transfer of power to the opposition; they would then proceed with changing the constitution and preparing new presidential and parliamentary elections. This implies that the opposition would itself organize the constitutional reform and transition process (see EDM, September 30).
The Kremlin, however, treats Lukashenka as the legitimately reelected president. It wants him to cooperate with the constitutional reform that would lead to new presidential and parliamentary elections in a parliamentary republic, within a transition period of one to maximum two years. Moscow needs Lukashenka's visible cooperation (even if unwilling) with this process in order to preserve the formalities of Belarus's sovereignty, constitutional continuity, and Russian non-interference in the country's affairs.
Moscow, furthermore, needs the transitional period in order to peel off and coopt elements from Belarus's governmental nomenklatura, security apparatus and top management of state industry (with the takeover of key assets undoubtedly in mind). And, as long as protest activities continue in Belarus, the Kremlin needs Lukashenka's loyal security apparatus to deal with the street rallies and keep the situation (broadly if not fully) under control. All this plays in favor of Lukashenka's government. It is gaining time, while Moscow finds it necessary to slow down the pace of political change in Belarus and consider prolonging the transitional period. Lukashenka is gaining some political counter-leverage vis-à-vis Moscow. Conversely, Moscow might consider a degree of instability in Belarus as useful in order to regain the leverage it enjoyed over Lukashenka in an earlier phase of the protest movement.