Russia's Regime-Change Experiment in Belarus Runs Into Difficulties (Part Two)
Publication: Eurasia Daily Monitor Volume: 17 Issue: 141
By: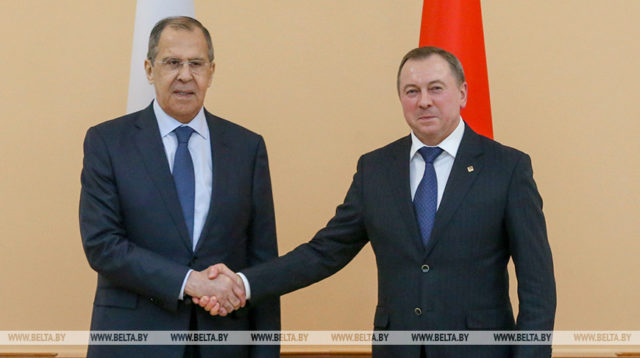 For now, the Belarusian authorities are holding out confidently against regime change on both fronts: against the domestic opposition and against Russia's initial regime-change project. The latter could be seen lurking behind the thwarted presidential candidacies of Valery Tsepkalo, Viktar Babarika and Siarhei Tsikhanouski. Those candidacies were designed not to win the August election but to launch opposition movements against President Alyaksandr Lukashenka's rule after the election, coupled with drastic cuts in Russian economic subsidies to Belarus. The election's rigging and subsequent mass protests, however, compelled all sides to shift gears (see Part One in EDM, October 7).
Moscow unveiled its next (or revised) regime-change scenario publicly on September 2 through its foreign affairs minister, Sergei Lavrov. He told his visiting Belarusian counterpart, Uladzimir Makei, that Lukashenka should engage in a national dialogue on constitutional reforms that would dismantle the presidential system of government, redistribute state powers to ensure their dispersal, and mandate new presidential and parliamentary elections on this basis. Moscow envisaged a transitional period of 1–1.5 years for these changes to be introduced and Lukashenka to step down (Mid.ru, Mfa.gov.by, September 2; Facebook.com/belarusmfa, September 4).
The Kremlin claimed at that point and at each subsequent step that the constitutional reform initiative originated with Lukashenka himself, not Russia. This claim is accurate only in the most general sense that Lukashenka had proposed, well ahead of the presidential election, to amend the constitution in the sense of de-personalizing power. Moscow, however, envisaged at that point turning Belarus into a dysfunctional parliamentary republic open to Russian manipulation. Moscow had already vetted a proposal tending in that direction that Minsk formally presented to the Organization for Security and Cooperation in Europe (OSCE) (TASS, August 17).
Two weeks after the Lavrov-Makei meeting, Russian President Vladimir Putin repeated the same message about constitutional reform to Lukashenka at their meeting in Sochi. By that time, however, Belarusian authorities were becoming confident that they could weather the storm of protests. Lukashenka declined to mention the constitutional reform in his public remarks at the Sochi meeting, and generally held his own against Putin there (see EDM, September 16). Meanwhile the Belarusian authorities are preparing their own concept of constitutional reform and the format of a national debate in that regard.
The authorities have managed to reduce and roll back the protests through systematic repression, but also by capitalizing on state cohesion and resilience (repression alone would not have sufficed). While the protests are still far from defused and the authorities under Western attack, the authorities are able to convert their precarious situation into defensive leverage vis-à-vis Russia. On that basis they can and do convincingly ask Moscow to provide political and economic support for Belarus under the incumbent authorities. As long as protests continue, and the economy deteriorates, Moscow would not risk adding to instability by pressing for its concept of constitutional reform (euphemism for regime change), nor for a definite transitional period (euphemism for Lukashenka's departure). Instead of starting a countdown on these authorities, Moscow is now helping to stabilize and tide them over through the crisis period.
Recent telephone calls between Lukashenka and Putin (the former invariably initiating the calls) no longer mention Belarusian national dialogue, constitutional reform or transitional period in the official readouts on either side. They also avoid controversial matters of the "integration" of Belarus with Russia. Instead, the readouts underscore bilateral cooperation, trade, joint anti-coronavirus measures, and rebuffing "external interference" in their respective internal affairs (TASS, BELTA, October 2, 7).
The traditional Russia-Belarus investment forum—an annual event at the inter-governmental and inter-regional levels—went ahead on September 25–29 as pre-scheduled, despite concerns that it might be canceled. Contracts amounting to $700 million were signed. Minsk traditionally maintains direct economic relations with Russia's federal entities. Those oblast-level governors are an important political constituency for Lukashenka in Russia. Addressing the Minsk investment forum by video, President Putin accentuated the need to stabilize Belarus's economy at this time (BELTA, September 29).
For the time being, at least, Moscow refrains from inserting itself into Belarus's constitutional reform process. On October 3, the Belarusian parliament appealed to citizens and public organizations to send in suggestions about changes to the constitution and reforming the political system (BELTA, October 3). Suggestions collected by October 25 are to be forwarded for debate to a specially convened forum, presumably an All-People Belarusian Congress, as one form of the "national dialogue" (see above). Such a procedure will be liable for criticism as top-down authoritarian, and lacking the benefit of Western advice. Yet nothing else can realistically be expected at this stage. From the standpoint of Russia-Belarus relations, however, what counts at this point is Belarus regaining sovereignty over its constitutional process.
The Kremlin is apparently holding its initial regime-change project for Belarus in abeyance at the moment. The reprieve may well be a temporary one, evidently dictated by internal and international circumstances unforeseen by all sides and escaping all sides' control.