Armenia Is Losing in Karabakh, and Russia Stays on the Sidelines
Publication: Eurasia Daily Monitor Volume: 17 Issue: 141
By: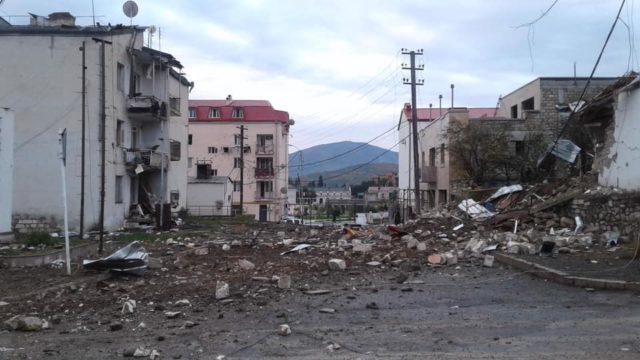 Armenia's and Azerbaijan's armed forces are fighting over the disputed region of Karabakh. The two sides have been preparing for a renewed war over this territory since the May 1994 ceasefire agreement ended the previous hostilities, which the Armenians won, securing de facto control of Karabakh and occupying a number of neighboring areas previously populated by Azerbaijanis. But the narrative of the current clashes is not playing out as most observers, either in Yerevan or Moscow, believed it would. The Azerbaijani military—rearmed by Turkish, Israeli, Russian and South Korean modern weapons systems as well as supported politically, diplomatically and apparently militarily by Ankara—has maintained the upper hand in the first ten days of fighting. Baku has for years tapped the country's oil wealth to spend billions of dollars on procuring expensive foreign weapons the Armenians have been unable to acquire or even afford. Still, there was a strong belief in Yerevan and Moscow that the Azerbaijanis are inferior soldiers, as in the first Karabakh war, and that the Armenian soldiers' superior organization and fighting spirit would prevail against a better-armed foe (Militarynews.ru, September 28).
Yet as a famous maxim dictates: there is no such thing as bad soldiers, only bad commanders. That maxim was seemingly proven true once again on the present Karabakh battlefield. Before the current hostilities began, Yerevan did not seem overly concerned by the worsening crisis situation in Karabakh or the escalating war rhetoric on both sides. On September 20, Azerbaijani President Ilham Aliyev publicly accused the Armenian prime minister, Nikol Pashinyan, of provoking a major war. At the same time, he demanded that Armenia "unconditionally evacuate Karabakh" since Azerbaijan's military has the capability to clear the Armenians out (Rosbalt, September 20). Baku had secured an agreement with Tbilisi to stop arms shipments to Armenia "from Russia and Serbia." Aliyev thanked Georgia and implied that Armenia is continuing to receive weapons via transport aircraft flights over the Caspian Sea and Iranian territory (Militarynews.ru, September 20). In Yerevan, Aliyev's war talk was denounced as "frustrating rhetoric" by a leader "disconnected from reality." Azerbaijan's decision to go to war, it seems, had already been taken, but the Armenian authorities apparently dismissed Aliyev's warning as a rant (Militarynews.ru, September 20).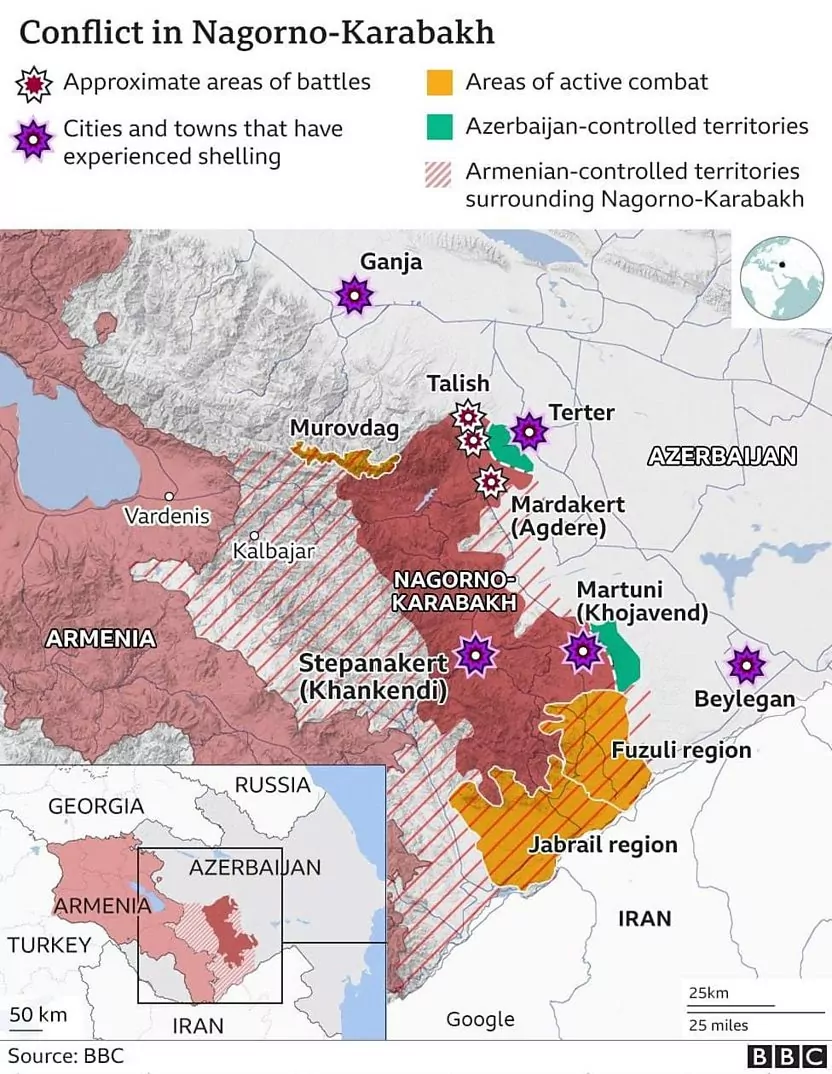 The Armenian leadership expressed confidence it could "defend the sovereign rights of the people of Artsakh [Armenian name for Karabakh] and their right to self-determination" (Militarynews.ru, September 20). On September 26, hours before the new Karabakh war commenced, the massive Kavkaz (Caucasus) 2020 strategic military exercises ended in southwestern Russia, with President Vladimir Putin attending the main war game event in Astrakhan oblast. According to the pro-Kremlin site Vzglyad, Kavkaz 2020 modeled a large-scale regional war in the Caucasus and was intended to send a strong message to Turkey and Azerbaijan to stand down. Kavkaz 2020 included land, air and sea military operations, possibly mimicking the invasion of Azerbaijan via each of these warfighting domains. Armenian forces participated in Kavkaz 2020 together with contingents from China and Belarus. Iranian warships joined the Russian Caspian Flotilla, but Azerbaijan refused an invitation to participate (Vzglyad, September 26; see EDM, September 14, 23).
The Armenian and Karabakh forces, armed and trained in the best Russian (Soviet) military tradition, evidently were expecting to decimate the initial assault by the elite frontline Azerbaijani units. They expected that a successful counterattack would rout the enemy, forcing it to retreat in disorder, abandoning its Israeli, Turkish, Russian and South Korean weapons—as happened before, in 1993–1994. Instead, the Azerbaijani troops, armed and trained by Israelis and Turks, forced on Armenia a modern war with massive use of drones that provide constant targeting information and carry out their own precise attacks. As a result, Azerbaijan took the battlefield initiative and has held onto it for more than ten days, while Armenian counterattacks have mostly been ineffective and an overall Armenian counteroffensive failed to materialize. Guerrilla-style forces—like Hezbollah in southern Lebanon facing Israel, or the Taliban in Afghanistan—developed effective asymmetrical tactics, allowing them to take on modern armies equipped with drones and GPS-targeting capabilities. But the Armenian military is a regular combat force, which relies on large numbers of heavy weapons and is trained to fight in the Soviet style of warfare. The Armenians have thus found themselves at a serious disadvantage in the second Karabakh war, as they discovered they could not mass men, guns and armor to launch an effective counterstrike that Soviet military dogma demands. Azerbaijani forces repeatedly uncovered Armenian preparations early and relentlessly hit them with shells and missiles (Novaya Gazeta, October 8).
The morale of the Armenian soldiers looks shaken, but they have not been routed. They remain a basically good military, albeit not prepared or equipped for modern warfare. Azerbaijan has captured some territory, but the ultimate goal of retaking all of Karabakh is still far off. The conflict may be evolving into a war of attrition, which Armenia has little chance of winning since it is smaller than Azerbaijan and politically and geographically isolated. Meanwhile, both of Armenia's regional backers—Iran and Russia—are maintaining a low, semi-neutral profile. Tehran and Moscow have each called for the fighting to stop, but neither wants to openly stand up to Baku and both recognize Karabakh as legally Azerbaijan's sovereign territory (Lenta.ru, October 6). Putin has insisted Russia is ready to defend Armenia as an allied member of the Russian-dominated Collective Security Treaty Organization or CSTO, but these obligations do not cover Karabakh (Interfax, October 7).
Unconfirmed reports circulate that the notorious private military company (Chastnaya Voennaya Companiya—ChVK) Wagner Group's contractor anti-tank missile operators or mercenaries have been deployed to Armenia to take on Turkish-supported forces backing Azerbaijan—as they have been doing in Libya (Svoboda.org, October 1). Moscow seems to want to maintain balance between Baku and Yerevan, but undercover and with plausible deniability. The Russians will not do much to save Pashinyan or Armenian-occupied Karabakh. The Kremlin's worst nightmare is Turkish President Recep Tayyip Erdoğan massively moving his military in and ejecting Russia from the South Caucasus or even the entire Caucasus. While that is not yet happening, the Kremlin appears ready to allow the Armenian military to be humiliated in Karabakh if that loss can facilitate the fall of Pashinyan, whom Moscow considers a "Western stooge."