Lukashenka Holds His Own With Putin in Sochi (Part One)
Publication: Eurasia Daily Monitor Volume: 17 Issue: 128
By: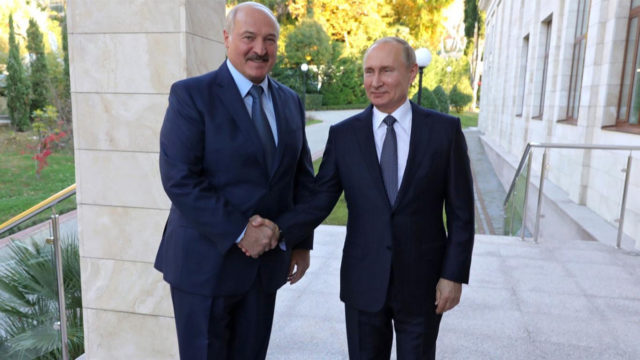 Russian President Vladimir Putin held a lengthy tête-à-tête with his Belarusian counterpart, Alyaksandr Lukashenka, on September 14, in Sochi—their first meeting since the outbreak of mass protests in Belarus against the flawed August 9 presidential election. Having mismanaged the election, used excessive force against protesters, and reverted to shrill anti-Western messaging (see EDM, September 8, 10), Lukashenka turned to Russia for economic, political, advisory and security-sector support. He risks undoing his own work of nearly two decades to safeguard Belarus's independence from Russia; and he is forfeiting his more recent successes at rapprochement with the West.
Some Belarusian government officials are trying hard to keep the lines open to the West. But the Kremlin is moving faster to capitalize on Lukashenka's self-inflicted vulnerability. Back-to-back visits by Belarus's Foreign Minister Uladzimir Makei in Moscow, on September 2, and Russian Prime Minister Mikhail Mishustin in Minsk, on September 3, revealed Russia's intention to bring Belarus under control (Interfax, BelTA, September 2–4). Russia would help "save" Lukashenka's presidency for a limited period of time and guarantee him an honorable exit, if Lukashenka facilitates a Russian-driven constitutional reform for regime change in Belarus.
Putin and Lukashenka conferred, one-on-one, for more than four hours in Sochi. That meeting ended with no concluding press conference and no joint communique. Nevertheless, the two presidents' introductory remarks for the media (RT, September 14) as well as Kremlin spokesperson Dmitry Peskov's concluding readouts (TASS, Interfax, September 14) shed some light on their respective goals.
Putin proposes, in essence, to help Lukashenka stabilize the situation by opening the country to Russian influence and control. The meeting evidenced Putin's assessment that Lukashenka has become too weak to hold the line against Russia for any length of time, but still retains some strength to negotiate the terms of transitional arrangements. Lukashenka's presidential incumbency is certainly a trump card for him in any deal with Putin. The Kremlin needs Lukashenka to participate as president in the transfer of powers to a new Belarusian regime so as to ensure a formal constitutional continuity. This is Moscow's foremost reason at this time to emphasize that Lukashenka is a legitimately elected and recognized president. Putin strongly conveyed this message at the Sochi meeting.
Lukashenka's other trump cards at this juncture include the cohesion and discipline of the governing and administrative class, the loyalty of the law enforcement system, and Lukashenka's convincing display of personal resolve and tenacity. All those factors have successfully passed the stress tests in the political crisis thus far. It seems, however, only a matter of time until Moscow initiates a more systematic attempt at peeling off and coopting individuals or groups.
Moscow has charted a series of legal, political, economic, and possibly military steps to bring Belarus under control via regime change over a transition period of one or two years. The process would start with a constitutional reform that would enable Russia to manipulate the Belarusian state from within (see EDM, September 10).