Belarus's Political Crisis as a Theater of the Absurd
Publication: Eurasia Daily Monitor Volume: 18 Issue: 112
By: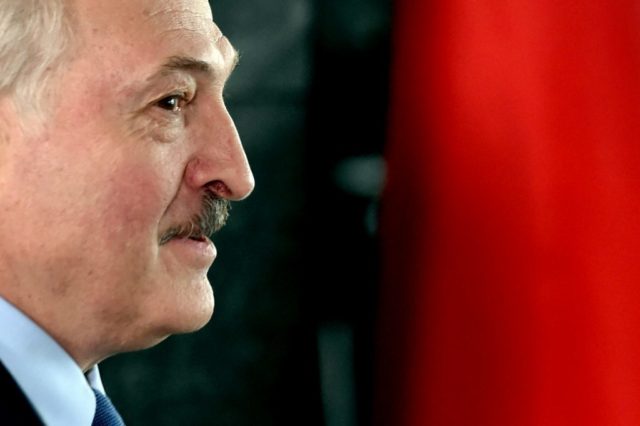 On July 6, a Belarusian court handed a 14-year prison sentence to Victor Babariko (BelTA, July 6), perhaps President Alyaksandr Lukashenka's strongest political rival. Babariko was arguably best positioned to actually win a would-be free and fair presidential election against the incumbent, if he had been allowed to run last year (see EDM, June 10, 23, July 29, 2020). Under some other circumstances, the allegations leveled against Babariko, including that he took huge bribes while in charge of a bank for 20 years, might have been worthy of serious scrutiny. But when the major rival of a sitting president is arrested less than two months before the election, the notion that the prosecutorial decision was made for any reason other than political considerations, predictably, looks dubious. According to the just-released end-of-April survey by the London-based think tank Chatham House (CH), Babariko continues to be the most popular politician in Belarus: 25 percent of those 937 surveyed Belarusians said he would make the best president (Chathamhouse.org, June 30). However, considering that CH's internet-based opinion polls routinely undervalue Lukashenka's support base (see EDM, March 2), the most revealing result of this survey is that the sitting president is still ranked number two, with 23 percent. That is, even by CH's estimates, Lukashenka appears to have a solid support base—which may well account for as much as one-third of the electorate.
In the meantime, however, Lukashenka's retaliation against the European Union's economic sanctions continues unabated. Following the termination of German-funded institutions inside Belarus (see EDM, July 7), the government closed the Minsk office of Euroradio (Reform, July 5), an active media outlet funded by USAID and headquartered in Warsaw. Moreover, the authorities blocked the website of Nasha Niva, a major online newspaper popular with Belarusian Westernizers, and arrested three leading editors of this media outlet (Svaboda.org, July 8). The government's actions amount to a blanket assault on every media entity that uses Western funds. Only Radio Liberty has not yet lost its Minsk office.
Reputable commentators, such as Artyom Shraibman, continue to insist that sanctions against Belarus are risky and that "the logic of escalation [which these economic penalties help to prop up] will rather push Lukashenka […] to demonstratively boost repressions, look for and imprison new enemies inside the country." Perhaps the only effect of sanctions that is not counterproductive in regard to their declared goals would be to make Lukashenka nervous, Shraibman argues (Carnegie.ru, July 7). This latter putative goal certainly appears to have been achieved. For example, on July 6, Lukashenka made an extremely awkward statement about Jews and the Holocaust, to the effect that ethnic Belarusians just need to be more assertive when making the same claim that Jews earlier succeeded in making. That is, Belarusians were, too, subject to genocide, but in contrast to Jews they evinced humility and did not insist on such a qualification, only to be assaulted by Europe again, i.e., through sanctions, etc. The maladroitness of this statement is not only in casting a chillingly opportunistic light on the Holocaust (New Belarus, July 8) but also in retroactively exempting Belarusian Jews, 800,000 of whom perished during World War II, from the history of Belarus at large (Leonid Smilovitsky, Yevrei Belarusi do i posle Holocosta, 2020).
According to Shraibman (now based in Kyiv), when the European Union imposed economic sanctions, "collateral damage, such as costs for ordinary Belarusians, was not taken into account." You cannot make an omelet without breaking eggs, as the head of European diplomacy, Josep Borrell, quipped. Shraibman also observes that Russia, which still stands behind Lukashenka, "can help not only with new loans but also with the circumvention of specific sanctions. For example, if the EU or Lithuania at some stage completely ban the trade of Belarusian potash through their ports, Minsk will have no choice but to build a terminal in the Russian Baltic." "It is unlikely that the architects of exerting pressure on Lukashenka through sanctions want such an outcome," underscores Shraibman, "but they have no other tools to react to [the Belarusian president's] actions," the generally level-headed commentator somewhat dubiously posits (Carnegie.ru, July 7). Moreover, as the well-known opposition-minded economist Yaroslav Romanchuk claims, most of these Western sanctions are easy to dodge even without Russia's help (SN, June 29), which effectively means they are rather symbolic than practical.
Perhaps surprisingly for those not closely following the Belarusian political saga, anti-regime activist Roman Protasevich—whose capture in May was the goal of the authorities' forceful landing of a passenger plane, which in turn triggered European sanctions—has been allowed to obtain a Twitter account (Naviny, July 7). And together with his girlfriend, Sofia Sapega, Protasevich presently resides (under house arrest) in a suburban home (Media Brest, July 8). At the same time, Svetlana Tikhanovskaya, whom many in the West consider the true leader of Belarus, continues to demand that Western countries boost their pressure on Minsk (Svaboda.org, July 7), whether or not appropriate instruments of such pressure are at hand. Moreover, her office has received some kind of a "diplomatic status" in Vilnius, probably ensuring that Lithuania's diplomatic presence in Belarus will soon be reduced to zero (New Belarus, July 9). Even some European students of Belarus, like the Polish analyst Kamil Kłysiński, believe that the Belarusian opposition is least suited to demand sanctions due to the inevitable moral dilemmas such demands entail (Svaboda.org, June 29). Kłysiński seems to be on target: imagining those Vilnius-based exiles ever coming to power in Minsk is now more problematic than ever.
The flip side of this entire theater of the absurd is the Manichean outlook, whereby good is fighting evil, and no nuances, uncertainties or side effects are taken into account. What is good on one side is frequently seen as evil on the other. At issue, therefore, is who blinks first: Brussels or Minsk. Only one happy spectator exists: Moscow. It can just sit back and wait, and it almost certainly likes what it sees.