Belarus: Elections and Sovereignty
Publication: Eurasia Daily Monitor Volume: 17 Issue: 111
By: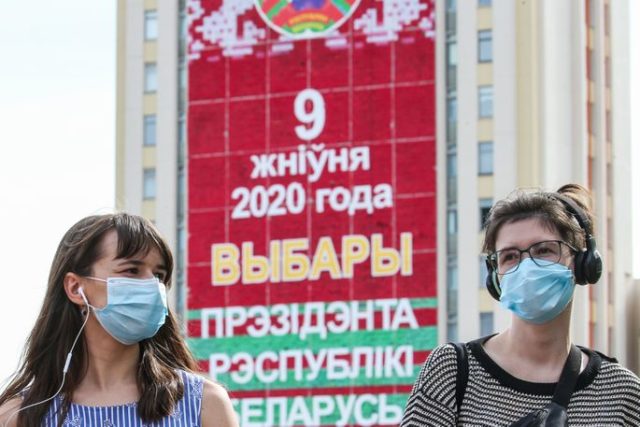 With less than a fortnight to go before Belarus's presidential elections on August 9, predictions remain uncertain. On the one hand, the incumbent President Alyaksandr Lukashenka will almost surely win—perhaps with as much as around 80 percent of the vote. But on the other hand, that ostensibly overwhelming victory may spark new protests of unknown magnitude, with the authorities' reaction to be seen (Kyky, July 23).
For its part, the government has been trying to nip the protest activities in the bud, hoping to discourage participation in any large-scale post-election rallies. Belarusian officials have also been trying to inform Western decision-makers about Minsk's take on the developing situation in order to preempt Europe and the United States from making knee-jerk qualifications of any disturbance in Belarus as a human rights issue. On July 23, the Belarusian deputy minister of foreign affairs and soon-to-be ambassador to the US Oleg Kravchenko held an ad hoc meeting with European Union officials in Brussels (EU Neighbours, July 24). A month ago, Western ambassadors were invited to the foreign ministry for discussions immediately after Victor Babariko, the most formidable challenger to the incumbent president, was arrested (see EDM, June 23).
But even if this year's post-election events stop short of the large demonstrations and mass arrests on December 19, 2010, multiple sources suggest this time the social base of the anti-government protest may be wider than ever before (Gazeta.by, July 24; Naviny, July 20). "There are 3.5 million of us," declared Maria Kolesnikova, head of Babariko's electoral staff, "Let them try to portray us as a minority" (Tut.by, July 22). The aforementioned number accounts for about half of the entire electorate. This is how Kolesnikova assessed the potential vote for Svetlana Tikhanovskaya who, unlike her husband Sergei as well as Babariko, and Valery Tsepkalo, was officially registered as a presidential candidate.
According to Oleg Manaev, a sociologist with a quarter of a century of experience surveying Belarusians, since the 2001 elections, the overall sum of eligible voters not participating in elections and those not voting for Lukashenka has routinely amounted to approximately three million people (Author's interview, July 23–24). But to say that all of them plus half-a-million more would now cast ballots for Tikhanovskaya smacks of hyperbole. According to Andrei Savinykh, a former diplomat who currently chairs the International Affairs Commission of Belarus's House of Representatives, the social base of protests accounts for no more than 10–15 percent of the electorate (Telegraf.by, July 20). The actual scale of the anti-Lukashenka vote may lie somewhere in between.
Regardless, the sudden popularity of Svetlana Tikhanovskaya, a housewife who stepped in to replace her jailed husband, has become a phenomenon. Her 15-minute speech on TV on July 21 (Village, July 21) was not rich on content, but she came across to many as artless and genuine, dedicated to her husband and, most importantly, not interested in wielding power. In fact, Tikhanovskaya's goal is to win on August 9 with the sole purpose of removing the current president in order to conduct "true elections." Curiously, the more programmatic and content-laden speeches of Sergei Cherechen (representing Social Democrats) and, especially, of Andrei Dmitriev (of the Tell the Truth campaign) grabbed much less attention. As Vital Tsyhankou of Radio Liberty asserted, all that matters now is that the acquired image of the presidential hopeful matches popular expectations, not the actual content of his/her statements (Facebook.com/vitali.tsyhankou, July 22).
The sudden departure of Valery Tsepkalo with his two children to Moscow represents a new twist in the electoral campaign. Tsepkalo, a former diplomat and technology entrepreneur, claims that his acquaintances in the Belarusian KGB and Ministry of Internal Affairs (in charge of police) warned him of his imminent arrest and that some associates of the Prosecutor General's Office paid a visit to the secondary school attended by Tsepkalo's kids, allegedly to gather information the authorities could use to strip him and his wife of their parental rights (Tut.by, July 24). Earlier, Svetlana Tikhanovskaya's children were whisked away to some Western country via Poland (Tut.by, July 20). In both cases, the still closed (because of COVID-19) borders were crossed. The Prosecutor's Office immediately disavowed Tsepkalo's assertions as groundless (Naviny, July 24). In an interview in Moscow, aired on RTVI, a New York–based international Russian-language television network, on July 24, Tsepkalo referred to the 2010–2011 case of Andrei Sannikov and Irina Khalip's son who, he said, "spent half a year in a shelter (priyut)" while both of his parents were in jail (YouTube, July 24). In reality, the three-year-old Daniel Sannikov stayed with his grandmother, officially recognized as his guardian (Naviny, January 20, 2011).
Reflections on the potential geopolitical aspects and implications of the upcoming elections have been plentiful. According to Fyodor Lukyanov, one of Russia's preeminent foreign policy pundits with close ties to the Kremlin, Lukashenka's "room for maneuver is narrowing." On the one hand, the Russia-Belarus integration negotiations will inevitably resume and, on the other hand, Lukashenka has "tried to use the Russia factor as allegedly playing a role in the Belarusian elections." To Lukyanov, Russia's optimal behavior at this point is to do nothing, as breaking economic ties with Belarus would be catastrophic for the latter regardless who is in power in Minsk (Ekho Moskvy, July 16). In turn analyst Kirk Bennett concedes the possibility of Belarus's annexation by Russia should Lukashenka stumble on August 9 (National Interest, July 23). An April 2020 survey conducted by the Belarusian Analytic Workroom, headed by Andrei Vardomatsky, seems to underscore the common thread between the two opinions. When asked whether they were ready "to preserve the sovereignty of Belarus even at the cost of lowering the living standards of citizens," only 24.9 percent of respondents answered positively. However, maintaining the standard of living even at the cost of giving up sovereignty was supported by 51.6 percent. As such, a quarter of Belarusians consider sovereignty an unconditional value worthy of defending (Nasha Niva, July 24). This result echoes those drawn from surveys in 2010 and 2013 (Baltic-Course, April 19, 2013), suggesting that "narrowing the room to maneuver" may equal "loss of sovereignty" only under certain conditions.
Today (July 29), at 12:39 PM (5:39 AM EST), Belta, the official press agency, reported that "32 militants of a foreign private military company were apprehended by Belarusian law enforcement officers near Minsk this [past] night" and that "updates will follow" (Belta, July 29). All of that, of course, makes the ongoing developments in Belarus worthy of closer attention.