Sochi Summit Contra the West's Belarus Policies
Publication: Eurasia Daily Monitor Volume: 18 Issue: 35
By: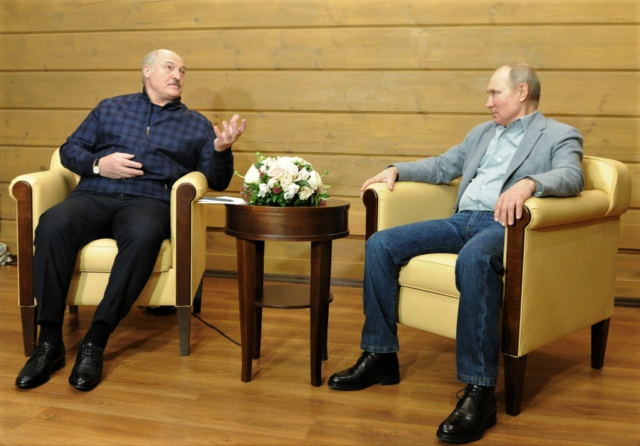 Belarusian President Alyaksandr Lukashenka landed in Sochi, Russia, on Friday, February 19, and left on Tuesday, February 23. His meeting with President Vladimir Putin occurred on Monday and lasted six hours, following a joint skiing escapade. The two heads of state also talked on the phone on Tuesday, while Lukashenka was still in Sochi. The main themes of that conversation were, reportedly, the harmonization of Russia's and Belarus's tax systems (which Moscow has been insisting on) as well as further bilateral cooperation in the military-industrial sector and the media space (Politnavigator, February 24). Other topics on the visit agenda included the renewed commitment to integration roadmaps, including the integration of industrial giants like Grodno's Azot chemical plant, as well as plans to launch the production of Russia's COVID-19 vaccine (Sputnik-V) in Belarus (Tut.by, February 22). The presidents did not make any announcements for the press. And it is not known whether Moscow has agreed to issue a new loan to Minsk, despite much media speculation about this issue on the eve of the summit.
Consequently, political commentators have had to rely on scant evidence while interpreting the latest Sochi summit's outcomes. Maxim Samorukov, of the Moscow Carnegie Center, observed that, this time, Lukashenka showed more composure than in September because, in the meantime, he has managed to mostly silence the protests. The longer Lukashenka delays constitutional reform at home, the more powerful he will be in the eyes of Moscow. Hence, Lukashenka may seek to resume his gamesmanship with the West, which is likely to induce Moscow to ramp up its pressure on Minsk. The significance of the "humanitarian rhetoric of the West" should not be overestimated, believes Samorukov. After all, the Western reaction to the events of December 2010 was stronger than to the ongoing suppression of the protest movement, so the possibility of Lukashenka's renewed attempt to sell himself to the West as the only guarantor of Belarusian statehood should not be discounted (Svaboda.org, February 24).
Two issues engage attention in this regard: 1) the attitudes within Belarusian society and 2) the Belarus policies pursued by the West. According to Chatham House's January opinion survey, only 27.4 percent of Belarusians believe Lukashenka should remain president (Deutsche Welle—Russian service, February 9). However, considering the twin major limitations inherent in online surveys like Chatham House's—i.e., the under-sampling Lukashenka's supporters (because they use the internet less frequently and because they are less eager to respond to such online polls) as well as ignoring countryside—the aforementioned score is actually significant (higher than one would expect). Moreover, many Belarus-watchers are now in possession of the unpublished results of the September 2020 national survey commissioned by the International Republican Institute (IRI) immediately after the post-election street protests reached their unprecedented magnitude. Dzianis Melyantsou, of the Minsk Dialogue, recently referred to that survey in his Telegram Channel (T.me/realist_belarus, February 24). According to Melyantsou, the IRI poll showed more parity between Lukashenka opponents and Lukashenka loyalists and a much larger proportion of the population expressing disapproval of the street demonstrations than protest sympathizers tend to recognize. These results are what they are despite the fact that the majority of Belarusians did, indeed, distrust the official election results. Since then, many active protesters have been jailed and an unknown number have left the country. Poland, for example, eased employment authorizations for Belarusian medical personnel (Tut.by, November 30), who made up a notable constituency of the protest movement. Stories abound of Belarusian physicians employed in Polish hospitals almost immediately after their arrival (Tut.by, February 23). Yet personal Facebook pages of Belarusian entrepreneurs, also supposedly a protest-friendly group, suggest quite a few of them are now on the other side of the barricade. Kirill Koktysh, a professor at MGIMO (a school that famously produces Russian diplomats) and a native of Minsk (Vzglyad, February 21), believes that Zoom meetings of exiled Belarusian revolutionaries repeatedly intercepted and aired on Belarusian TV (YouTube, January 29, February 18) have dealt a blow to their reputations inside Belarus. The footage shows those exiles busy divvying up money from sponsors, jockeying for power and also boasting. For instance, Pavel Latushko is seen in one of these videos bragging about his successful efforts to cancel the 2021 Ice Hockey World Championships in Minsk (efforts disapproved of by many Belarusians) and of alleged intense coordination of his activities with seven United States Department of State officials.
Such "revelations" cannot help but raise the issue of Western Belarus policies. While there is little doubt that castigating Minsk for grossly falsifying last year's presidential elections and mistreating the protesters is justified, the question is whether or not opprobrium and sanctions presently account for the entire content of the West's strategy toward Belarus—and if so, how effective is this approach. As a matter of fact, Vadim Prokopyev, a former Minsk restaurateur, opined during one of those above-mentioned leaked Zoom meetings that sanctions are counterproductive because many Belarusians are sold on the idea that they are directed against ordinary people. On top of that, Belarus's official media keeps repeating that calling for sanctions against one's own country is treasonous, and at least some Belarusians share this view.
Yauheni Preiherman, who chairs Minsk Dialogue Council, also recently expanded on the futility of sanctions. "If we do not introduce sanctions against the Lukashenko regime now, we will look like idiots in the eyes of our public," a senior Western diplomat once explained. Preiherman counters this explanation by posing the question, "if the [European Union] keeps applying instruments that clearly do not work, what will its foreign policy ultimately look like in the eyes of the Europeans and other nations?" (Boell.De, February 25). According to Preiherman, domestic repressions in Belarus only worsen as a result of the West applying such policy instruments. He also believes that because Poland and Lithuania are expressly distrusted in both Minsk and Moscow, having Warsaw and Vilnius drive the West's collective Belarus policies is counterproductive. Germany could achieve more in that capacity.
In his interview with the Belarusian Service of Radio Liberty, Arkady Moshes, the director of the EU Eastern Neighborhood and Russia program at the Finnish Institute of International Affairs, put this even more bluntly: "Even the European bureaucracy must understand that their cyclical quarrel-and-reconciliation policy toward Minsk, applied four times in a row since the mid-1990s, is not just ineffective, it is ridiculous. I really want to hope that the West has learned its lessons, but I am not convinced of that" (Svaboda.org, January 29). Fresh policy ideas are surely overdue.