Europe's Sanctions and Belarus: A Hammer and the Nail
Publication: Eurasia Daily Monitor Volume: 18 Issue: 107
By: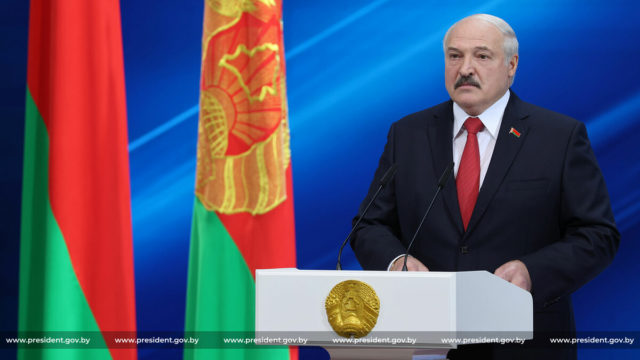 After the introduction of sectoral sanctions by the European Union (see EDM, June 30), Minsk suspended its membership in the Eastern Partnership initiative as well as in the Readmission Agreement with the EU. Belarus's Ministry of Foreign Affairs also recommended that the head of the EU Delegation to Belarus, Dirk Schuebel, return to Brussels for consultations, "to convey to its leadership the position of the Belarusian side on the unacceptability of pressure and sanctions." On July 1, he left Minsk. The Readmission Agreement obliges both sides to accept illegal migrants from third countries, and it was adopted as a package deal along with a visa simplification agreement. Consequently, the EU could have acted to cancel the latter, which would raise the price of EU visas for Belarusians from $35 to $80 (BDG, July 1). However, the EU shrewdly refrained from doing so (Svaboda.org, June 30).
From 100 to 160 illegal migrants per day, mostly from Iraq, are now streaming from Belarus into Lithuania (see EDM, June 17). A camp has been hastily set up for them, and the EU is already discussing financial compensation for Lithuania—not only for hosting illegal migrants but for potential losses that stem from curtailing Belarusian export transit into Klaipeda, Lithuania's main Baltic Sea port (Lrt.lt, July 2).
The immediate effect of sanctions imposed on Belarus cannot be reduced to economics alone. The mere announcement of sanctions begets retaliation, and that produces a possibly irretrievable setback in bilateral relations at all levels. On June 30, Minsk demanded that Berlin close down the Belarusian branch of the Goethe Institute as well as the institution in charge of academic exchange between Belarus and Germany (Deutsche Welle—Russian service, June 30). In his speech on the occasion of Belarus's Independence Day (July 3), President Alyaksandr Lukashenka lambasted both the EU and Ukraine. First, he said, Belarus had intercepted a drone laden with explosives that had been launched from Lithuania. Second, the authorities reportedly uncovered anti-government rebel sleeper cells in several regions of the country. Third, according to the president, law enforcement thwarted an attempt on the life of Grigory Azaryonok, a stalwart pro-government propagandist, and arrested the perpetrators (allegedly planning to cut out Azaryonok's tongue). Fourth, Lukashenka mentioned that an anti-terrorist operation just conducted by the Belarusian KGB uncovered evidence of Germany's active role in subversive activities and that this information would soon be made public. Finally, Lukashenka ordered the closure of the entire state border with Ukraine due to the alleged discovery and interception of large volumes of ammunition streaming illegally across into Belarus (President.gov.by, July 2).
A month ago, many prisoners of the regime were offered the opportunity to write clemency petitions, thus signaling a potential thaw in the government's crackdown on the opposition (Telegraf, June 8); but today, that trend appears to have been reversed, and arrests have continued. For example, on July 1, law enforcement apprehended Valeria Kostyugova, the editor-in-chief of the analytical portal Nashe Mneniye (Kp.by, July 2).
Meanwhile, public debates over the effectiveness of EU sanctions persist. "When the authorities get into a direct crisis mode with someone, the possibility of dialogue comes to naught," observes Yauheni Preiherman of the Minsk Dialogue Council. "It is for this reason that the hopes that sanctions, however serious, will nudge the leadership of Belarus toward [political reform] reflect an infantile vision of the situation, and it is a tragedy" (Gazetaby, June 29). "The EU has grasped a hammer and sees the Belarusian problem as a nail," observes Pavel Matsukevich, the former charge d'affaires in Switzerland. "But while hitting the nail with a hammer, it repeatedly misses the nail-head." According to Matzukevich, the EU has no strategy on Belarus. And since most presumably understand that sanctions will only worsen life for ordinary Belarusians and boost Belarus's dependency on Russia, resorting to this instrument is "criminal and stupid," he contends (Gazetaby, June 30). "In the area of trade," Matsukevich writes in a subsequent article, "Russia has long been the main sales market for Belarus, but now there is just no alternative to Russia. In the energy sector, sanctions also contribute to Moscow's monopolization of supply, whereas all alternative projects (Azerbaijan, Kazakhstan, Turkmenistan) are insignificant […] and are not feasible without Russian pipelines. In the financial sector, Russia is now the only lender that finances not so much Belarus itself as Russia's previous loans. The suspension of Belarus's participation in the Eastern Partnership is also to Moscow's liking. The economic effect of the program for Minsk was worth tens and hundreds of millions of euros and landmark projects; the political effect was in strengthening national independence" (New Belarus, July 1).
The arguments of sanctions' proponents are illuminating in their own right. While the independent analyst Artyom Shraibman is not exactly one of them, he suggests there might be two ways in which sanctions could facilitate regime change in Belarus. One is through an eventual realization by Russia's leadership that aiding the Belarusian regime is becoming too costly. The second one is by getting under Lukashenka's skin. When the Belarusian leader grows nervous, he makes mistakes, and those errors might lead to regime change (YouTube, June 28). The first mechanism is much less likely, and Daniel Krutzina, a German financial analyst with long experience in Belarus makes this point explicitly (Deutsche Welle—Russian service, June 30). Whereas, the second way all but transfers sanctions from an international relations paradigm to the paradigm of family relations. It is like having a relative who is a functioning alcoholic and coming to a conclusion that the only way he can be subjected to compulsory treatment is by driving him certifiably crazy. Does this conclusion match the EU's actual mode of thinking on sanctions? It is hard to say. However, Kamil Kłysiński of the Polish Center for Eastern Studies may have come closer to embracing such a strategy. "During the years of my work at the Center, I exercised excessive caution, like if the West puts pressure on Minsk, it will throw Belarus into the arms of Moscow. However, it only made sense in the past, when we did not discount the possibility that one day we will return to dialogue with Lukashenka," Kłysiński acknowledged in a recent interview (Svaboda.org, June 29). In other words, sanctions are the way to punish Lukashenka personally regardless of what happens to Belarus and its independence. If that is the case, Matsukevich's missing the nail-head metaphor seems spot on.