Russia Launches Massive Vostok 2018 War Games Together With China
Publication: Eurasia Daily Monitor Volume: 15 Issue: 128
By: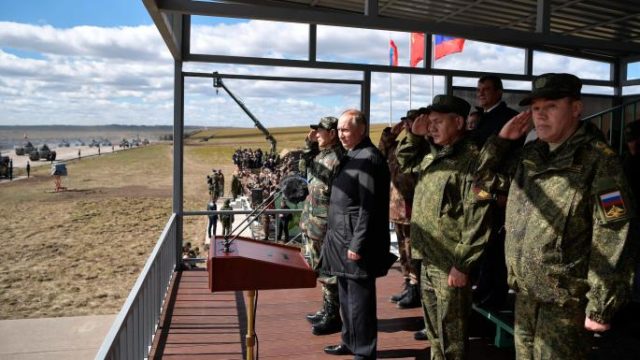 The Russian minister of defense, Army General Sergei Shoigu, and his first deputy, the chief of the General Staff, Army General Valery Gerasimov, took over the country's Armed Forces in November 2012. Shoigu, a civilian construction engineer with no military background, had served for over 20 years (1991–2012) as head of the Ministry of Emergency Situations (a magnified and militarized version of the United States' Federal Emergency Management Agency, or FEMA). Gerasimov—a career military man—as chief of the all-powerful General Staff, has spearheaded the complexities of planning and execution of the massive rearmament and overall resurgence of the Russian military. Whereas, Shoigu—a popular politician and experienced top administrator—provided political leadership. Both are now 63 and are close to the maximum possible active service age of 65 under Russian law. Shoigu may possibly continue as a civilian defense minister, but Gerasimov cannot remain chief of the General Staff much longer. The massive Vostok 2018 war games, happening this week (September 11–17), in the Arctic, the Pacific and Russia's Far East (see EDM, September 11), seem to be intended as a culminating demonstration of Russian military resurgence (Mil.ru, September 6).
According to Gerasimov, back in 2013 the Russian military was immobile and badly trained; but since then, battle readiness and mobility have improved dramatically. In September 2016, Gerasimov revealed that the Russian Army, together with the Naval Infantry (Morskaya Pekhota) and Airborne Troops (Vozdushno-Desantnye Voyska—VDV), had 66 permanent battle-ready battalion tactical groups (BTG)—reinforced mechanized battalions with additional armor (tanks), heavy guns and multiple launch rocket systems (MLRS), anti-aircraft capabilities, sapper detachments and other auxiliaries. The BTG was first introduced during the Chechen wars. It is a small—800 to 900 service members—but universal unit, each able to fight separately or in cohesion with other BTGs. In 2016, Gerasimov promised to double the number of these units (Nezavisimaya Gazeta, September 15, 2016). Two years later, while promoting Vostok 2018, Gerasimov proudly announced, "There are 126 permanently battle-ready BTGs in the Army and VDV, manned by contract soldiers," with two or three BTGs in each regiment or brigade (Mil.ru, September 6). The North Atlantic Treaty Organization (NATO) has deployed four of its own multinational BTGs in the Baltic republics and in Poland, to deter a Russian military, which, today, can ostensibly field 126 BTGs on relatively short notice.
Since 2013, when President Vladimir Putin approved Russia's main strategic defense paper—the "Plan of Defense of the Russian Federation" (Kremlin.ru, January 29, 2013)—the Russian Armed Forces have run hundreds of various military exercises and drills: small, large and medium. Vostok 2018 is qualitatively different, however. According to Gerasimov, this year's Vostok maneuvers are not a military exercise per se, but a "war game"—the first of its kind since Zapad-81, held at the height of the Cold War (Interfax, September 6). In a war game, two opposing massive armed inter-service groupings are formed and physically deployed to simulate an epic battle. Some 300,000 service personnel, thousands of pieces of heavy equipment, tanks, military vehicles and aircraft, including drones, were deployed for Vostok 2018, according to Gerasimov. One of the opposing forces was formed on the basis of the Central Military District, supported by the North Fleet; the other—by the Eastern Military District with support from the Pacific Fleet. In all, six field armies of the Russian Ground Forces (2nd, 5th, 29th, 35th, 36th and 41st), two armies of the Russian Aerospace Forces (11th and 14th), the entire VDV, and the transport air command will be involved in Vostok 2018. Some 36,000 personnel will provide logistical support (Militarynews.ru, September 11).
Naval forces have been deployed to the Pacific, the Arctic and the Sea of Okhotsk. The main land deployments were to military training ranges in the Trans-Baikal region, north of the Chinese border. Moscow invited a contingent of about 3,200 People's Liberation Army (PLA) troops, with some 30 aircraft, tanks and other armor to take part in Vostok 2018. The PLA brigade-sized force, together with a contingent from neighboring Mongolia, were deployed along with up to 25,000 heavily armed Russian soldiers to the Tsugol training range, in Trans-Baikal (Mil.ru, September 6). PLA units have previously taken part in joint training in Russia; but those were officially anti-terrorism exercises within the framework of the Shanghai Cooperation Organization (SCO). Today, the PLA will be engaged alongside the Russian military in genuine war games. The war games will occur relatively close to the Chinese border, so the invitation of the PLA was also meant to demonstrate they are not being held in preparation to confront China. Vostok 2018 is a practical test of the ability to mobilize large contingents of heavily armed troops, to deploy them long distance and logistically maintain them on far-off battlefields. The main probable adversary in these massive war games seems to be the United States and its allies. In European Russia, the Organization for Security and Cooperation in Europe's (OSCE) Vienna Document imposes strict constraints on massive war games. But in the Far East, the only restrictions come from the 1996 Sino-Russian mutual border-area troop limitations—and these do not apply to Tsugol or most of the other training ranges involved in Vostok 2018 (Militarynews.ru, September 11).
On September 13, after attending the Eastern Economic Forum in Vladivostok together with the leaders of China, Japan and South Korea (see EDM, September 10), President Vladimir Putin visited the Tsugol range to observe a grand fireworks display of military might as Vostok 2018 reached its climax. At Tsugol, Putin announced, "Russia is a peace-loving nation that is ready to defend its national interests and allies." He also observed a joint grand parade of troops, with some 200 Russian and 50 Chinese tanks and other armor on display. The president thanked the Russian, Chinese and Mongolian soldiers involved in the Vostok exercises (Interfax, September 13).
Since 2013, Shoigu and Gerasimov have been rebuilding Russian capabilities to fight a major war with a hostile West; and today, the Russian-Western strategic standoff is becoming nearly as tense as in 1981. An oft-repeated observation is that Russia and China are not allies, but close strategic partners. That characterization likely remains true. But the world is changing as both Russian and Chinese relations with the US go from bad to worse. The two Eurasian neighbors are coming closer together politically, economically (bilateral trade is booming) and now militarily (parading and training together to jointly oppose an outside force). If this is not yet an alliance, it surely looks like one in the making (see EDM, April 18).