Moscow Showcases Vostok 2018: Fact, Fiction and Hyperbole
Publication: Eurasia Daily Monitor Volume: 15 Issue: 126
By: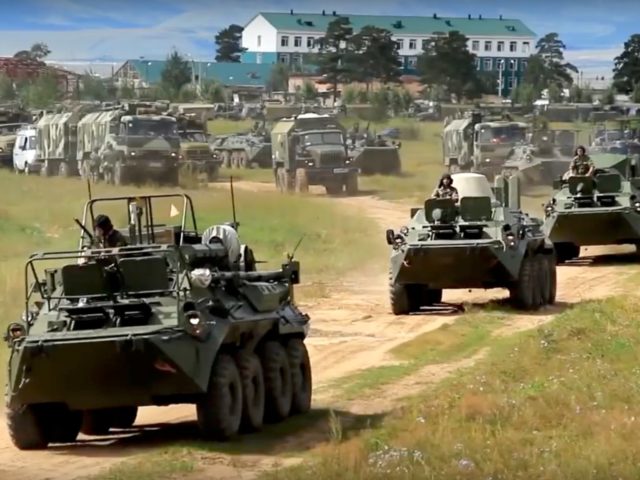 Ahead of Vostok 2018, being held on September 11–17, Russia's senior military leadership has actively promoted the scale and importance of this strategic-level exercise, particularly referencing the first ever participation of China's People's Liberation Army (PLA) forces in these drills (see EDM, September 5). The reported size of the Russian military personnel contribution to Vostok 2018—297,000—with the participation of the Northern and Pacific Fleets, the Aerospace Forces (Vozdushno Kosmicheskikh Sil—VKS), as well Ground Forces and Airborne Troops (Vozdushno-Desantnye Voyska—VDV), alongside other specialist units, has led some to conclude this exercise is a preparation for global conflict. However, a number of the details offered by the Russian Armed Forces' top brass, indicate a more sophisticated and granular approach to what is a prosaic culmination to the annual combat training year (Tvzvezda.ru, September 9).
Army General Valery Gerasimov, the chief of the General Staff, provided some interesting details about the exercise and its extensive preparations. The exercise will run from September 11 to 17, with the first two days reserved for planning. The second active phase is staged over five days and will involve training grounds in the Central and Eastern Military Districts (MD) (RIA Novosti, September 9). In this year's Vostok scenario, two opposing factions will be represented by units from the Central MD and the Northern Fleet versus those from the Eastern MD and the Pacific Fleet. The main action will occur on five combined-arms training grounds in the Eastern MD, at four VKS and air-defense training facilities, and in the Okhotsk and Bering Seas. Gerasimov stated that the two main innovations of Vostok 2018 lie in the use of two MDs and the inclusion of PLA forces (Kommersant, September 7).
Gerasimov noted that Russia will send to Vostok 2018 a total of 297,000 personnel; more than 1,000 aircraft, helicopters and unmanned aerial vehicles; up to 36,000 tanks, infantry fighting vehicles, armored personnel carriers and other military equipment; as well as 80 ships and support vessels. The exercises will include the Iskander-K operational-tactical missile system from the 107th Missile Brigade (Birobidzhan). In the second stage of the exercise, elements will include the application of "massive air strikes," repelling cruise missile attacks, along with conducting offensive and defensive operations by land, sea and air. Repelling air strikes will involve Aerospace Forces air defense and naval platforms in the Sea of Okhotsk and the northwestern Pacific Ocean, while the VKS provides close air support for carrying out offensive ground operations and defending the sea coast (Kommersant, September 7).
Gerasimov also explained that, in addition to special pre-exercise tactical exercises, Vostok 2018 would be preceded by snap inspections of Russia's Armed Forces. He explained that following the introduction of snap inspections in 2013, the General Staff had identified flaws in relation to strategic mobility that were corrected ahead of deploying forces to Syria in 2015 and have since been further refined. This relates to deploying forces internally across large distances utilizing a reformed military logistics system. Hence, units from the Southern MD will redeploy to the Eastern MD during Vostok 2018. Gerasimov also confirmed that 126 battalion tactical groups fully manned by contract personnel have been formed within the VDV and Ground Forces. It is likely that a quantity of these will be tested in the exercise. The 16 pre-Vostok exercises held this year collectively featured training for intelligence, electronic warfare (EW), psychological operations (PSYOPS), and logistics support (Imp-navigator.livejournal.com, September 7).
Although Gerasimov asserted an unprecedented scale for Vostok 2018, the Russian defense ministry has a track record of exaggerating the size of these exercises. For instance, authorities claimed that Vostok 2014 was the largest strategic exercise since the dissolution of the Soviet Union, bringing together a final total of 155,000 personnel; that information turned out to be unsupported by reporting and observers of the exercise. The defense ministry now suggests Vostok 2018 will be twice as large as Zapad 1981. However, creative accounting may involve using the manning totals of designated units rather than the actual numbers of participants (Imp-navigator.livejournal.com, September 7). For example, if a battalion tactical group is drawn from a brigade, then the total brigade numbers may be added to overall totals. By separating fact from fiction in Vostok 2018, the multiple vignettes of the exercise scenario seem to imply preparations for smaller-scale conflict or for controlling escalation, drawing on Moscow's experience in Syria.
An interesting illustration of this relates to the involvement of the Chinese forces in the exercise. Gerasimov says the PLA and an undisclosed number of military personnel from Mongolia will conduct joint operations with Russian forces at the Tsugol training range, in the Eastern MD; the figures he provided were 25,000 Russian personnel and 3,200 from the PLA. These operations will involve close air support (250 aircraft and helicopters) and Ground Forces (Kommersant, September 7). Two points should be noted. The PLA's access to the exercise is quite restricted but involves joint offensive ground operations. If this is a preparation for a global war, the size of the PLA contribution is unimpressive. Equally, even allowing for the hyperbole of the Russian military personnel figures, the Chinese involvement is comparatively small. It is more likely the PLA had added incentive to contribute forces to the exercise as the Russian defense ministry offered to share combat experience gained from using its operations in Syria over the past three years as an opportunity to train more than 68,000 personnel, experiment with approaches to warfare, and test new systems.
Vostok 2018 is a standard strategic exercise marking the culmination of the combat training year and is also being used to showcase advances in Russian military capability to partner countries. It has been expanded in terms of inclusion of bilateral partners as well as geographic coverage, compared with earlier strategic exercises. These exercises routinely prompt a great deal of speculation among Western governments and experts. But to suggest this exercise alone provides evidence for the development of a Sino-Russian alliance is stretching it too far. Prior to Vostok 2018 commencing, it was revealed that the Russian defense ministry also extended an invitation to a North Atlantic Treaty Organization (NATO) member—Turkey—to participate. But no one suggested this signaled a new partnership with Ankara. The Russian government has issued denials that Vostok is aimed against a third party such as the United States or Japan; still, these countries may interpret it differently (TASS, September 9; Aif.ru, Imp-navigator.livejournal.com, September 7). More detail is needed on the scenario for Vostok 2018 to finally separate fact from fiction.