Russia's 'Victory' in Syria is Debunked, Derailed and Defeated
Publication: Eurasia Daily Monitor Volume: 15 Issue: 5
By: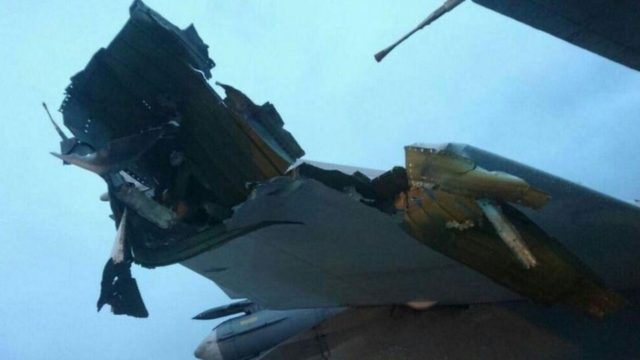 Premature announcements of political triumphs often result in negative blowback, but Russian President Vladimir Putin's declaration of victory in the Syrian war was debunked particularly swiftly (see EDM, January 11, 2018). Putin's definition of victory included three key points: asserting the legitimacy of Bashar al-Assad's regime and its control over most of Syria's territory; strengthening the partnership with Turkey and Iran as the main framework for managing the residual conflicts; and withdrawing about half of the Russian forces, while expanding the naval base in Tartus and the Khmeimim air base. All three propositions have been badly shaken, if not shattered. Furthermore, Putin intended to sell the Russian victory to the West, thus pressuring the United States to accept the al-Assad regime and engage in cooperation with Russia, while cajoling the European Union into paying for Syria's post-war reconstruction. Such bargaining has gone nowhere in both cases, and Russian tensions with US policy in Syria (muddled as it is) have reached a new high.
The affirmation of al-Assad's grasp on power was supposed to happen at the gathering of those opposition groups that subscribe to the arrangement for "de-escalation zones," negotiated through the so-called "Astana process" (Russian Council, January 8, 2018). Putin wanted to stage this "congress" in Sochi immediately after his declaration of "victory" last November, but too many parties objected; so a new date in late January or early February is still uncertain (RIA Novosti, January 9, 2018). Turkey remains adamantly against any representation of Kurdish forces in this zero-trust process. And without Ankara, the "Russian peace" plan makes little sense. In order to stimulate the pacification, Syrian government forces have launched an offensive in Idlib province, which is supposed to be the largest "de-escalation zone." However, this encroachment on Turkish interests has angered President Recep Tayyip Erdoğan even more (RBC, January 10, 2018).
Putin is trying to mollify his capricious Turkish counterpart, but a more serious problem has been simultaneously growing in the relationship with Tehran (Kommersant, January 10, 2018). One factor is the al-Assad regime's increasing dependency on the Iranian-sponsored Shia militia, which controls large parts of Syrian territory, including close to Russian bases (Nezavisimaya Gazeta, January 9, 2018). Israel refuses to accept these facts on the ground and keeps hitting Hezbollah bases with airstrikes; Russia neither interferes with nor has protested these attacks (RIA Novosti, January 9, 2018). A new and unexpected element related to the Iranian problem has been the explosion of street protests, which amplifies Putin's angst about popular revolutions. The high point in this turmoil may have passed, but it has become clear for the Iranian leadership that foreign engagements—and in particular the huge expenses of waging the war in Syria—are a major cause for domestic discontent (New Times, January 9, 2018). Putin has no real insight into the decision-making in Tehran, and so he cannot know how and whether the behavior of this key but difficult ally might change.
The most direct blow to Russian "victory" was delivered by a series of attacks on the Khmeimim airbase, which remains the main operational base for all Russia forces in Syria, including the semi-legal private contractors (see EDM, March 16, 2017; March 22, 2017; January 11, 2018). The Russian Ministry of Defense boasts about the success in intercepting the "drone attack" on January 6, but it has given scant information about the deadly attack on December 31, which was exposed by the media (Novaya Gazeta, January 9, 2018). The high command insists that the militants involved had received technical and targeting support from abroad, even if the captured drones are primitive plywood models fixed with tape (Kommersant, January 11, 2018). Russian generals have also announced that the terrorist group responsible for the attacks was destroyed by a high-precision strike, which is impossible to verify since no group has claimed credit for inflicting the unprecedented damage (RBC, January 12, 2018).
This muddled emergency makes clear that Russia cannot reduce its military grouping in Syria, because the task of guarding the bases cannot be delegated to Syrian or Iranian forces. Moscow seeks to explain away the "post-victory" casualties by alleged hostile operations of US Special Forces and their proxy-rebels. But simultaneously, Russia is trying to maintain the "de-conflicting" arrangement, particularly since one of the most dangerous air incidents happened immediately after Putin's declaration of "victory" (Gazeta.ru, December 15, 2017). While Russian propaganda insinuated US involvement in the attacks on Khmeimim, Chief of the General Staff Gennady Gerasimov and Joseph Dunford, Chairman of the Joint Chiefs of Staff, had a useful phone conversation on Syrian matters (RIA Novosti, January 11, 2018).
It is convenient for Moscow to pin the blame for every Syrian setback on US "sabotage," but it is also quite important to preserve a cooperative pattern because Syria is perhaps the only place where Russia has assets to bargain with in the high geopolitical game. Moscow has nothing against Washington arming the Kurdish People's Protection Units (YPG), but it needs to dissuade the US from turning the Kurdish-controlled territories into a base for training anti-al-Assad rebels (RBC, January 10, 2018). Russia has won some time for the regime in Damascus, but its grasp on power remains tentative because it is shunned by regional stake-holders, ostracized internationally and is deeply disagreeable for Washington. The EU, for that matter, has flatly turned down Russia's invitation to engage in post-war reconstruction of Aleppo and other cities conquered by government forces (Nezavisimaya Gazeta, January 11, 2018). 
Putin needs to prove that his declaration of victory was not a mistake but a somewhat premature mark of a real turn in the course of the protracted war, in which the dictatorial regime is the only solution to the chaos of revolution and menace of terrorism. Quietly rebuilding the reduced grouping of forces can be a part of this reaffirmation of triumph (of which there are too few). But the war is increasingly unpopular in Russia, and every new casualty casts a pall over the presidential election campaign, tightly controlled as it is. Despite launching the intervention and sustaining the air war for more than two years, for a time Putin was still open to propositions of gently removing al-Assad from power. Yet, he has now embraced the Syrian authoritarian leader, who is implicated in the use of chemical weapons, and so the flexibility is lost. The road to Damascus has led Putin into a blind alley. He can neither bomb his way out nor hope for guidance from his Iranian comrades-in-arms.