Despite Putin's Declaration of Victory, Fighting Escalates in Syria
Publication: Eurasia Daily Monitor Volume: 15 Issue: 4
By: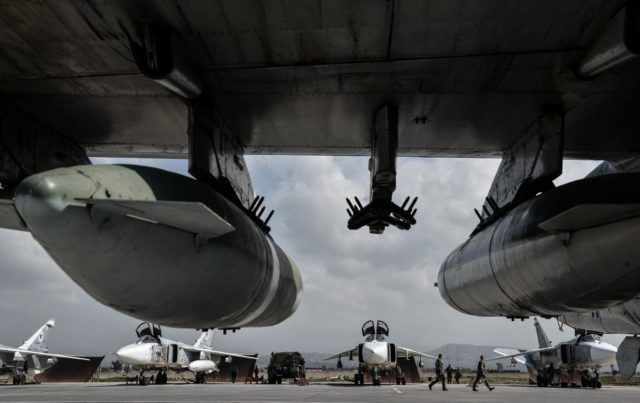 On December 11, 2017, President Vladimir Putin announced victory in Syria on the tarmac of Hmeymim airbase and the withdrawal of "a large part" of Russia's forces. Putin told the Russian military personnel lined up to listen to his speech, "We have fulfilled the mission that warranted the use of massive military force in Syria" and "you are returning home to your families with victory." The president further announced, "Refugees [in Syria] are returning home. Conditions are ripe for a political solution under [United Nations] auspices" (Militarynews.ru, December 11, 2017).
A month later, on January 10, 2018, the UN announced that from December 1, 2017, until January 9, 2018, an additional 99,569 Syrian civilians became internal refugees in Hama and Idlib provinces—fleeing intense aerial and artillery bombardments as forces loyal to President Bashar al-Assad began a major land offensive in Idlib province (Militarynews.ru, January 10, 2018). Pro-al-Assad forces, supported by the bombers of the Russian Aerospace Forces (Vozdushno-Kosmicheskiye Sily—VKS), have moved deep into Idlib province to reach and capture Abu al-Duhur—a town and strategically important airbase on the edge of the Syrian Desert. If Abu al-Duhur falls, the resistance-controlled Idlib province shall be cut in half, and its eastern more arid part could soon be fully captured by al-Assad's supporters, while its western half could end up under an increasingly severe siege. Pro-al-Assad forces, including Hezbollah, have converged on Abu al-Duhur, supported by air strikes and by Russian Sunburn-A1 (Solntsepyek) heavy flamethrowers—a scorched-earth weapon that launches fuel-bomb-carrying missiles that kill people in dugouts and shelters (Russkaya Vesna, January 10, 2018).
The Russian-supported pro-al-Assad offensive is being executed under the pretext of hitting Salafist militant organizations like the former Jabhat Fateh al-Sham (originally founded under the name al-Nusra Front); although, government-connected sources both in Damascus and Moscow confirm other, more moderate Syrian opposition groups are also targeted. Turkey, which guaranteed Idlib as a so-called "de-escalation zone, or a safe haven for the Syrian opposition, has protested the offensive on Abu al-Duhur and the mass bombardments. On January 9, the Russian and Iranian ambassadors were reportedly called to the Turkish Foreign Ministry in Ankara to receive a protest note. Turkish Foreign Minister Mevlüt Çavuşoğlu told journalists, "Russia and Iran must fulfill their obligations and stop the pro-Assad offensive in Idlib province." Still, Moscow believes Ankara's protests are no more than a public stand while in fact Turkey is ready to bargain a deal with Russia to carve up spheres of interest in Syria (Vedomosti, January 11, 2018).
In recent days, Turkish President Recep Tayyip Erdoğan has threatened to attack Kurdish forces in Northern Syria—the People's Protection Units (YPG), backed by the United States–led coalition—which control more than half of Turkey's 900-kilometer border with Syria. Erdoğan has cast the YPG as "terrorists" closely connected to the Kurdish Worker's Party (PKK), which has been fighting an anti-government guerrilla campaign in southeastern Turkey for decades. Erdoğan has threatened to expand the Turkish military operation in northern Syria ("Euphrates Shield") by taking over YPG-controlled Manbij and the Afrin enclave in Idlib province. In 2016, the YPG-dominated Syrian Democratic Forces (SDF) pushed the Islamic State out of Manbij—a town on the western bank of the Euphrates—with support from the US-led coalition. In 2017, to prevent Turkish-backed forces from overtaking Manbij, the US deployed its Special Forces in town, while a small Russian Special Operations team appeared in Afrin, apparently for the same reason—to keep the Turks at bay. Now, the Turkish military and allied forces may go for Afrin with Russia's tacit consent (RIA Novosti, January 11, 2018).
Apparently attempting to push back the Russia-led air offensive, the Syrian rebels hit the Hmeymim airbase with mortar fire on December 31, 2017, while the Russians stationed there were busy celebrating the New Year. In the attack, the rebels apparently struck an officially undisclosed number of aircraft sitting on the tarmac, killing two helicopter pilots and wounding several more service personnel. It seems that a small group of rebels also managed to infiltrate the outer perimeter of Hmeymim; they showered the tarmac with mortar shells from several kilometers away and escaped undetected (RBC, January 4, 2018).
In a follow-up attack on January 5, 2018, at least 13 home-made drones (apparently constructed with wooden frames and lots of duct tape) carrying some small explosive payloads were reportedly launched at Hmeymim and the Tartus naval base. According to reports, the rebel drone attack was repelled without loss: Most were shot down by the Pantsyr-C1 anti-aircraft system, while the electronic command system of several drones was suppressed by Russian electronic jamming, with three of the small aircraft landing more or less intact (Kommersant, January 9, 2018). The Russian General Staff has reportedly sent a note to the Turkish military command alleging the drone attack originated from territory in Idlib province controlled by the "moderate Syrian opposition." Moscow demanded the Turkish military honor the "Idlib de-escalation zone" ceasefire guarantees and prevent any further drone attacks (Militarynews.ru, January 10, 2018).
The home-made drones reportedly had GPS homing devices and altitude-meters to guide them to the Russian bases. The Russian defense ministry implied such technologies ware given to the rebels by Western (US) intelligence services and has rejected denials from the Pentagon to the contrary. A US B-8 Poseidon naval recon/antisubmarine jet was allegedly witnessed flying over the Mediterranean, not far from Hmeymim and Tartus, during the unsuccessful drone attack. In Moscow it is believed the B-8 Poseidon's presence was sinister, "proof" that the US was possibly electronically monitoring the Russian military response to the attack (Kommersant, January 10, 2018).
After Putin's announcement of victory and withdrawal of forces last December, the fighting in Syria and the suffering of the civilian population have intensified. The moderate Syrian opposition in Idlib province seems to have been abandoned by Turkey and the US and their Arab sponsors to the mercy of Russian-supported pro-al-Assad forces. Rojava—the YPG-dominated Democratic Federation of Northern Syria—may soon also come under attack. While Russian-backed forces go for Abu al-Duhur, Turkish-supported ones may try to take Afrin and Manbij. The desire to further diminish the US presence and influence in the region seems to unite different local parties; and a hapless home-made drone attack seems as good a pretext as any to accelerate anti-American sentiment.