The Realities of Russian Military Shipbuilding (Part Two)
Publication: Eurasia Daily Monitor Volume: 18 Issue: 154
By: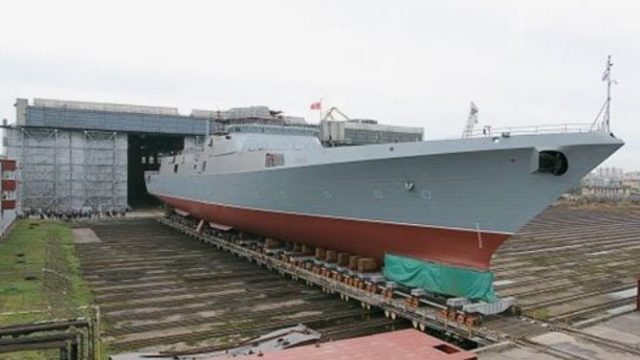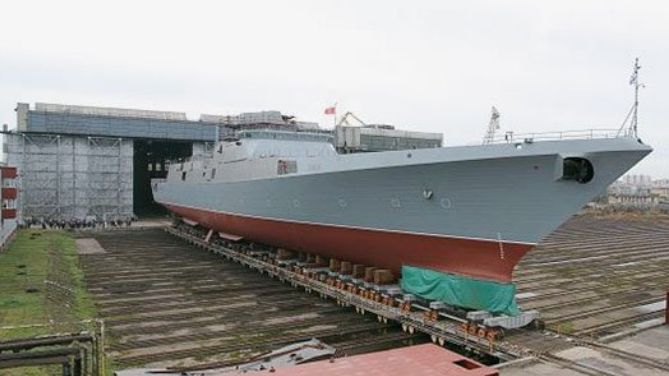 A constant drumbeat of Russian propaganda and sensationalist international reporting has created the impression that Russia's naval forces are much more formidable than is actually the case. This has convinced some Western decision-makers that any policy designed to put pressure on Moscow could lead to a dangerous or uncontrollable escalation, over which the West would have little to no leverage. But in reality, the Russia Military-Maritime Fleet (Voyenno-Morskoy Flot—VMF) suffers from continued problems in replacing its aging fleet of surface and sub-surface vessels due to systemic issues plaguing the domestic shipbuilding industry. Old technologies, worn-out shipyards, lack of qualified personnel, limited resources, corruption and, crucially, Western sanctions constraining Russia's ability to access necessary components like gas-turbine engines, have all interfered with Russian ambitions to build a world-class navy (see Part One in EDM, October 5). As such, the present-day state of recovery of the Russian shipbuilding industry and, relatedly, the VMF's capabilities diverge sharply from Moscow's plans.
The results of the implementation of the ten-year "Russian State Shipbuilding Program to 2020," for example, do not come close to fulfilling the ambitions laid out in that planning document—which was the first of its kind approved by the Kremlin in the post-Soviet period. By the end 2020, the VMF received four strategic missile submarines (50 percent of what had been part of the plan), two nuclear-powered submarines (25 percent), eight conventional submarines (100 percent), five frigates (33 percent) and seven corvettes (20 percent) (Nezavisimoe Voennoe Obozrenie, August 7, 2020).
A particularly troubling situation for the Russian navy is its lack of large, ocean-going warships, considered the core platforms needed to project naval power: namely, missile cruisers and aircraft carriers. Plans to construct a new Russian aircraft carrier remain wholly unclear, hampered by the technological complexity and vast expense of such a project (see EDM, June 18, 2019 and March 11, 2021). An estimated price for an aircraft carrier reach 600 billion rubles ($8.5 billion) plus around 100 billion rubles ($1.4 billion) to finance the wing. Together, this figure equals two current VMF annual budgets for weapons procurement. Russian experts believe the country needs three aircraft carriers for operations at sea. And some have predicted that the first of these warship could be built in 2033; but it remains unknown where such a massive vessel could be constructed. All Soviet aircraft carriers were built in Mykolaiv, Ukraine (Voenno-Promyshlennyi Kurier, June 14, 2021).
Especially informative to the overall situation in the Russian naval shipbuilding industry are the cases of modernizations and repair of the heavy nuclear-powered cruiser Admiral Nakhimov and aircraft carrier Admiral Kuznetsov.
The Kirov-class (Project 1144) heavy nuclear cruiser Admiral Nakhimov, commissioned in 1988, has, in total, served the Russian Federation's VMF for less than ten years. It was withdrawn from operations in 1997 and scheduled for modernization—a process that has already taken almost 25 years. The decision on the ultimate modernization design was not finalized until 2013. Actual work started in 2016 and is still ongoing. The projected completion date has been delayed several times; currently, the warship will purportedly be ready to rejoin the Russian navy in 2024–2025. The total cost of this modernization is assessed at more than 100 billion rubles ($1.4 billion), which is equal to the cost of building three or four new frigates (TASS, April 26, 2021).
Russia's only remaining aircraft carrier, Admiral Kuznetsov (Project 11435; technically classified as a "heavy aircraft cruiser"), commissioned in 1990, was scheduled for repair and modernization in early 2017. However, on October 30, 2018, during ongoing repairs of the aging vessel, the gigantic 330-meter PD-50 floating dock collapsed with the Kuznetsov inside. The dock's crane fell and damaged the ship's deck and critically injured or killed several workers. The PD-50 sank shortly thereafter, while the Kuznetsov had to be relocated to another shipyard to continue its overhaul. A year later, on December 12, 2019, an extensive fire broke out aboard carrier, killing two and injuring a dozen, with seven having to be hospitalized. A damage assessment took several months, extending the planned repairs by at least a year. Eventually, the VMF Northern Fleet headquarters estimated the cost of the fire damage to the Kuznetsov at 95 billion rubles ($1.5 billion), practically equal to the current value of the aircraft carrier itself—110 billion rubles ($1.8 billion) (Vzglyad, December 18, 2019).
The Kuznetsov's travails are not solely structural. In March 2021, the general director of the Tenth Shipyard in Murmansk was arrested on suspicion of embezzling about 45 million rubles ($0.6 million) allocated for the repair of the Russian carrier. Then, on July 2, 2021, the director of the 35th Shipyard in Murmansk, currently carrying out repairs on the ship, was also arrested. He has been accused of stealing state property entrusted to him with the use of his official position (Morskiye Vesti Rossii, July 2, 2021). It is already apparent that the launch of the Kuznetsov from the shipyard for sea trials will be further delayed, at least until 2023 and quite probably beyond that date.
The realities of Russian naval shipbuilding are far from cloudless and remain encumbered by unresolved challenges and Soviet-era legacies. Domestic technologies continue to lag behind their Western counterparts in many respects; while the budget is overwhelmingly dependent on uninterrupted state revenues from the sale of oil and natural gas. Consequently, Western allies are well positioned to influence and control Russia's growing appetite for domination at sea.