Moscow's 'Article Five' Guarantee to Belarus: First Step Toward Permanent Russian Base?
Publication: Eurasia Daily Monitor Volume: 15 Issue: 150
By: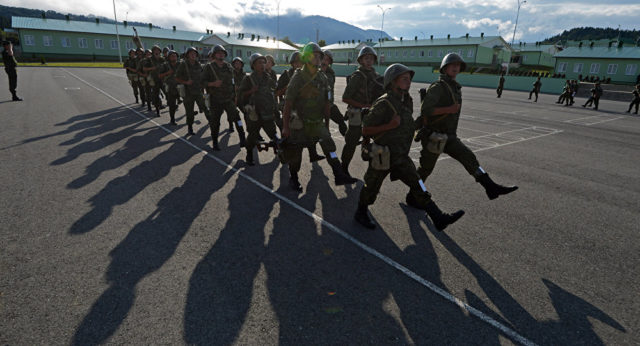 Mikhail Babich, Vladimir Putin's newly installed ambassador to Minsk (see Commentaries, July 20; EDM, August 2, September 7), went on Belarusian television, on Sunday, October 21, where he declared that Moscow will view any attack on Belarus as an attack on Russia and will respond with devastating force to those responsible (Tvr.by, October 21; Thinktanks.by, Tut.by, October 22). His warning quickly drew comparisons to the Article Five collective defense guarantees that the charter of the North Atlantic Treaty Organization (NATO) extends to its members. But instead of reassuring Belarusians, Babich's words have raised the specter that Moscow will use this declaration to insist on the opening of a Russian military base in their country. That base, in turn, might become a staging area for the eventual occupation and incorporation of Belarus into the Russian Federation.
Ambassador Babich said his remarks were a response to Polish suggestions that the United States should take the lead in establishing a new permanent US base on Polish soil, an action that the Russian envoy said would "not bring anything good for Poland or for the Baltic countries." But whatever Washington does in response to Warsaw's proposal, he continued, "Belarus in this regard is absolutely guaranteed a defense" because "Moscow will consider any attack on Belarus as an attack on Russia, with all ensuing consequences" (Tvr.by, October 21; Thinktanks.by, Tut.by, October 22).
Thanks to this Russian guarantee, the ambassador argued, Belarusians should be "completely at ease," knowing that Moscow stands behind their country and has, together with Minsk, all the forces needed both to defend it and to launch a counterstrike (Ehorussia.com, October 22). But at least some Belarusians are anything but reassured. In their view, such talk will lead to an intensification of Moscow's demand that Minsk agree to the opening of a Russian military base on Belarusian territory. Moreover, the Kremlin could then use the presence of Russian forces there as a means to put additional pressure on Minsk or even as a base of operations for seizing control of Belarus and incorporating it into Russia.
Because of such fears, which are widespread not only among the Belarusian opposition but in the country's government, President Alyaksandr Lukashenka has for years refused to agree to the opening of a base (see EDM, October 7, 2015; May 3, 2016; January 23, 2018). However, with the arrival of Babich several months ago, Moscow showed that the opening of a permanent Russian military outpost base there is the price Minsk will have to pay to continue to receive Russian subsidies. The Russian ambassador, a former KGB officer who worked for Moscow in Chechnya and then served as presidential plenipotentiary in the Volga Federal District, implied as much in his presentation on Belarusian television. His remarks about Russia's security guarantees were pointedly juxtaposed against Moscow's demands that Belarus make concessions on economic questions if further Russian aid (which was significantly cut back since last summer) is to be forthcoming (Tvr.by, October 21)
Among those most concerned about Moscow's current strategy toward Minsk is Nikolay Statkevich, a former candidate for president in Belarus and now one of the leaders of the Belarusian opposition. In a late-September Facebook post, he argues that Russia's preparations to "swallow Belarus are close to the decisive phase." Furthermore, he contends that Moscow hopes to make "the process of the incorporation of our country" into the Russian Federation "irreversible in the course of the next six months" (Facebook.com/nikolaj.statkevich, September 30).
That drive, Statkevich argues, rests not only on the establishment of a Russian military base in Belarus but also on the exploitation of the existence of "the union parliament" and of the Union State between Belarus and the Russian Federation. The latter can provide Moscow with the kind of cover it likes to have for its aggression, the Belarusian opposition figure says; but a Russian military base, by legitimating a large Russian military presence there, would contribute to ending Belarusian sovereignty and statehood. Consequently, Minsk must never agree to it; and the West must take this danger into consideration.
"If Russian forces are placed on our territory," he says, "then at a moment when the Kremlin needs to, it will be able to take under control the central organs of the powers that be in Belarus, just as was the case in the Baltics in 1940 [when Soviet leader Joseph Stalin used bases that those countries had been forced to accept to seize total control] or in Crimea in 2014," when Putin used forces from the Sevastopol base as his shock troops for the same purposes.
Statkevich adds that he has been "forced to send to the US embassies in Warsaw and Minsk proposals that an American division be placed on Polish territory only in response to [the opening of] a Russian base in Belarus. The threat of a responsive dislocation of this division instead of being the occasion for the opening of a Russian base will serve as a restraining factor on Moscow."
Nevertheless, he concludes more ominously that "if the dictator [President Lukashenka] agrees to Russian forces in Belarus […] then [Belarusian] patriots will have to prepare for the defense of our country and not only by declaring protests." Given such feelings, Russian Ambassador Babich's statement on Sunday may have yet another nefarious purpose: prompting the kind of popular unrest that could destabilize the Lukashenka government and provide yet another "argument" Moscow could use for extending its power and control into Belarus.