Minsk Breaks Silence on Russian Airbase Issue
Publication: Eurasia Daily Monitor Volume: 12 Issue: 181
By: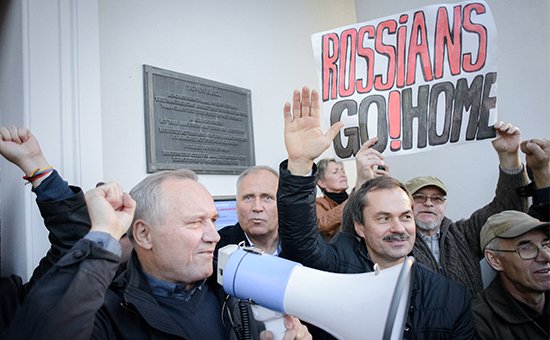 As the presidential campaign in Belarus nears its end, the initially marginal issue of a prospective Russian airbase on Belarusian territory has grown ever louder (see EDM, September 23). On October 4, members of the Belarusian opposition held an unsanctioned rally, in the center of Minsk, against foreign military bases (BelaPAN, October 4). The event gathered only about 500 participants (Nasha Niva, October 4), but attracted considerable media attention. The authorities kept silent on the issue until October 5, when President Alyaksandr Lukashenka made an unexpectedly tough statement.
"We do not need a base these days, especially military air forces. What we need are certain types of weapons. This is what I told [Russian President Vladimir] Putin and, before that, [Prime Minister Dmitry] Medvedev," said Lukashenka. He explained: "We need aircraft, not bases. We have great pilots and excellent schools of military and civil aviation. Why would I want to create a base? Why would I want to bring foreign aircraft and pilots here? What would ours do then?" (BelTA, October 6).
Lukashenka's statement presents a new twist to a story that has the potential to become another protracted project (like the single currency or the Union State's constitution, for example) in Belarus-Russia relations. However, unlike other long-standing proposals, this one infringes on what has always been a "sacred cow."
The story began in 2013, when Russia's Defense Minister Sergei Shoigu told the press, after his meeting with the president of Belarus, that a Russian airbase would be established on Belarusian territory within two years. Only a few days later, however, Lukashenka carefully denounced the statement, saying that the discussion was about supplementing the Belarusian army with Russian fighter jets rather than opening a fully-fledged airbase (Gazeta.ru, May 5, 2013). Those interpretations caused an immediate wave of resentment in the Russian media; but soon, the issue mainly disappeared from the headlines. Yet, it reappeared from time to time, with new, often controversial details, which pointed to an uneasy negotiation process occurring behind closed doors.
With the growing geopolitical escalation between Russia and the West over the past two years, the North Atlantic Treaty Organization (NATO) began talking about strengthening its military presence in Eastern Europe. Consequently, Belarusian authorities have had an increasingly difficult time trying to convince Moscow to give up on the idea of an airbase on Belarusian territory. Belarus's own air force has become obsolete, and financial constraints impede its modernization (BelarusDigest, September 24). Meanwhile, Russia is generally reluctant to provide its ally with modern arms (see EDM, October 3, 2014). Such a state of Belarus's air force poses a threat to the security of the Joint Regional System of Air Defense of Belarus and Russia, which automatically makes Minsk vulnerable to Moscow's pressure regarding the airbase.
Lukashenka has tried to sidestep the issue by agreeing to establish a Russian military presence as part of joint air defense groups. In December 2013, four Russian Su-27P fighter jets were stationed in Baranavichy, on a rotational basis (Tut.by, December 10, 2013). And in March 2014, Lukashenka announced that he had asked Russia to deploy up to 15 warplanes to Belarus in response to increased NATO activity in Poland and the Baltic States (Komsomolskaya Pravda, March 12, 2014). He indicated that the request had been made under a defense clause of the treaty of the Union State of Belarus and Russia.
Nonetheless, Moscow remained committed to permanent basing. In October 2014, the former Russian air force commander-in-chief, Viktor Bondarev, announced that a regiment consisting of 24 Russian Su-27SM3 jets would be permanently stationed at the military airbase in Babruisk in 2016 (Interfax, October 15, 2014).
It is worth noting that before apparently settling on Babruisk as a site for the Russian base, other locations had been discussed—Lida and Baranavichy. Belarusian military expert Aliaksandr Alesin singles out two defining factors behind this change (Belrynok.by, September 4). First, after the United States decided to sell 40 high-precision AGM-158 JASSM cruise missiles to Poland, Baranavichy became an easy target and the airbase had to be moved farther from Belarus's western border. Second, the bigger size and better facilities at the former Soviet airbase in Babruisk played a role.
This past June, Belarusian Defense Minister Andrey Raukou stated that the airbase issue remained in the political realm and that it was "too early to talk about a timeframe for deploying Su-27 jets and Mi-8 helicopters of the Russian Federation in Belarus" (Tut.by, June 17). But suddenly, on September 2, the Russian government again raised the issue of establishing an airbase in Belarus and asked President Putin to sign a corresponding inter-state agreement, which "will ensure Russia's long-term military presence in the region and strengthen the region's security" (Government.ru, September 2). Several days later, the draft agreement was made public (Pravo.gov.ru, September 7). On September 19, Vladimir Putin tasked his defense and foreign ministries with finishing negotiations, with a view to signing the agreement (Tut.by, September 19). A week later, the Russian newspaper Nezavisimaya Gazeta cited anonymous sources in military and diplomatic circles, which stated that the agreement was ready for signing and that the airbase would start operating in January 2016 (Nezavisimaya Gazeta, September 25).
Why was it necessary for Moscow to make the negotiation process so public? It looks like a clear sign of pressure, especially against the backdrop of the presidential campaign and growing economic problems in Belarus. Lukashenka has responded to this Russian pressure by stating: "I am surprised and even offended to some degree. Why would Russians have to leak it to the media now? Are they concerned we are going to ally with the West? Do they want the West to start questioning us and doubting whether our intentions to normalize relations are real?" (BelTA, October 6).
Obviously, the airbase issue is highly uncomfortable for Minsk. It is not only about the presidential elections, where Lukashenka does not want to yield additional arguments to his opponents; it also hits on Belarus's fundamental security and foreign policy concerns. Minsk has put extraordinary diplomatic effort into navigating the dangerous waters of the Russia-Ukraine and broader Russia-West conflict. As such, Belarus has succeeded in staying neutral and even hosting conflict resolution negotiations. But the Russian airbase can easily undermine such efforts. Therefore, Minsk is now likely to eschew signing the agreement for as long as possible and, at the same time, to procure modern jets and equipment for its air forces. Belarus's authorities are well known for their ability to "muddle through" and delay the implementation of unwanted decisions.