Russia 'Normalizing' Occupation Regime in Southern Ukraine (Part One)
Publication: Eurasia Daily Monitor Volume: 19 Issue: 150
By: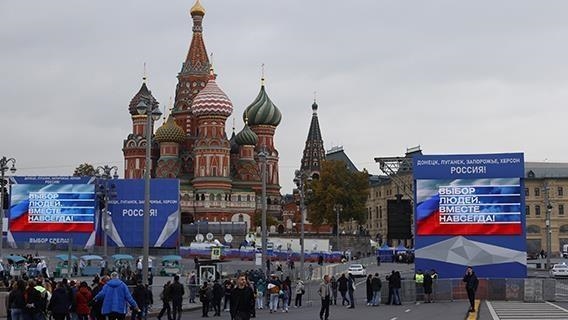 Russia is winding down its military-civil administrations in the occupied Ukrainian regions of Kherson and Zaporizhzhia. The Kremlin has decided to transition these regions to Russia's internal administrative system, the "power vertical." In this sense, Russia is normalizing its occupation of these Ukrainian territories, and it counts on the passage of time to complete this process. Apparently, the Kremlin expects Western powers to continue denying Ukraine the heavy weapons needed to make a liberating counteroffensive feasible.
Russia's bicameral parliament has unanimously executed the formalities for ratifying the "inter-state" treaties that President Vladimir Putin signed on September 30 with his satraps in the Kherson and Zaporizhzhia territories. The treaties concern Russia's recognition of the two territories' secession from Ukraine as "independent and sovereign states" (for one day) followed by their official accession to the Russian Federation with the status of oblasts. Putin promulgated these documents by means of presidential decrees (ukazes). Unanimously again, the Russian parliament amended Russia's constitution, incorporating these oblasts into the Russian Federation as its constituent entities. Putin's signature on this document has crowned the process (Kremlin.ru, September 30–October 5).
Russia currently occupies some 72 percent of Ukraine's Zaporizhzhia region (27,000 square kilometers according to the pre-February 2022 boundaries) and, apparently, more than 90 percent of Kherson region (28,500 square kilometers according to the pre-February 2022 boundaries). While the front line remains static in Zaporizhzhia, Ukrainian forces have advanced in Kherson region slightly since the start of counteroffensive actions on October 1. According to Ukrainian President Volodymyr Zelenskyy and the Ukrainian Southern Command, in parallel statements, Ukrainian forces had liberated 500 square kilometers in the region by October 7, with no further gains reported since then, leaving more than 90 percent of the territory under Russian occupation for now (Ukrinform, October 6, 7).
The front lines cutting across these two regions, therefore, raise further questions about the Russian-declared "borders" vis-à-vis Ukraine (see below). Moscow apparently lays claim to the entirety of these two regions according to their pre-February 2022 boundaries as integral parts of Russia, as per the September 30 treaties and October 5 constitutional legislation. If so, Russia bombed "its own" in the city of Zaporizhzhia, the Russian-speaking administrative center of the eponymous region. The bombings on October 9 and 10 killed at least 16 civilians and injured 90 in this Ukrainian-controlled city, a toll surpassing that inflicted on any Ukrainian city by this Russian air operation (Ukraiynska Pravda, October 10).
Russia's military-civil administrations in both regions are in the process of being replaced by civilian administrations, and predictably so. Under military-civil administrations, local civilian authorities are subordinated to Russian military commandants (see EDM, April 7, April 12, April 13, July 28 Part One and Part Two). Russia had used this instrument as long as these two occupied regions were not officially parts of Russia, but they are transitioning now to direct rule from Moscow through governors. President Putin has appointed Vladimir Saldo and Yevgeny Balitsky as "interim acting governors" of the Kherson and Zaporizhzhia oblasts, respectively (TASS, October 5).
Saldo and Balitsky were heads of the military-civil administrations only nominally because their governments were filled with Russian carpetbaggers appointed by Moscow. "Governors" Saldo and Balitsky will remain nominal for the same reason and for their transitory status. By June 1, 2023, the territorial organs of the federal executive and judiciary powers are due to be formed in both oblasts. At that time, a new structure of district- and town-level local administrations is planned to take effect (TASS, October 2, 3).
The two oblasts will elect regional assemblies (the "representative power") as part of Russia's local elections in 2023. The Kremlin intends to appoint regular governors in Kherson and Zaporizhzhia following those elections. Concerning representation in the Russian State Duma for the populations in Kherson and Zaporizhzhia oblasts, there is no clarity at the moment. The two oblasts are each entitled to two seats in the Russian Federation Council. As such, Governors Saldo and Balitsky can each designate one representative to that chamber, effective immediately. The other seat shall be filled by the assembly to be elected in each oblast in 2023 (TASS, October 2, 3).
Russian shall be the sole official language in the Kherson and Zaporizhzhia oblasts. The "study of the Ukrainian language in schools will not be forbidden" (TASS, October 5). This policy portends the Russification or re-Russification of both regions' populations. The majority of these populations identify themselves as ethnic Ukrainians and speak Ukrainian as their native language (see EDM, October 3).
The Russian ruble has already been introduced informally in both oblasts in parallel with the Ukrainian hryvnia. This parallelism will continue until December 31. The hryvnia will be eliminated from circulation on December 31, and the ruble alone will be valid from January 1, 2023, onward.