Russia 'Normalizing' Occupation Regime in Southern Ukraine (Part Two)
Publication: Eurasia Daily Monitor Volume: 19 Issue: 151
By: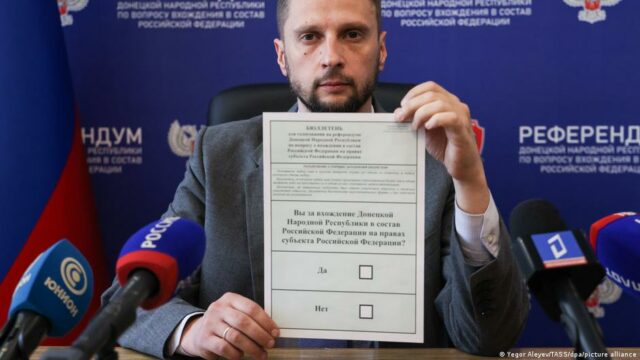 The front lines cutting across the Zaporizhzhia and Kherson regions do not coincide with the Russian-declared "borders" vis-à-vis Ukraine. Under the treaties on the two regions' incorporation as Russian oblasts (September 30) and the corresponding additions to Russia's constitution (in force since October 5), the borders of these oblasts now represent the Russian Federation's border with Ukraine (referenced only as "a neighboring state"). These Russian enactments, moreover, use the same wording with regard to Russia's western border in the annexed Donetsk and Luhansk oblasts (TASS, September 30–October 5).
Ukraine, however, retains control over portions of all four regions. Moscow's legal enactments (including the amended constitution) potentially lay claim to the entirety of these regions according to their Ukrainian administrative boundaries—namely, the pre-2014 borders in Donetsk and Luhansk and the pre–February 2022 borders in Kherson and Zaporizhzhia.
Referencing Ukraine only as "a neighboring state" in this particular geography is clearly a deliberate omission. It potentially opens the way for Russia to push this new "border" further westward into other Ukrainian provinces, as if it is terra nullius. Omitting Ukraine's name in this context reflects Russia's official de-recognition of Ukraine's territorial integrity.
Russian forces also occupy a small part of Ukraine's Mykolaiv province around the town of Snihurivka. Occupation authorities staged the September 23–27 "referendum" there. This territory has now been annexed to the contiguous Kherson oblast and thus to Russia (TASS, October 1).
While the Zaporizhzhia region "entered" Russia supposedly with that region's pre-February 2022 Ukrainian administrative boundaries, Kherson region "entered" Russia with its pre-February boundaries plus that small part of Mykolaiv province, according to Pavel Krasheninnikov, head of the Russian Duma's state-building committee and rapporteur on the annexation legislation (TASS, October 5).
According to Kremlin spokesperson Dmitry Peskov, however, Zaporizhzhia and Kherson "entered" Russia based on the boundaries within which the Russian military-civil administration operated and where the "referendums" were held. Peskov, therefore, reserves Russia's right to regain the territory it just lost to Ukrainian forces in Kherson region and to keep any territory, such as in Mykolaiv region, based on the holding of referendums (TASS, October 5).
In sum, Russia's self-declared, 2,000-kilometer "border" with unnamed Ukraine is unrecognized internationally, actively contested by Ukraine with limited Western support and questioned by Russia itself, with a view to further territorial expansion. Russia's February 2022 casus belli posed open-ended claims to Ukrainian territories in the east and the south (see EDM, February 24, 25).
It is not entirely accurate, however, to state that Russia's western border (at least a long stretch of it) is unrecognized and therefore unstable for the first time since World War II. The Soviet Union's western borders in the Baltic region also lacked international recognition but were accepted de facto and therefore stable for half a century. Western solutions of the Welles Declaration-type, entailing legal non-recognition with de facto acceptance of Moscow's annexations, however, are no longer available to Russia, whether in Ukraine's case or elsewhere.
Russia therefore is hard at work on the local level to entrench its occupation of Ukrainian territories more deeply. Occupation authorities are offering Russian citizenship to all residents of the Kherson and Zaporizhzhia regions (including those who would move from the unoccupied to the occupied territories), as well as to residents who have been evacuated to Russia. All these categories are automatically entitled to take the oath of Russian citizenship. The unwilling ones have been given 30 days (from September 30) to declare their refusal, whereupon they may keep "another citizenship" (i.e., Ukrainian) or opt for none (TASS, October 3, 4). Although the simplified procedure has been offered since June 2022, only 13,000 Kherson region residents have taken the Russian citizenship oath as of now, according to "acting interim governor" Vladimir Saldo, while Zaporizhzhia authorities have yet to announce their count (TASS, October 11).
Moscow is not, as yet, enforcing the partial mobilization of military reservists in the Kherson and Zaporizhzhia oblasts. However, Saldo and his counterpart Yevgeny Balitsky are each raising a volunteer battalion to train for fighting against Ukrainian forces. Both battalions are named after Soviet-era propaganda heroes: the intelligence agent Pavel Sudoplatov (native of Melitopol in Zaporizhzhia region) and paratroop commander Vasily Margelov (participant in the Red Army's capture of Kherson) (TASS, September 20, 24; October 5, 12).
Many patriotic Ukrainians have undoubtedly moved from these two regions to Ukrainian-controlled territory. Nevertheless, Rosgvardiya (or Russian National Guard, tasked to police the occupied territories) has detained some "90 suspected accomplices of Ukrainian nationalist organizations" in Kherson and Zaporizhzhia oblasts in just one week, from October 3 to October 9 (TASS, October 10).
Due to the state of the war, occupation authorities did not open schools on September 1. Instead, they have prolonged summer vacation until at least October 25 and are inviting school children to spend this time at the beach in Russia's balmy Krasnodar Krai and Crimea. Relatives are allowed to accompany the evacuated children. This measure may turn out to be part of the mass transfer of assimilable Ukrainians to Russia's interior under the guise of war refugees, as seen in Donbas since February 2022.
Western powers have agonized over supplying Ukraine with even "defensive" weapons of modern types and in sufficient quantity. They seem even more hesitant in supplying "offensive" heavy and long-range weapons that would enable Ukraine to regain its territories. Without such weapons, Ukraine's much-awaited Kherson offensive has clearly stalled (see EDM, October 12). Unless Western powers overcome these inhibitions, Russia will move closer to achieving its goal of rendering the occupation irreversible and use it as a springboard to further operations into what remains of Ukraine.