Russian Occupation in Southern Ukraine: The Role of Military-Civil Administrations (Part Two)
Publication: Eurasia Daily Monitor Volume: 19 Issue: 115
By: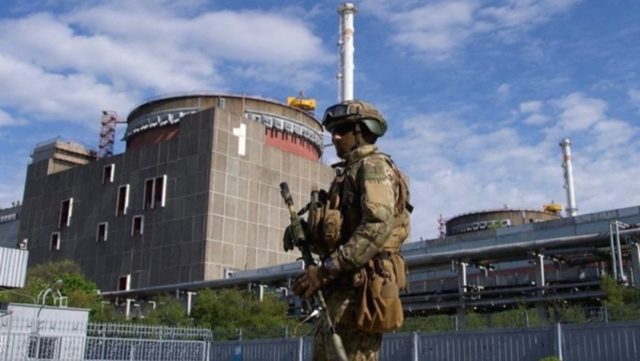 ---
Russia has set up a military-civil administration (MCA) in Ukraine's occupied Zaporyzhzhia region along the same considerations as it did in Kherson region. Moscow is now adding a Zaporyzhzhia "regional government" to the MCA, as it has done in Kherson (see EDM, July 21, 22, and July 28 Part One).
Russia occupies, since mid-March, 70 percent of  Zaporyzhzhia region's territory, which includes some 50 percent of the region's population. The region's eponymous capital city (and major industrial center) remains under Ukrainian government control. If this stalemate persists it could prevent Russia from staging a referendum on the region's separation from Ukraine and incorporation into the Russian Federation. The Kremlin would probably be unwilling to stage a referendum in fully occupied Kherson without bringing Zaporyzhzhia along too.
In Zaporyzhzhia, however, the occupation authorities have found a more influential and capable collaborator than any available in Kherson. The Russian military installed Yevgeny Balitsky on May 9 as head (glava) of the MCA in Zaporyzhzhia region. Balitsky is a successful entrepreneur with numerous assets and a political fief in his native Melitopol city and district. Melitopol is the region's second-largest city and the seat of the MCA.
Balitsky was a deputy in the Verkhovna Rada in 2012–2014 with the Party of Regions and again in 2014–2019 with the Moscow-oriented Opposition Platform – For Life (now banned in Ukraine). He was elected both times from Zaporyzhzhia's single-mandate electoral district—a test of fiefdom control. On the local level, Balitsky was a deputy to the Zaporyzhzhia Regional Council in 1998–2002, 2010–2012 and 2020–2022. (Russian occupation authorities have de facto dissolved all local elective bodies.) He was listed as unable (i.e., unwilling) to speak Ukrainian as of 2014. Balitsky had some business interests in Crimea and lived there part time after 2018 (Investigator.org.ua, June 8; TASS, July 10).
Balitsky's long-time political and business associate, Galina Danilchenko, was installed as acting mayor of Melitopol in March 2022, after the occupation authorities had abducted the legitimately elected mayor, Ivan Fedorov, who was loyal to Ukraine (TASS, March 11, 12; Investigator.org.ua, June 8). "There is no alternative to the Russian future for Melitopol and the whole of Ukraine. We should be a single country, a single state. Hopefully we will integrate into the Russian system very quickly," Danilchenko told Russian media in early June (TASS, June 2).
Vladimir Rogov, questionably titled as "member of the Zaporyzhzhia MCA's Main Council," has positioned himself as the most radical, most talkative and, consequently, most widely quoted MCA member in mass media. A local counterpart to Kherson's Kirill Stremousov (see EDM, July 28 Part One), Rogov calls for fast-tracking the referendum for the region's incorporation into Russia, apparently disregarding his Kremlin handlers' more cautious approach. Rogov is a veteran of the 2014 Novorossiya movement, at which time he headed the obscure Slavyanskaya Gvardiya group (RIA Novosti, July 15).
Balitsky has appointed Andrei Kozenko and Viktor Yemelyanenko as his deputies for economic affairs and internal politics, respectively, in Zaporyzhzhia region.
Kozenko hails from Crimea and was a member of the Russian irredentist groups Russian Bloc and Russian Unity, the latter headed by Sergei Aksyonov who became Moscow's choice for "president" of Crimea in 2014. At that point, Kozenko joined the United Russia party of power, was deputy chairman of Crimea's "parliament" in 2014–2016 and then a deputy to Russia's State Duma from Crimea in 2016–2021. Kozenko has also been the coordinator of the Russia-Donbas Integration Committee since 2017 (Interfax, July 5).
Yemelyanenko, a local figure, was first deputy chairman of Zaporyzhzhia region's state administration until 2014, appointed by then-Ukrainian President Viktor Yanukovych (Interfax, July 5).
In parallel to those choices, Balitsky also announced on July 5 the decision to form a "government" in Zaporyzhzhia region, as part of the MCA. This announcement came one day after the corresponding July 4 announcement in Kherson region (see EDM, July 28 Part One). Between July 5 and July 18 the appointments to the Zaporyzhzhia "government" were made public.
Anton Koltsov was installed as head (glava) of the government on July 18. The first deputy head of Russia's presidential administration, Sergei Kirienko, alighted to Melitopol for the occasion. (Kirienko apparently supervises Kherson and Zaporyzhzhia in addition to Donetsk and Luhansk.) Koltsov is a native of Russia's Vologda region, rose to the post of first deputy governor there and moved into the management of metallurgical giant Severstal (RIA Novosti, July 18, 19; Interfax, July 18, 19, 23; Investigator.org.ua, July 27). Zaporyzhzhia region is home to some major metallurgical enterprises, currently based in the unoccupied territory.
Anton Titsky is the "minister for youth policy" in the Zaporyzhzhia regional "government." Hailing from Crimea, Titsky was a member of the irredentist Russian Bloc on the peninsula, as was Kozenko. Titsky was also an organizer of anti-Ukrainian "self-defense" groups supporting Russia's military takeover of Crimea in 2014. He joined the United Russia party in 2016 and has served as an adviser to the head of Russia's Federal Agency for Youth Affairs (Rosmolodezh) since 2019. Rosmolodezh is mandated to promote Russian patriotic education, social lifts for youth and pravoslavie (Russian Christian Orthodoxy). Titsky focused on projects for Crimea during his service with Rosmolodezh (Investigator.org.ua, July 27).
Oleg Koltunov has been appointed as chief of police within the Zaporyzhzhia "government." He had previously served with the internal affairs departments of Russia's Rostov, Yaroslav, and Moscow oblasts. Accompanying Koltunov to Zaporyzhzhia is a former Rostov colleague, Vladimir Savchuk (Rostovnadonu.bezformata.com, July 12; Investigator.org.ua, July 24, 27).
Additional appointments can be expected in both Kherson and Zaporyzhzhia to complete the formation of these "governments." The appointments made thus far show, first, that both MCAs are instruments not simply of occupation but also of outright colonization of these Ukrainian territories by Russia; second, that the destruction of Ukrainian national identity is planned for these territories; and third, that the occupying power does not fully trust local collaborators, preferring to rely on carpetbaggers from Russia for most senior posts in these MCAs and "governments."
If Ukraine's Western partners fail to arm and train the Ukrainian military for a counteroffensive to liberate these territories, the Kremlin will be on course to achieve its objectives in Kherson and Zaporyzhzhia, resulting in Ukraine's territorial dismemberment.