January 2013 Briefs
Publication: Militant Leadership Monitor Volume: 4 Issue: 1
By: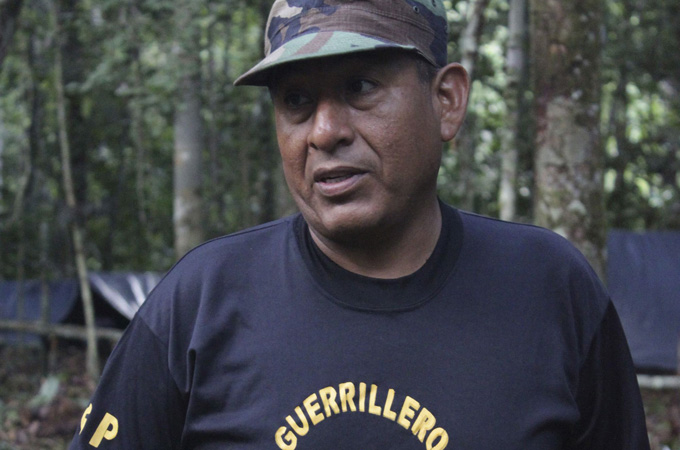 CAPTURED SHINING PATH LEADER REFUSES TO REMAIN SILENT AT TRIAL
The leader of the Shining Path faction in the Upper Huallaga Valley, Comrade Artemio, was captured in February 2012 after one of his comrades betrayed him and gave his location to the Peruvian security forces (Peruvian Times, March 6, 2012). Comrade Artemio is now standing trial in Lima on homicide charges, for which he has admitted responsibility, though he has rejected the drug trafficking charges placed against him (La Republica, February 24, 2012).
When Artemio was first arrested, he said that he would invoke his right to remain silent in trial, but in early January 2013, Artemio's lawyer said Artemio would speak at the trial so that the public "would know the truth of what happened in the Upper Huallaga and draw their own conclusions" (El Comercio [Peru], January 9). Artemio's decision to speak during his trial is likely an attempt to publicize the Shining Path's ideology and use the pulpit of the courtroom to promote Shining Path's vision of "political reform." Shining Path founder Abimael Guzman, who was captured in 1992, has similarly used public appearances in the courtroom to show solidarity with Shining Path and its sympathizers.
Unlike the Shining Path faction in the Apurimac and Ene River Valley, which is known for drug trafficking and its connections to cartels in Mexico and Colombia, Artemio's faction has remained closer to the Shining Path's founding ideology, which calls for a Marxist revolution in Peru. Artemio's fighters provided sanctuary to drug lords in the Upper Huallaga Valley in return for "taxes" from them, but drug-related criminal activities were likely peripheral to the faction's political objectives (IDL Reporteros, March 6, 2012).
Artemio is represented in court by Alfredo Crespo, the leader of the Movement for Amnesty and Fundamental Rights (a.k.a. Movadef). Movadef was founded in 2009, and, according to Peruvian authorities, "explicitly adheres to Marxism, Leninism, Maoism, and Gonzalo [Abimael Guzman] ideology" (Dialogo, January 4). Guzman was also defended by Crespo, who seeks an amnesty for captured Shining Path members in the name of "political reconciliation." Yet, the Peruvian authorities believe Movadef is merely a political wing of the Upper Huallaga faction of the Shining Path and are contemplating implementation of new criminal laws to ban or, at least, weaken Movadef (Andina, December 15, 2012). Thus, Artemio's trial could be one of the last chances for Movadef to convey its message to the Peruvian while still a legal organization.
IMU MUFTI ABU ZAR AL-BURMI DEMANDS REVENGE ON MYANMAR
The Uzbek, Arabic and Urdu speaking mufti of the Islamic Movement of Uzbekistan (IMU), Abu Zar al-Burmi, is a Pakistani national of ethnic Rohingya Burmese descent. Since inter-ethnic violence broke out between the Rohingyas of Rakhines in Arakan State, Burma, in June 2012, al-Burmi has led the call for a jihad against Burma as the solution to the "occupation" of Rakhine State (Ansar al-Mujahideen Forum, January 8). The IMU's Jund Allah media network issued a video of al-Burmi's most recent speech, "The Lost Nation," which was then translated and posted on the Ansar al-Mujahideen forum in January 2013. The speech was significant not only for al-Burmi's anti-Burma message, but also his contempt for China's alleged role in backing the Burmese government.
Al-Burmi said that "We are heartbroken by the massacre…committed by a pagan Buddhist enemy which is the infidel, aggressive, oppressive, licentious state of Burma with support of China, and the Ummah and especially the mujahideen should know that the coming enemy of the Ummah is China which is developing its weapons day after day to fight the Muslims." After asserting incorrectly that the Muslims were the majority in Burma, when in fact they are about 4% of the population, al-Burmi said the oppression of the Rohingyas has its origins in the support China and Russia gave to the "communist police government" that came to power in Burma in 1965. Al-Burmi then blamed the recent "massacres and mass killings" on the United Nations and the governments of Burma, China and Germany.
The IMU is currently based in the tribal areas of Pakistan, where it often carries out attacks on Pakistani troops, and it has also infiltrated northern Afghanistan, where it often carried out attacks on NATO forces. The IMU does not have a history of focusing on China, although the Turkistan Islamic Party (TIP), which is comprised of Uyghurs and also based in Pakistan's tribal areas, has as a goal to "liberate" Xinjiang Province from its "oppressors" and create an Islamic caliphate called Turkistan out of Xinjiang and the other five Central Asian countries. Al-Burmi's statement is most likely an appeal made to express solidarity with his fellow Rohingya kin. At the same time, his speech could reflect that the IMU and TIP are working closely together in Pakistan's tribal areas with the Pakistani Taliban. After the withdrawal of U.S. and NATO forces from Afghanistan in 2013, China could eventually become the leading military power in Central Asia and therefore could also become a target for militants in the IMU in addition to the TIP, who, like al-Burmi, view China as their enemy.