The Post-Prison Resurrection of Indonesian Jemaa Islamiyah Founder Abubakar Baasyir
Publication: Militant Leadership Monitor Volume: 13 Issue: 11
By: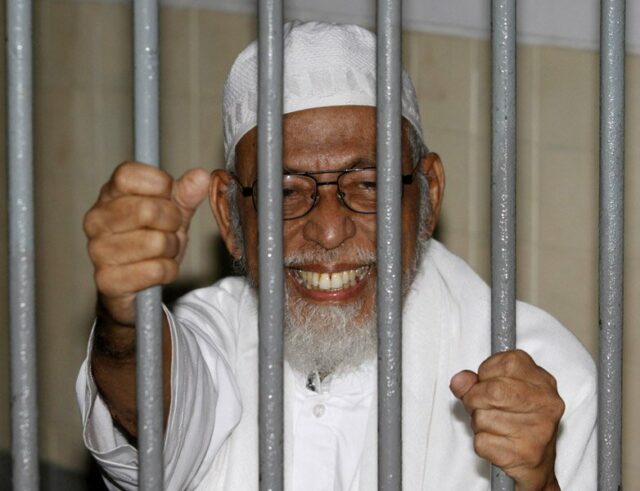 Abubakar Baasyir is an Indonesian Islamic preacher who became best known for his founding role in Jemaa Islamiyah (JI) in 1993 with, among others, Abdullahi Sungkar. Like other jihadist ideologues and founders of that era, the JI founders were inspired by the Afghan mujahidin's victory over the Soviet Union several years earlier. Baasyir, for his part, reportedly met Osama bin Laden, pledged allegiance to Bin Laden, and deployed his son to fight with al-Qaeda in the Afghanistan-Pakistan border region under the command of future JI operations head Aris Sumarsono (also known as Zulkarnaen) and to study under Yemeni Islamist ideologue, Abdulmajid Zindani. After this, Baasyir's son reportedly led a JI training camp in Aceh, Indonesia (Terrorism Monitor, December 16, 2005).
His son's activities in Aceh were followed by Baasyir's own establishment of a training camp in Aceh, which in 2010 was raided by Indonesia's Densus 88 counter-terrorism unit (kompas.com, August 9). That raid culminated in Baasyir's 2011 trial and his sentencing to 15 years in prison on terrorism charges, which was a shortened sentence that took into account his age of 73 at that time (Terrorism Monitor, April 7, 2011). Baasyir, however, was not repentant and claimed after the trial that the Indonesian judicial system prosecuted him on terrorism charges because of "U.S orders" (antaranews.com, October 6, 2012).
While in prison, Baasyir was separated from other JI militants because he was detained with prisoners in his own age group and had regular doctor visits to check on his health. To the disappointment of victims of JI's attacks, Indonesian authorities decided to release Baasyir after roughly ten years in prison in 2021, despite his earlier sentencing and the fact that Baasyir pledged allegiance to Islamic State (IS) caliph Abubakar al-Baghdadi while in prison (balidiscovery.com, January 12, 2021). Baasyir hardly reformed his ideological views in prison.
Nevertheless, in the past several years, Indonesia has committed itself to de-radicalizing even the most notorious jihadists who have been imprisoned for large-scale terrorist attacks.  Mar Patek, for example, is considered fully de-radicalized by both Indonesian and even Western experts and is set to be released early from prison in Indonesia, despite being convicted for a leading bomb-making role in the 2002 Bali bombing that killed more than 200 people (canberratimes.com, October 10). Baasyir, however, differs from Patek and others like him because Baasyir's de-radicalization is much more questionable.
After his release from prison, Baasyir surprisingly attended an Indonesian Independence Day ceremony and praised how it was the first one ever to be held at the Baasyir-founded boarding school where a number of future jihadists had studied. He also noted that he used to believe that accepting or showing loyalty to state symbols was tantamount to "shirk (polytheism)." However, he now trusts Islamic scholars' "good faith" and that they are, in fact, monotheists (jakartaglobe.id, August 17). Yet, months after that statement, in October, Baasyir declared that Indonesia must still impose Islamic law in the country (jakartapost.com, October 11).
Rather than taking a peripheral role in societal affairs and recovering his health, which was apparently poor in prison, Baasyir is once again making his voice heard and challenging the secular identity of Indonesia. This also raises an important test for the credibility of Indonesia's lenient de-radicalization and early prison release programs.