Eastern Approaches – The New Administration and NATO Challenges in 2021 with Former SACEUR Gen. (ret.) Philip Breedlove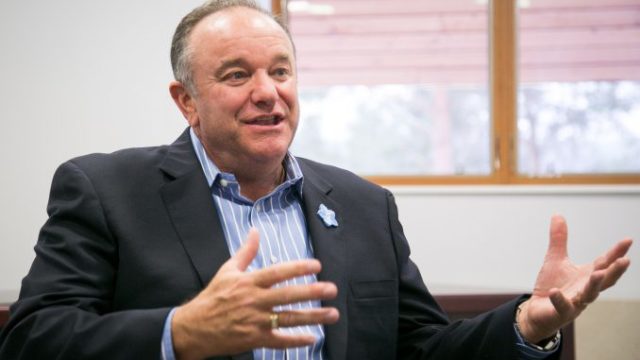 In the latest episode of Eastern Approaches, Jamestown President Glen Howard and former NATO Supreme Allied Commander Europe (SACEUR) General (ret.) Philip Breedlove discuss the challenges facing the new Biden administration and the Transatlantic alliance. NATO must continue to stay united as it confronts a hostile Russia, but it will have to maintain credible and effective warfighting capabilities despite likely renewed budget shortfalls caused by the COVID-19 pandemic. Breedlove offers poignant and timely advice for increasing NATO's readiness posture and ability to deter future conflict in Eastern Europe, the Black Sea region, and the Arctic.
The Eastern Approaches video series is named after the book by British diplomat, spy and adventurer, Fitzroy Maclean, and features conversations with renowned experts on the most important geostrategic issues the United States faces in Eurasia, with an eye toward detail typically absent in foreign policy discussions today.
---
Featuring 
Gen. (ret.) Philip Breedlove
Fmr. Supreme Allied Commander Europe, NATO Allied Command Operations
Interviewed By
Glen Howard
President, The Jamestown Foundation
---
Participant Biographies
Gen. Philip M. Breedlove (Ret.) is a proven strategic planner, motivational leader and talented communicator. He is a highly decorated retired general of the U.S. Air Force where he reached the highest levels of military leadership as one of six geographic combatant commanders and the Supreme Allied Commander of NATO. During 39 years of service, General Breedlove served in a variety of demanding command and staff positions, leading large-scale, diverse, global operations across two theaters of combat and earning a reputation as an inspirational leader focused on his people, their families and mission accomplishment. Leading a diverse political-military alliance, he was able to build consensus and form teams to accomplish complex tasks spanning multiple continents.As the Supreme Allied Commander Europe and the Commander of U.S. European Command, he answered directly to NATO's governing body, the North Atlantic Council, and to the President of the United States and Secretary of Defense. He led the most comprehensive and strategic structural and policy security changes in the alliance's 70-year history. His diplomatic skills reassured allies, deterred potential aggressors and maintained alliance unity during the most dynamic and challenging period since its inception. He led the forces of 28 nations and multiple partners in ensuring the security of an alliance that accounts for more than half the world's gross domestic product.
As Commander, U.S. Air Forces Europe and Air Forces Africa, General Breedlove was responsible for organizing, training, equipping and maintaining combat-ready forces while ensuring theater air defense forces were ready to meet the challenges of peacetime air sovereignty and wartime defense. This diverse portfolio included both theater and operational air and ballistic missile defense, areas where his operational designs remain in place today.
As Vice Chief of Staff of the Air Force, he presided over the Air Staff and served as a member of the Joint Chiefs of Staff Requirements Oversight Council and Deputy Advisory Working Group during a period of intense challenge, including devising measures to meet the requirements of the Budget Control Act's required $480 billion reduction of the Department of Defense budget. Accordingly, he led the organization, training and equipping of more than 690,000 people serving in the U.S. Air Force and provided oversight of its $120 billion annual budget.
***
Glen Howard is the President of the Jamestown Foundation, one of the world's leading research and analysis organizations on Eurasia. Based in Washington, D.C., Mr. Howard has overseen the research and analysis activities of Jamestown for the past 16 years and extensively dealt with Russia and Eurasia in his capacity as Jamestown President, working with the regional leaders and national strategists across Eurasia from the Baltic to Central Asia.
An expert on Eurasia and Russia, Mr. Howard is the co-author with Matt Czekaj of the new book Russia's Military Strategy and Doctrine, a collection of writings on Russian military strategy and doctrine by some of the world's leading defense experts. Mr. Howard is also the editor of the book Volatile Borderland: Russia and the North Caucasus, and other works. He has published articles in the Wall Street Journal, Real Clear Defense, the Hill, and other prominent publications.
Mr. Howard is privileged to have worked for the late Dr. Zbigniew Brzezinski from 2002 to 2008 as the executive director of an advocacy organization seeking a peaceful resolution of the second Russo-Chechen war.  Mr. Howard worked at the U.S. Embassy Moscow from 1984-1986 and is fluent in Russian and proficient in French, Turkish and Azerbaijani.
Mr. Howard received a Master's degree in Soviet and East European Studies from the University of Kansas (1988) and has an undergraduate degree from Oklahoma State University in Business Management (1984).