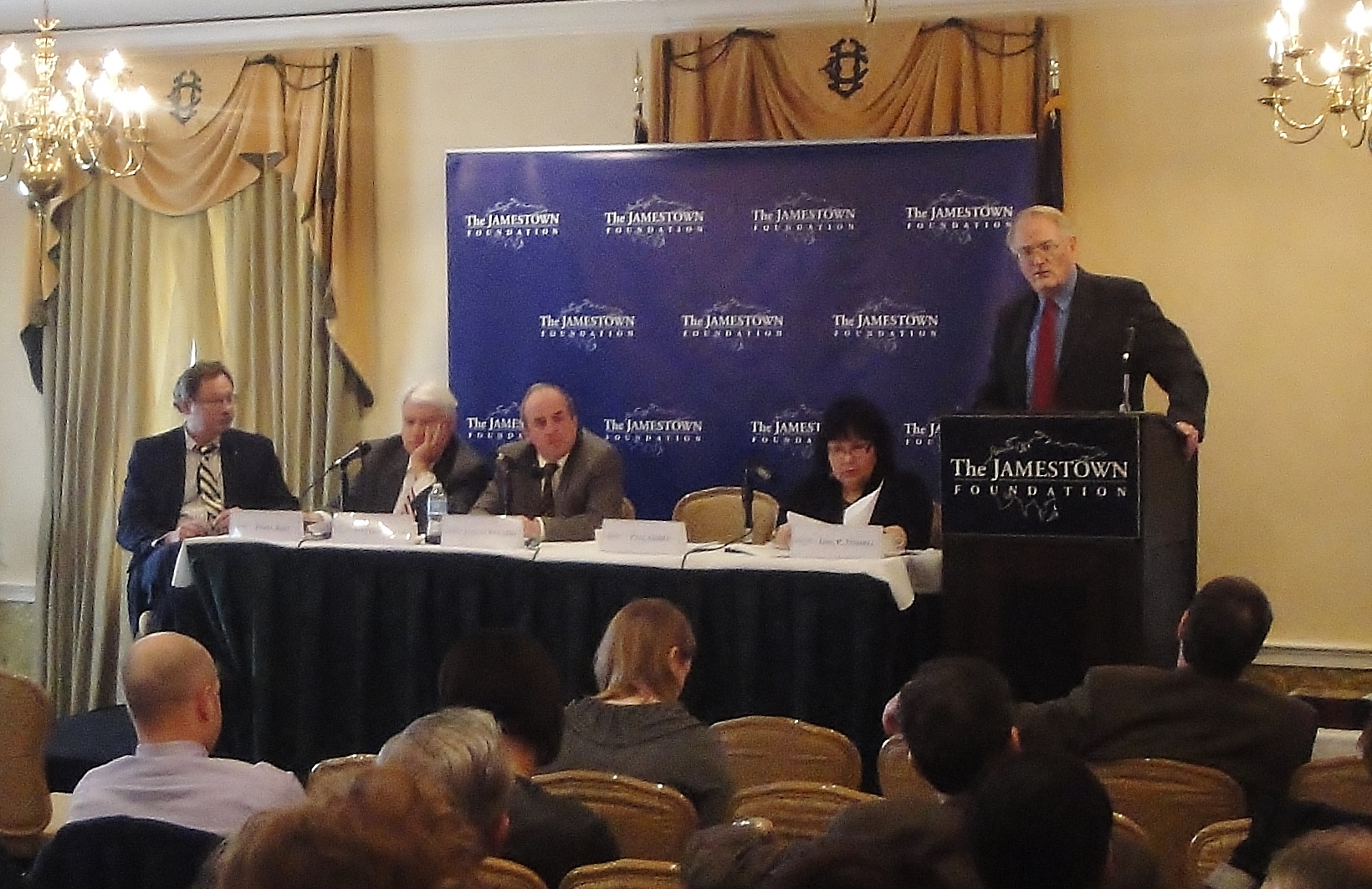 In the aftermath of the withdrawal of Ukrainian military forces, the security situation in Crimea is still unstable. Nearly 300,000 Crimean Tatars reside on the strategic Black Sea peninsula, and the security situation there continues to unravel as the status of Crimean Tatars remains uncertain. Various reports are emerging of a refugee crisis as Crimean Tatars flee the Russian occupation. Now, as Moscow begins the complicated and expensive process of integrating Crimea into the Russian Federation, the Crimean Tatars again feel under threat.
Meanwhile, Russia has for weeks massed tens of thousands of troops on the border with Ukraine, and it is yet to be seen whether or not they will all be demobilized soon—as Vladimir Putin has claimed—or if they are the vanguard of an invading force about to enter Eastern Ukraine. In an effort to better understand the turbulent situation in Crimea, The Jamestown Foundation has assembled a panel of distinguished experts on the region. Please join our disucssion, which will cover the wide-ranging effects of the Anschluss of Crimea, its impact on Ukraine, and the consequences for European security. What happens now in Ukraine has direct implications for all the countries in the region, so understanding how this complex and potentially explosive situation will develop is crucial for developing a strategy that can prevent war or outcomes damaging to the West.
Tuesday, April 1, 2014
1:30 P.M.–3:30 P.M.
The University Club of Washington, D.C.
Second Floor Conference Room
1135 Sixteenth Street, N.W.
Washington, D.C. 20036

*To watch the full streaming video of "Flashpoint: Crimea," please click here.
AGENDA
Welcome
Glen E. Howard
President, The Jamestown Foundation
* * *
"No Small Mischief: Why What Happens to the Crimean Tatars Matters to the World"
Paul Goble
Window on Eurasia
"Crimean Crisis in the Making: 1997–2014"
Idil P. Izmirli
Visiting Scholar and Adjunct Professor, George Mason University
"Will Russia Invade Eastern Ukraine?"
Pavel Baev
Research Director and Professor, Peace Research Institute, Oslo (PRIO)
"How Europe and the United States Can Respond"
Stephen Blank
Senior Fellow, American Foreign Policy Council
Moderator: Janusz Bugajski
U.S. Foreign Policy Analyst
Q & A
* * *
Closing Remarks

PARTICIPANT BIOGRAPHIES
Pavel Baev
Dr. Pavel K. Baev is a Research Director and Professor at the Peace Research Institute, Oslo (PRIO). He is also a non-resident senior fellow at the Center for the United States and Europe (CUSE) at the Brookings Institutions, Washington DC, and a Senior Associate Fellow at the Institut Francais des Relations Internationales (IFRI), Paris. After graduating from the Moscow State University (MA in Political Geography, 1979), he worked in a research institute in the USSR Defence Ministry, received PhD in International Relations from the USA & Canada Institute (1988), and then worked in the Institute of Europe, Moscow, before joining PRIO in October 1992. His research interests include the transformation of the Russian armed forces; the energy and security dimensions of Russian-European relations; Russian policy in the Arctic; and post-Soviet conflict management in the greater Caspian area. Baev is leading the Regions and Powers research group at PRIO, and his research on Russian foreign policy is supported by the Norwegian Foreign Ministry. Baev has published extensively in international academic and policy-oriented journals; his weekly column appears in Eurasia Daily Monitor <https://www.jamestown.org/edm>.
Stephen Blank
Stephen Blank is a Senior Fellow at the American Foreign Policy Council in Washington. From 1989–2013 he was a Professor of Russian National Security Studies at the Strategic Studies Institute of the U.S. Army War College in Pennsylvania. Dr. Blank has been Professor of National Security Affairs at the Strategic Studies Institute since 1989. In 1998-2001 he was Douglas MacArthur Professor of Research at the War College.
He has published over 900 articles and monographs on Soviet/Russian, U.S., Asian, and European military and foreign policies, testified frequently before Congress on Russia, China, and Central Asia, consulted for the CIA, major think tanks and foundations, chaired major international conferences in the USA and abroad In Florence, Prague, and London, and has been a commentator on foreign affairs in the media in the United States and abroad. He has also advised major corporations on investing in Russia and is a consultant for the Gerson Lehrmann Group
He has published or edited 15 books focusing on Russian foreign, energy, and military policies and on International Security in Eurasia. His most recent book is Russo-Chinese Energy Relations: Politics in Command, London: Global Markets Briefing, 2006. He has also published Natural Allies?: Regional Security in Asia and Prospects for Indo-American Strategic Cooperation, Carlisle Barracks, PA: Strategic Studies Institute, US Army War College, 2005.
Dr. Blank is also the author of a study of the Soviet Commissariat of Nationalities, The Sorcerer as Apprentice: Stalin's Commissariat of Nationalities, Greenwood Publishing Group, 1994 and the co-editor of The Soviet Military and the Future, Greenwood Publishing Group, 1992.
Prior to this appointment Dr. Blank was Associate Professor for Soviet Studies at the Center for Aerospace Doctrine, Research, and Education of Air University at Maxwell AFB. He also held the position of 1980-86: Assistant Professor of Russian History, University of Texas, San Antonio, 1980-86, and Visiting Assistant Professor of Russian history, University of California, Riverside, 1979-80.
Dr. Blank's M.A. and Ph.D. are in Russian History from the University of Chicago. His B.A is in History from the University of Pennsylvania.
Janusz Bugajski
Janusz Bugajski is a foreign policy analyst and author of 18 books on Europe, Russia, and trans-Atlantic relations. His current positions include host of the television show "Bugajski Hour," broadcast on Albanian Screen in Tirana, and non-resident Senior Associate at the Center for Strategic and International Studies. He is a contributor to U.S. and European newspapers and journals, and a columnist for media outlets in Albania, Bosnia-Herzegovina, and Ukraine. His newest book is entitled Conflict Zones: North Caucasus and Western Balkans Compared, The Jamestown Foundation, February 2014.

Paul Goble
Paul Goble is a longtime specialist on ethnic and religious questions in Eurasia. Most recently, he was director of research and publications at the Azerbaijan Diplomatic Academy. Earlier, he served as vice dean for the social sciences and humanities at Audentes University in Tallinn and a senior research associate at the EuroCollege of the University of Tartu in Estonia. While there, he launched the "Window on Eurasia" series. Prior to joining the faculty there in 2004, he served in various capacities in the U.S. State Department, the Central Intelligence Agency and the International Broadcasting Bureau as well as at the Voice of America and Radio Free Europe/Radio Liberty and at the Carnegie Endowment for International Peace. He writes frequently on ethnic and religious issues and has edited five volumes on ethnicity and religion in the former Soviet space. Trained at Miami University in Ohio and the University of Chicago, he has been decorated by the governments of Estonia, Latvia and Lithuania for his work in promoting Baltic independence and the withdrawal of Russian forces from those formerly occupied lands.
Idil P. Izmirli

Dr. Idil P. Izmirli is currently a Visiting Scholar and a Adjunct Professor at George Mason University's School for Conflict Analysis and Resolution. In 2012, she was hired as an expert by the Organization for Security and Cooperation in Europe's (OSCE) High Commissioner on National Minorities (HCNM) to assess the needs and to prepare a report on the Integration of Formerly Deported People in Crimea, Ukraine, which was published on August 16, 2013. Dr. Izmirli's research has been funded by various Title VIII research grants including the Social Science Research Council (SSRC), the Woodrow Wilson International Center for Scholars' Kennan Institute, IREX (IREX-IARO and two consecutive IREX STGs), Fulbright, and the Regional Policy Symposium on Regional Security in Eastern Europe and Eurasia Junior Scholarship, as well as two consecutive fellowships from George Mason University's "Partnership for Conflict Resolution Development in Ukraine" program, supported by the US Department of State, through which she took part in launching the Crimean Institute of Peace as well as a student-run university mediation and dispute resolution center. In 2013, for the third time in a row, she was awarded an IREX STG (Title VIII grant) for her continuing research in Crimea.