Upcoming Webinar: Guardians of the Belt and Road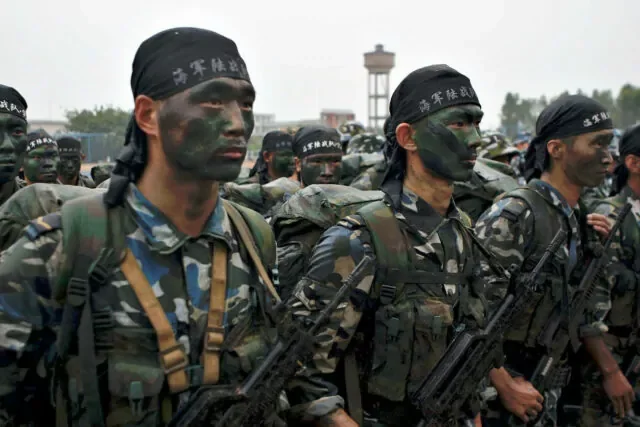 China's ambitious Belt and Road Initiative (BRI) is widely recognized as an economic power play that challenges US influence geopolitically, particularly in vital and resource-rich regions around the world. Little attention, however, has been devoted to the importance of how China plans to secure and defend its economic interests along the BRI. China has increasingly employed private security contractors (PSCs) to safeguard its geo-economic interests in many regions of the world—in particular, politically unstable "gray zones," such as central Africa.
Jamestown Senior Fellow Dr. Sergey Sukhankin has completed nine papers analyzing Beijing's use of PSCs as part of the project "Guardians of the Belt and Road: The Role of Private Security Companies in Securing China's Overseas Interest." The Jamestown Foundation is proud to host a virtual event with Dr. Sukhankin on Friday, November 3 at 10:30 AM EDT to discuss his findings and what they mean for the Chinese PSC industry moving forward. Dr. Sukhankin will be joined by experts Paul Nantulya of the Africa Center for Strategic Studies and Dr. Alessandro Arduino, author of the recent book Money for Mayhem, who will offer their insights on the project. Nadège Rolland, a Distinguished Fellow in China Studies at the National Bureau of Asian Research, will offer a brief introduction to the BRI and China's global ambitions. Jamestown President Peter Mattis will give introductory remarks and moderate the Q&A.
---
---
Agenda
 
Welcome and Introduction
Peter Mattis
President, The Jamestown Foundation
China's BRI and Global Ambitions
Nadège Rolland
Distinguished Fellow, China Studies
National Bureau of Asian Research
Guardians of the Belt and Road
Dr. Sergey Sukhankin
Senior Fellow, The Jamestown Foundation
Commentators
Paul Nantulya
Research Associate, Africa Center for Strategic Studies
National Defense University 
Dr. Alessandro Arduino
China Expert and Author
Q&A
---
Participant Biographies
Dr. Alessandro Arduino is an affiliate lecturer at the Lau China Institute, King's College London, and a member of the International Code of Conduct Association (ICoCA) advisory group. He has over two decades of experience covering China, honing his expertise in government policy research, political economy, risk mitigation, private and military security, and SOE governance. Dr. Arduino's teaching and research focuses on China's security abroad, China in Central Asia, and the MENA region as well as the evolution of private military companies, cyber mercenaries, armed UAVs, and the future of warfare. His latest book Money for Mayhem: Mercenaries, Private Military Companies, Drones, and the Future of War forecasts the future of war in a world dominated by private armies.
Dr. Arduino's reputation as a Belt and Road Initiative security expert has led him to work with international organizations, including the European Bank for Reconstruction and Development (EBRD), the United Nations Development Program (UNDP), the European Union, OSCE, and NATO.  His interviews appear in the Financial Times, New York Times, The Economist, BBC Worldwide, CNBC Live, South China Morning Post, and Washington Post.
Peter Mattis is the President of The Jamestown Foundation. He served as editor of China Brief from 2011 to 2013 and as a fellow in the China program from 2013 to 2018. Most recently, Mr. Mattis was a Senior Fellow with the U.S. House Select Committee on the Strategic Competition between the United States and the Chinese Communist Party on loan from the Special Competitive Studies Project where he served as Director for Intelligence. From 2019 to 2021, he served as the Senate-appointed staff director of the Congressional-Executive Commission on China (CECC) where he was a part of the legislative team that passed the Hong Kong Human Rights and Democracy Act, Uyghur Human Rights Policy Act, Tibetan Policy and Support Act, and the Uyghur Forced Labor Prevention Act.
He began his government career as a counterintelligence analyst at the Central Intelligence Agency, where he earned exceptional performance awards for analytic leadership and community support. Mattis is the author of Analyzing the Chinese Military: A Review Essay and Resource Guide on the People's Liberation Army (2015) and co-author of Chinese Communist Espionage: An Intelligence Primer (2019). He is a graduate of the University of Washington and Georgetown University.
Paul Nantulya is a research associate at the Africa Center, where he researches and prepares written analysis on contemporary Africa security issues. His areas of expertise include Chinese foreign policy, China/Africa relations, African partnerships with Southeast Asian countries, mediation and peace processes, the Great Lakes region, and East and Southern Africa. Mr. Nantulya holds a BA in International Relations from United States International University in Nairobi, Kenya, a Graduate Certificate in Japanese from the Japan Africa Interchange Institute in Nairobi, Kenya, and an MS in Defense and Strategic Studies from Missouri State University in Springfield, MO.
Nadège Rolland is a Distinguished Fellow, China Studies, at the National Bureau of Asian Research (NBR). Her research focuses mainly on China's foreign and defense policy, grand strategy, and the articulation of China's vision for itself as a great power on the world stage. Her 2017 book China's Eurasian Century? Political and Strategic Implications of the Belt and Road Initiative is the first Western analysis to examine the strategic thought and drivers behind the BRI, based on Chinese language sources.Her most recent project examines where the African continent fits in relation to China's overall strategic vision and identifies the main instruments used by Beijing to achieve its objectives. Rolland served for two decades as an analyst and Senior Advisor on Asian and Chinese strategic issues to the French Ministry of Defense, for which she has been awarded the Medal of Honor. She holds a MA in China Studies (summa cum laude) from the National Institute of Oriental Languages and Civilizations and a MS in Strategic Studies (summa cum laude) from the S. Rajaratnam School of International Studies. She is also a National Taiwan Normal University alumna.
Dr. Sergey Sukhankin is a Fellow at the Jamestown Foundation, and an Advisor at Gulf State Analytics (Washington, D.C.). He received his PhD in Contemporary Political and Social History from the Autonomous University of Barcelona. His areas of interest include Kaliningrad and the Baltic Sea region, Russian information and cyber security, A2/AD and its interpretation in Russia, the Arctic region, and the development of Russian private military companies since the outbreak of the Syrian Civil War. He has consulted or briefed with CSIS (Canada), DIA (USA), and the European Parliament. His project discussing the activities of Russian PMCs, "War by Other Means" informed the United Nations General Assembly report entitled "Use of Mercenaries as a Means of Violating Human Rights and Impeding the Exercise of the Right of Peoples to Self-Determination." He is based in Edmonton, Alberta in Canada.