The Iraqi Elections & the Changing Politico-Security Environment in Iraq
By: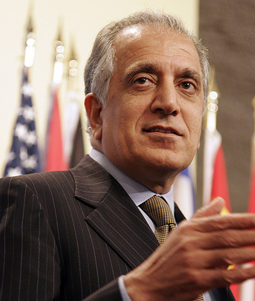 ***Deputy Assistant Secretary of Defense for the Middle East Colin Kahl's speech is available for download at the bottom of this page.***
Thursday, March 4, 2010
9:00 A.M. – 4:30 P.M.
Root Conference Room
Carnegie Endowment for International Peace
1779 Massachusetts Avenue, N.W.
Washington, D.C.
Early Bird Registration: $65.00
(Ends at 5:00 p.m. on Monday, March 1)
Late Registration/Walk-ins: $90.00
*Admission Fee Includes Jamestown's new book: Volatile Landscape: Iraq and its Insurgent Movements*
&nb
*TO REGISTER FOR THIS CONFERENCE, PLEASE CLICK HERE.*
---
Registration
8:30 A.M.
Introduction
9:00 A.M. – 9:15 A.M.
Meghan L. O'Sullivan

"Iraq in Transition"
Jeane Kirkpatrick Professor of International Affairs, John F. Kennedy School of Government, Harvard University
Panel One:
The Iraqi Elections and the Shifting Political Landscape
9:20 A.M. – 10:30 A.M.
Reidar Visser
"Iraq's Elections in 2010: Towards a Repeat of 2005?"
Research Fellow, Norwegian Institute of International Affairs
Faleh A. Jabar
"The Future of the Dawa Party and Shi'a Politics in Iraq"
Director, Iraq Institute for Strategic Studies
Moderator:
Laith Kubba
Senior Director for the Middle East,
National Endowment for Democracy
Q&A
Coffee Break
10:30 A.M. – 10:45 A.M.
Panel Two:
Iraq's Changing Security Environment
10:45 A.M. – 12:15 P.M.
Hamza Shareef
"An Alliance of Convenience: AQI and the Ba'athists"
Director, National Security Council Iraq
Lt. General James Dubik (ret.)

"The Status of Iraq's Military Forces"
Senior Fellow, Institute for the Study of War
Patrick Cockburn
"Muqtada al-Sadr and the Changing Role of Iraq's Shi'a Militias"
Foreign Correspondent and Iraq Commentator, The Independent
Michael Knights
"New Security Trends in Basra: Views from the Ground"
Senior Fellow, Washington Institute for Near East Policy
Q&A
Keynote Speakers
Dr. Colin Kahl

Deputy Assistant Secretary of Defense for the Middle East,

U.S. Department of Defense
and

Ambassador Zalmay Khalilzad

Former U.S. Ambassador to Iraq, U.S. Department of State
Q&A
Panel Three:
Foreign Relations & Energy Policy

1:30 P.M. – 2:45 P.M.
Ambassador Feisal Istrabadi

"Iraq and its Arab Neighbors"
Former Iraqi Deputy Permanent Representative to the United Nations
Gary Sick

"Iraq-Iran Relations and its Impact on Gulf Affairs"
Senior Research Scholar, SIPA Middle East Institute, Columbia University
Matthew Amitrano

"The Hydrocarbon Law and the Politics of Iraqi Oil'
Iraq Energy Specialist, U.S. Department of State
Q&A
Panel Four:
Future Challenges to Iraqi Stability
3:00 P.M. – 4:30 P.M.
Rafid Fadhil Mohammed Ali

"Post-U.S. Withdrawal Security Challenges"
Analyst, The Jamestown Foundation
Michael Gunter

"Kurdish-Arab Tensions and Irbil-Baghdad Relations"
Professor, Tennessee Technological University
Rachel Schneller

"The Impact of Demographics on the Future of Iraq's Stability"
International Affairs Fellow in Residence, Council on Foreign Relations
Q & A
Conclusion
4:30 P.M.
*TO REGISTER FOR THIS CONFERENCE, PLEASE CLICK HERE*