VIDEO: The Expanding Geography of Militant Jihad
By: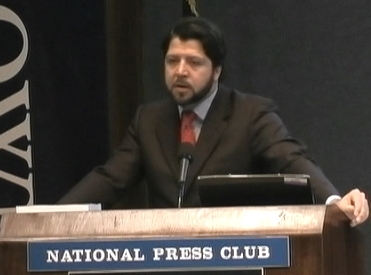 Conference Program:
The Expanding Geography of Militant Jihad
Featuring Keynote Speaker Hekmat Karzai
Tuesday, December 9, 2008
9:00 a.m. to 4:30 p.m.
The National Press Club
Ball Room
529 14th Street NW
Washington, DC
Registration
8:30 a.m.
Introduction
9:00 a.m.
Bruce Hoffman
"Challenges for the Next Administration"
Edmund A. Walsh School of Foreign Service
Georgetown University
Panel One:
The Ideology of Militant Islamism
9:20 – 10:15 a.m.
Maajid Nawaz
"The Culture of Educating Jihadis"
The Quilliam Foundation
(former member of Hizb ut-Tahrir)
Stephen Ulph
"The Ideology of Expansion"
Senior Fellow, The Jamestown Foundation
Coffee Break
10:15 – 10:30 a.m.
Panel Two:
The Northwest Frontier/Pakistan/Afghanistan
10:30 a.m. – 12:00 p.m.
Moderator:
Thomas P. Wilhelm
Director, Foreign Military Studies Office
U.S. Army
Tariq Ashraf, Air Commodore (Ret.)
"The Changing Strategic Concerns of Pakistan in the Northwest Frontier"
South Asia Defense Analyst
Hassan Abbas
"Tactics and Strategy of the Pakistani Taliban"
Research Fellow
Belfer Center, JFK School of Government, Harvard University
Brian Glyn Williams
"Moving South: Suicide Bombing Trends in the Hindu Kush"
Associate Professor of Islamic History
University of Massachusetts at Dartmouth
*Keynote Luncheon Speaker*
12:30 p.m. – 1:15 p.m.
Mr. Hekmat Karzai
"Bringing Order to Chaos: A Strategic Framework for Victory in Afghanistan"
Director and Founder, Centre for Conflict and Peace Studies
Kabul, Afghanistan
Panel Three:
The Changing Face of Islamist Militancy in North Africa
1:30 – 2:45 p.m.
Moderator:
General Carlton W. Fulford, Jr.
U.S. Marine Corps (Ret.)
Theresa Whelan
"Islamic Jihad in North Africa"
Deputy Assistant Secretary of Defense for African Affairs
Office of the Secretary of Defense
Andrew Black
"Tactics, Strategy, and Ideology of Jihadi Movements in the Maghreb"
Managing Director
Black Watch Global
Andrew McGregor
"The Islamist Challenge to North Africa's Energy Industry
(Chad, Niger, Algeria and Sudan)"
Editor, Terrorism Monitor and Terrorism Focus
The Jamestown Foundation
Camille Tawil
"The Islamist Challenge in Libya"
Al-Hayat Newspaper
Break
2:45 – 3:00 p.m.
Panel Four:
Over the Horizon Threats in Eurasia
3:00 – 4:30 p.m.
Michael Scheuer
"Over the Horizon Threats to the United States"
Senior Fellow
The Jamestown Foundation
Murad Batal al-Shishani
"The Salafi Jihadist Movement in Lebanon"
Independent Islamic Groups Analyst
Gregory Johnsen
"The Threat of Militant Jihad in Yemen"
Ph.D. Candidate in Near Eastern Studies at Princeton University
Conclusion
4:30 p.m.
***********
Tuesday, December 9, 2008
9:00 a.m. – 4:30 p.m.
National Press Club Ballroom
529 14th Street NW
Washington DC
**$65 registration fee on or before December 5**
**$80 registration fee after December 5 or at the door**
Registration fee can be paid in advance through Paypal.
Lunch will be provided.
For more information on the conference please go to www.jamestown.org.
As space is limited, reservations are required. Please e-mail your name and affiliation to:
[email protected]