Face-Off in the Himalayas:  China's Active Defense and India's Reaction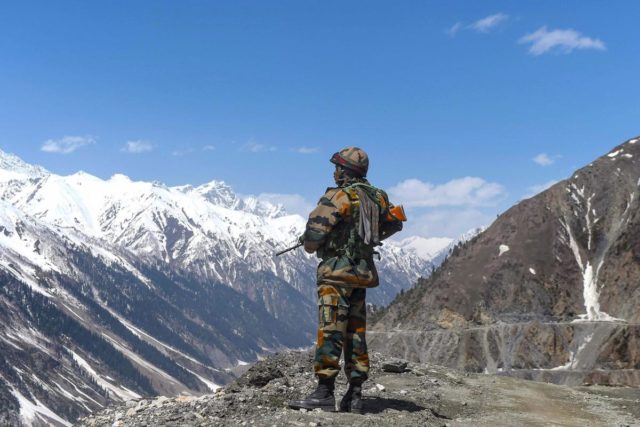 The Jamestown Foundation is proud to present an online webinar event, "Face-Off in the Himalayas" that took place on Thursday, July 2, at 10:30 AM.
On June 16, Indian and Chinese troops engaged in a brutal melee fight for control of a remote outpost in the Galwan Valley. 20 Indian troops died from the fight, as did an unknown number of Chinese soldiers. This skirmish was the first time Indian and Chinese soldiers were killed on the border since 1967 and was the most violent episode of a border confrontation that began on May 5.
As the world took stock of this violence between nuclear-armed neighbors and continues to watch the ongoing crisis with concern, The Jamestown Foundation has gathered world-renowned experts on the Chinese and Indian militaries to discuss the border policies, geography, and infrastructure projects that caused this latest confrontation to break out at this time.
---
Participants 
Ajai Shukla
Defense and Strategic Affairs Contributing Editor, Business Standard
Dennis Blasko
Former United States Army Attaché to China
M. Taylor Fravel
Arthur and Ruth Sloan Professor of Political Science
Director, Security Studies Program, MIT
Moderator
Glen Howard
President, The Jamestown Foundation
---
Participants Biographies
Dennis J. Blasko  served 23 years in the U.S. Army as a Military Intelligence Officer and Foreign Area Officer specializing in China. Mr. Blasko was an army attaché in Beijing and Hong Kong from 1992-1996. He served in infantry units in Germany, Italy, and Korea and in Washington at the Defense Intelligence Agency (as an imagery analyst), Headquarters Department of the Army (Office of Special Operations), and the National Defense University War Gaming and Simulation Center. Mr. Blasko is a graduate of the United States Military Academy and the Naval Postgraduate School. He is the author of The Chinese Army Today: Tradition and Transformation for the 21st Century, second edition (Routledge, 2012).
***
M. Taylor Fravel is the Arthur and Ruth Sloan Professor of Political Science and Director of the Security Studies Program at the Massachusetts Institute of Technology. In 2016, he was named an Andrew Carnegie Fellow by the Carnegie Corporation.  Fravel serves on the board of directors of the National Committee on U.S.-China Relations and as the Principal Investigator for the Maritime Awareness Project. His books include Strong Borders, Secure Nation: Cooperation and Conflict in China's Territorial Disputes (Princeton University Press, 2008) and Active Defense: China's Military Strategy Since 1949 (Princeton University Press, 2019).  Fravel is a graduate of Middlebury College and Stanford University, where he received his PhD.  He also has graduate degrees from the London School of Economics and Oxford University, where he was a Rhodes Scholar.
***
Colonel (ret.) Ajai Shukla is one of India's most respected experts on defence, strategic affairs, international relations and the defence economy.
He regularly writes for the Business Standard, on these subject and appears on national television very often.
Ajai also hosts a strategic affairs blog, Broadsword (ajaishukla.blogspot.com), which is visited daily by thousands of readers from across the world.
Before joining Business Standard, Ajai worked with New Delhi Television (NDTV) from[masked] as a prime time news anchor and war correspondent. During that period, he reported from the ground the wars in Afghanistan, Iraq, Lebanon, Syria and the insurgencies in India's northeastern states and in Jammu & Kashmir. He continues to be a commentator on news television.
Before taking up journalism, Ajai served as a combat soldier in the Indian army for over two decades, retiring as a colonel after commanding a tank regiment. From[masked], he saw military service across India's borders, including Jammu & Kashmir, Nagaland, Manipur, Arunachal Pradesh, Punjab and Rajasthan. He spent a year [masked]) as a UN peacekeeper in Mozambique.
Ajai has graduated from the National Defence Academy, Kharakvasla and Indian Military Academy, Dehradun. He has a bachelor's degree from Jawaharlal Nehru University and post-graduate degrees from Madras University and from King's College, London.