Jamestown Releases a New Occasional Paper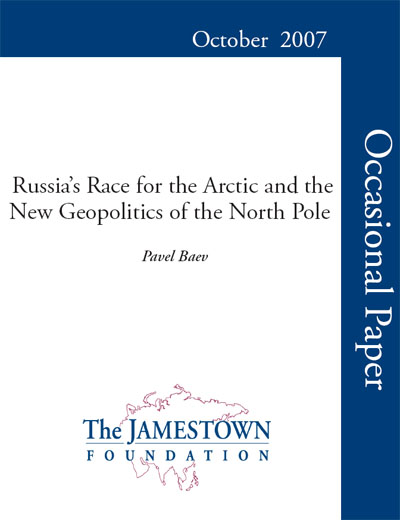 Paper Titled "Russia's Race for the Arctic and the New Geopolitics of the North Pole"
FOR IMMEDIATE RELEASE — October 26, 2007
WASHINGTON, DC (10/26/07)–The Jamestown Foundation has released a new Occasional Paper entitled "Russia's Race for the Arctic and the New Geopolitics of the North Pole." The paper is authored by Pavel K. Baev, a Research Professor at the International Peace Research Institute, Oslo (PRIO). This paper examines the domestic and international response to Russia's bid to claim a wide swath of the Arctic as Russian territory, as well as the implications on its relationship with its Arctic neighbors.
Baev argues that the August 2007 expedition to plant the Russian flag on the seabed at the North Pole had minimal scientific content but played a prominent role in adding an Arctic dimension to Russia's assertive foreign policy. The event has been a source of domestic jubilation and media interest, as well as international criticism. Baev contemplates the possible responses by the other Arctic countries—Denmark, Norway, Canada, and the United States—and explores which may be the most effective in defying Russian unilateralism.
The full paper can be downloaded here.
Additional Occasional Papers are available in the Recent Reports section.
Founded in 1984, The Jamestown Foundation is an independent, non-partisan research institution dedicated to providing timely information concerning critical political and strategic developments in China, Russia, and Eurasia. Jamestown's research and analysis is available to the public free-of-charge via Jamestown's website, www.jamestown.org.