Jamestown Releases Report on the First Anniversary of Kyrgyzstan's Tulip Revolution
By: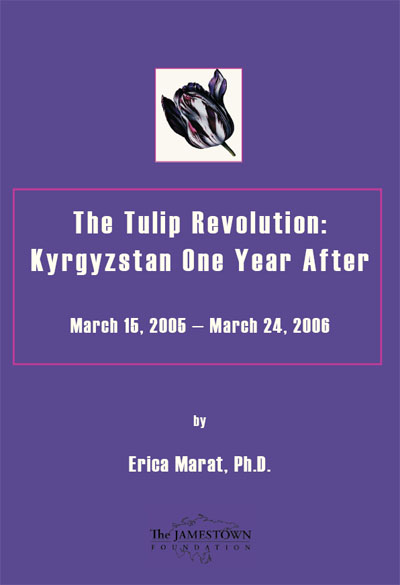 Analyst Erica Marat Examines Central Asia's First Color Revolution
FOR IMMEDIATE RELEASE — March 24, 2006
Contact: Glen E. Howard , +1 202.483.8888
WASHINGTON, DC – The Jamestown Foundation today released a major report on Kyrgyzstan's troubled road to democracy. Authored by Eurasia Daily Monitor analyst Erica Marat and published on the first anniversary of the fall of President Askar Akayev's regime, The Tulip Revolution: Kyrgyzstan One Year After examines the dynamics shaping dramatic change in this remote yet strategically critical Central Asian republic.
"Dr. Marat integrates indigenous media, local sources and personal observations to furnish timely, fact-based analysis of seminal developments in Kyrgyzstan," remarked Jamestown Foundation President Glen E. Howard. "Her contributions to our understanding of Kyrgyzstan's color revolution are unique and unmatched."
A native of Kyrgyzstan and a regular contributor to Jamestown's Eurasia Daily Monitor, Dr. Marat spent the last fourteen months critically examining the domestic and international dynamics shaping her homeland and the surrounding region. Drawn from her in-depth reporting, The Tulip Revolution: Kyrgyzstan One Year After offers a comprehensive survey of the issues and individuals involved in Kyrgyzstan's tumultuous transition.
"The Jamestown Foundation is committed to providing timely, fact-based information concerning Kyrgyzstan and countries throughout Eurasia," continued Howard. "With Washington committed to building deeper ties with Bishkek, the need to understand this fledgling democracy and key ally in the Global War on Terrorism grows more important with each passing day."
Founded in 1984, The Jamestown Foundation is an independent, non-partisan research institution dedicated to providing timely information concerning critical political and strategic developments in China, Russia, and Eurasia. Jamestown's research and analysis is available to the public free-of-charge via Jamestown's website, www.jamestown.org.