Jamestown Supports U.S.-Ukraine Naval Exchange
FOR IMMEDIATE RELEASE
Contact: Matthew Czekaj
[email protected]
202.483.8888
This August, The Jamestown Foundation sponsored two Ukrainian midshipmen's participation in a naval exchange with the U.S. Navy. Jamestown closely monitors issues related to Black Sea regional security, and this partnership opportunity was identified during a recent trip by Jamestown President Glen Howard to Ukraine. Working with the U.S. Department of State and the Ukrainian Ministry of Defense, Jamestown provided the additional support necessary to make this exchange possible.
Cadet Dmytro Gromov and Cadet Stanislav Voropai, from Ochakiv and Crimea, respectively, are entering their penultimate year at Ukraine's National University "Odessa Maritime Academy," the country's top naval college. Jamestown's sponsorship supported their participation in the Foreign Exchange Training of Midshipmen (FOREXTRAMID) 2017, a program in which midshipmen from foreign navies are invited by the U.S. Chief of Naval Operations to participate in Summer Cruises. For two weeks, the midshipmen sailed aboard the USS Donald Cook, training with the crew and observing how the U.S. Navy operates. Their time aboard the USS Donald Cook overlapped with Saxon Warrior 2017, a multinational naval exercise in which the Cook participated. The exercise was held off the coast of the United Kingdom, and it included units from the United States, the United Kingdom, Germany, Sweden and Norway.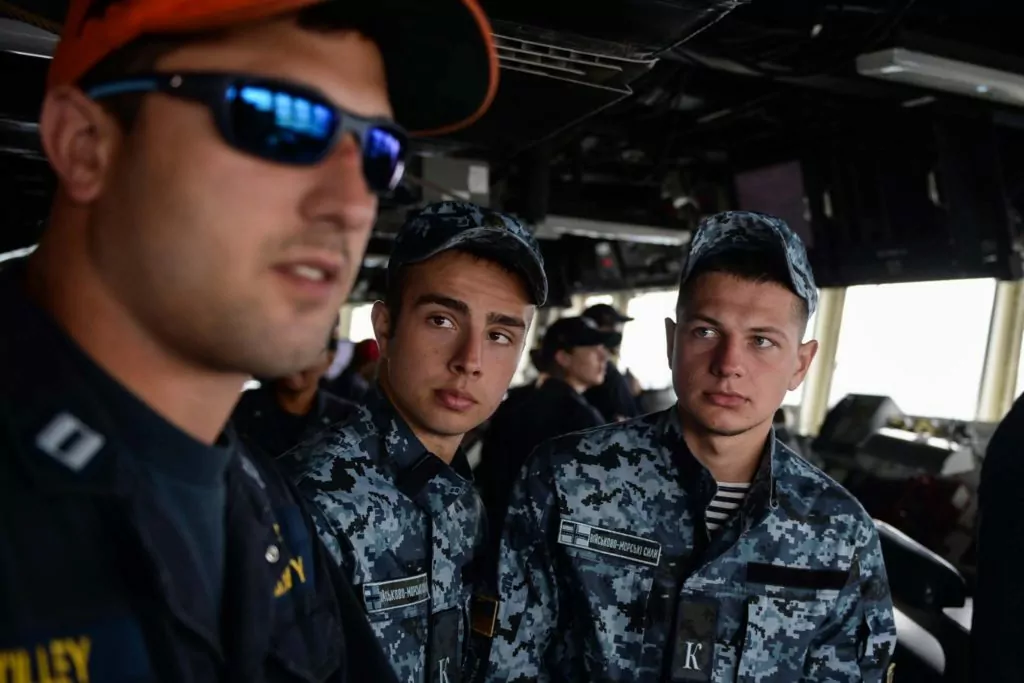 This exchange represents a positive step toward helping to build partnerships between the U.S. and Ukrainian navies.  As a result of the illegal Russian annexation of Crimea, the Ukrainian Navy lost many of its ships and a number of its most important facilities. Not only did this seriously diminish the Ukrainian Navy's resources, but it also has had significant implications for both Ukrainian security and the broader Black Sea security landscape as a whole. Continuing to pursue partnership opportunities with the Ukrainian Navy is an important area in which the United States can work to help enhance Black Sea regional security, which is of strategic importance to both the United States and its NATO allies.
The Jamestown Foundation is honored to have been able to help contribute to the strengthening of ties between the U.S. and Ukrainian navies. Additionally, Jamestown would like to thank the League of Ukrainian Canadians, the Canadian Ukrainian Congress, and the other generous donors who helped to make this sponsorship possible.