A Business and a Pep Talk
Publication: Eurasia Daily Monitor Volume: 10 Issue: 166
By: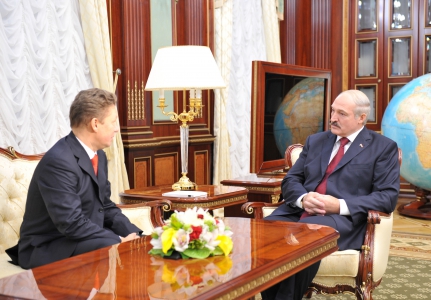 Recent events around Belarus create the impression that if one assumes Belarus is a bridge between the two flanks of Europe, the traffic on that bridge is asymmetric. Serious business comes from its eastern end and nothing but reprimands and exhortations originate from the west. Indeed, few people in Belarus noticed that the European Parliament has eventually endorsed the Paleckis Report about the situation in Belarus (https://naviny.by/rubrics/eu/2013/09/12/ic_articles_627_182984/). The Report underwent 300 corrections since its first draft publication in May (see EDM, May 31), but as the tenor of the report became more stern by the day, its actual ability to make a difference, once seen as significant, was approaching zero.
Many more people took notice of President Alyaksandr Lukashenka's idea to charge shuttle traders a $100 fee for traveling to the West to buy consumer goods. It is unclear at the moment if this idea is going to be implemented, but the first responses to it have been predictably negative. For three years in a row (2010–2012), Belarus has been the world leader in the number of Schengen visas per 1,000 residents that the European Union annually grants to its citizens (see EDM, March 29). In 2012, for example, Belarusians made 1.6 million trips to Poland and 688,800 trips to Lithuania, the two major destinations for shuttle traders; fewer Belarusians visited Latvia (72,000), Turkey (40,000), Germany (16,500), Italy (16,500), Austria (12,700), Egypt (10,900), the Czech Republic (6,100), and other countries (https://naviny.by/rubrics/politic/2013/09/15/ic_articles_112_183008/.) These statistics are impressive for a not particularly wealthy country with a population of 9.5 million, and they are difficult to reconcile with the image of Belarus being a closed society or "Europe's last dictatorship." Indeed, the just-published World Happiness Report (https://www.earth.columbia.edu/articles/view/2960) assigned Belarus the respectable 66th position in its ranking order of 156 countries. Belarus's rank is more favorable than that of Russia (68th) and especially of Ukraine (87th), the two countries with which Belarusians most frequently compare their home country. The ranking in question took into consideration the per-capita GDP, life expectancy at birth, the level of trust in society, protections from corruption, and other such indicators.
Yet, the events on Belarus's eastern flank have arguably been more vital for Belarus than anything that occurred on its western flank. Thus, the initial impression that Belarus is, at the very least, not losing its potassium (potash) war with Russia (see EDM, September 12) became reinforced when Minsk received a string of high-profile visitors from Moscow, each bringing a message that was music to Lukashenka's ears. The first message—that Russia will not reduce its crude oil deliveries to Belarus in 2013—was brought by Russia's Deputy Prime Minister Igor Sechin. "I am taking advantage of this meeting," said Lukashenka to Sechin, "to thank you, the president of the Russian Federation, its government and its Ministry of Energy for helping us retain the level of oil deliveries to Belarus, including the deliveries to the Mozyr refinery, of which Rosneft is a shareholder. We are of the opinion that one's commitment to fulfill one's contractual obligations is a sacred rule of business. And I thank you for your understanding" (https://naviny.by/rubrics/economic/2013/09/12/ic_articles_113_182980/). Sechin is lobbying for the interests of Rosneft, one of eight Russian corporations supplying oil to Belarus, and has been trying his best to increase its share of deliveries at the expense of excluding everyone else (https://news.tut.by/economics/365910.html).
The second message was brought to Minsk by Alexei Miller, the CEO of Gazprom. Miller assured Lukashenka of new investments into the modernization of Belarusian gas pipelines and, importantly, of a fivefold increase of investments into Belarus's social programs, including those related to health care and sports. The reluctance of Russian entrepreneurs to stick to their so-called social obligations used to be one of the most frequent bones of contention between them and Lukashenka. Now, as Lukashenka told Miller, "I was surprised to learn that, for the first time in many years, I have nothing to reproach Gazprom for" (https://news.tut.by/economics/365976.html).
The third message was brought to Minsk by German Gref, CEO of Russia's Sberbank. Gref announced Sberbank's new investments (totaling $800,000) into BelAz (the producer of heavy trucks) and a Mozyr-based oil refinery. He also said that he could rule out refinancing Sberbank's earlier $1 billion loan to Belaruskalii, the Belarusian producer of potash (https://news.tut.by/economics/366054.html). Meanwhile, Vladislav Baumgaertner, the CEO of Uralkalii, Belaruskalii's Russian counterpart, is still in jail in Minsk; therefore, the latter suggestion by Gref as well as the above-quoted messages that Lukashenka conveyed to Sechin and Miller were particularly remarkable.
Finally, Alexander Dobrovinsky, one of Moscow's most prominent attorneys, posted on his Facebook account a statement that confirms Russian oligarch Suleiman Kerimov has sold his shares in Uralkalii to Vladimir Kogan, a St. Petersburg banker who briefly headed Gosstroy (Russia's construction ministry). Twenty percent of the entire deal, worth $3.7 billion, has already been paid. The balance will be paid within two to three weeks. According to Dobrovinsky, once this is done, Baumgaertner will be released from jail, as Minsk is satisfied with these developments (https://naviny.by/rubrics/economic/2013/09/13/ic_articles_113_183003/).
Typically, it is official Minsk that deals with Moscow, whereas the opposition takes cues from the West. But as the most reputable opposition-minded Belarusian journalist, Alexander Klaskovsky, reports, today Belarusians not loyal to President Lukashenka are talking about Alexei Navalny more frequently and more intensely than about all of the Belarusian opposition figures combined. What is discussed is not only Navalny's electoral result at the mayoral elections in Moscow, but also his successful attempt to extend his clout and message beyond the closed opposition community by means of picking up some populist and nationalist rhetoric. Klaskovsky admits that pretty much every opposition leader in Minsk has a negative rating and cannot possibly rise to Navalny's popularity level. Only a new political personality will be able to defeat Lukashenka, Klaskovsky concludes (https://naviny.by/rubrics/politic/2013/09/11/ic_articles_112_182970/).
In summary, contrary to the ratio of their economic weights, Russia comes across to Belarus as an incomparably more potent and influential player compared with the European Union and the collective West. Little wonder that democracy is not a top priority for ordinary Belarusians.