A Divided Society: The Impact of the Syrian Crisis on Lebanon
Publication: Terrorism Monitor Volume: 11 Issue: 5
By: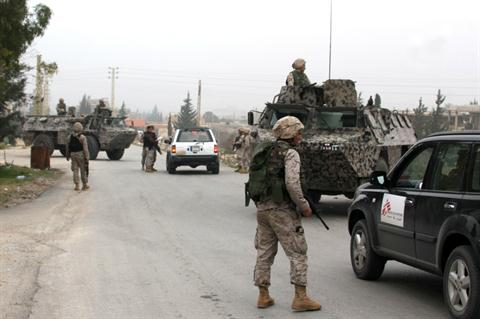 The Lebanese state and Lebanon's most powerful political actors are increasingly challenged by the ongoing conflict in Syria. Lebanon's feuding anti-Assad March 14 and pro-Assad March 8 political blocs continue to follow distinct strategies of opposition or support for the Assad government that are contrary to the Lebanese state's official position of neutrality in the Syrian conflict. Several recent events in Lebanon have renewed the regional and international focus on the potential threat to Lebanese security posed by the worsening violence in Syria.
At present, fierce fighting continues in three areas of Syria that border Lebanon:
In and around the Syrian city of Tal Kalakh in Homs Province which abuts Lebanon's northern Akkar region

In and around the Syrian city of Homs that abuts the northeastern region of Lebanon's Beka'a Valley

In the Damascus exurb of Zabadan that abuts the central region of Lebanon's Beka'a Valley
In all these border areas, the Syrian military daily sends artillery shells against Syrian opposition groups based near or on the Lebanese side of the border, conducts brief border incursions in pursuit of fleeing refugees alleged to harbor armed opposition members and, in cooperation with the Lebanese military, interdicts individuals and organizations trying to smuggle people and material across the border. The continuing Syrian incursions into Lebanon have been heavily criticized by the United Nations (Daily Star [Beirut], March 1).
Homs' suburbs near the Lebanese border include 23 villages and 12 farmsteads that have a large, diverse population that claims Lebanese citizenship due to unclear border demarcations. The areas have a large population of Shi'a and Christians that have sought the protection of Hezbollah and are close to an intra-provincial highway that could become a corridor of retreat and supply for a post-Assad Alawite-dominated region of Syria (CSM, February 22).
The border region is increasingly becoming the site of fierce combat between the Syrian military and its allies (which reportedly include Hezbollah) and the Syrian armed opposition, reinforced by some Lebanese Sunni fighters. The Syrian opposition alleges that Hezbollah has moved fighters into eight villages in the region around Homs and has attacked several mixed or Sunni-majority villages with Katyusha rockets (Reuters, February 17).
One battle in the area in the middle of February was reported to have killed three Hezbollah fighters, five Syrian opposition fighters and two Shi'a residents of the area (AFP, February 17). As a result of the fighting, General Salim Idriss, the chief-of-staff of the opposition Free Syrian Army (FSA), announced that the FSA would attack Hezbollah assets in Lebanon if it did not halt its operations in Syria (al-Arabiya, February 20). Those border towns and villages of northern Lebanon with a significant Sunni population are reported to provide strategic depth for Syrian armed opposition groups fighting for the control of Homs, including the Islamist Jabhat al-Nusrah movement (al-Akhbar [Beirut], February 25).
In northern Lebanon the Lebanese military is in a paradoxical situation. A significant number of Lebanese soldiers are Sunni, many of whom are from the regions of northern Lebanon. In northern Lebanon, the Lebanese military as an institution is at best on uneasy terms with the local population, requiring it to negotiate with local power-brokers such as clan and municipality leaders. In the context of rising local tensions due to the conflict across the border, failure to notify these authorities of military operations can severely complicate efforts of the Lebanese military to carry out its mandate. [1]
There are also reports of tensions arising within the Lebanese military due to Lebanese society's polarized perspective on support for or against the Syrian opposition and a belief in some quarters that the Lebanese Army's leadership is sympathetic to the Assad regime. Lebanese military sources report slowly rising tensions between Sunni soldiers and their non-Sunni compatriots in some military companies deployed in northern Lebanon. These tensions are alleged to be the result of the suspicion that some Sunni soldiers are unreliable compatriots and are more loyal to northern Lebanese militant groups, some linked to militant Salafist fighting networks linking northern Lebanon to Syria, than they are to Lebanon and the Lebanese military. [2]
The Lebanese military's recent operation in Arsal is an example of these tensions. On February 2, Lebanese military intelligence units and Special Forces entered into a firefight with residents of Arsal after intelligence agents arrested a resident of the town named Khalid Hmayyed and were subsequently attacked by the town's residents. The violence killed Hmayyed and another resident of Arsal and two Lebanese soldiers. A number of other soldiers and residents of the town were wounded in the clashes (Daily Star [Beirut], February 2).
Hmayyed was wanted by Lebanese security forces as an alleged member of al-Qaeda with connections to the Syrian Salafist armed group Jabhat al-Nusrah (al-Akhbar, February 2). He was also believed to be one of the planners directing the kidnapping of seven Estonian cyclists touring Lebanon's eastern Beka'a Valley in June 2011 (Daily Star [Beirut], February 9). The operation in Arsal led to a backlash against the Lebanese government from Lebanese supporters of the Syrian opposition and politicians of the March 14 bloc and assertions of support for the Lebanese military amidst the fear of a rising armed Salafist presence in Lebanon.
The incident in Arsal created a public outcry in Lebanon over the ongoing challenges to the country posed by the Syrian civil war. Some opponents of the Arsal operation, many of them from the March 14 bloc, stated that the Lebanese military was actively working with Hezbollah and pro-Assad Syrian paramilitary units to intimidate and kill anti-Assad Lebanese and Syrians (NOW Lebanon, February 3). However, several prominent Lebanese politicians, including Saad Hariri, the leader of the Sunni-majority Future Movement, issued statements defending the Lebanese military (al-Mustaqbal [Beirut], February 5). Supporters of the Lebanese military's authority to conduct the Arsal operation demonstrated throughout Lebanon and blocked several highways to protest the killing of the soldiers (an-Nahar [Beirut], February 4).
Further public outcry in Lebanon concerning the Syrian conflict was caused by the continued shipment of kerosene and diesel fuel from Lebanon to the Syrian government. The sale of the fuel is controversial because it is purchased by Lebanese companies and then resold in Syria, potentially violating international sanctions against conducting business with the Syrian government, though the international sanctions are not recognized by the Lebanese government (Daily Star, February 12). Organized in some areas by Sunni clerics, anti-Assad demonstrators blocked several major highways in the country (al-Akhbar, February 13). Lebanese Prime Minister Najib Mikati has described Lebanon's difficulties as the Syrian conflict rages only a short distance away:
Lebanon is in a delicate situation. Syria controls 80 percent of our land borders. It is easy to speak when you are far away. My wish is to dissociate Lebanon from what's happening in Syria. Our society is divided, almost in half, between supporters and opponents of the Syrian regime. I don't know how these events will end. Lebanon has no defenses against negative developments. Let's keep out of it (Le Monde, February 8).
The conflict in Syria has also contributed to an accelerated movement of refugees into Lebanon, with estimates that 320,000 displaced Syrians are now residents in the country, most of them living amongst the Lebanese population in impoverished areas of country. In response to the rapid growth in the number of Syrian refugees in Lebanon, the Lebanese government is calling for international donations of $320 million, an amount that has yet to be raised (an-Nahar, March 1). The growing number of Syrians in Lebanon has led to a general acceptance of a temporary presence of Syrians by Lebanese politicians from both political blocs. A notable exception is Lebanese Interior Minister Marwan Charbel, a member of the nominally pro-Assad Free Patriotic Movement, who sparked significant controversy by stating that Syrian refugees were armed and outside of Lebanese state control, thus forming a threat to Lebanon's security (Reuters Arabic, February 28). Charbel had earlier asserted that Syrian opposition members posing as refugees were being trained in armed camps in northern Lebanon (as-Safir, January 4).
The ongoing environment of insecurity in Lebanon is having an effect upon the country's socio-economic and political stability. In an uncertain security environment with a large influx of Syrian refugees into the country, a significant number of whom may be armed fighters, the Lebanese military's ability to respond to these evolving threats is severely limited by the country's politicized sectarianism. In many regions of Lebanon, the military is not perceived as a national institution representing all Lebanese, but just another militia.
As Lebanon moves towards planned Parliamentary elections in June, the question of Lebanon's role in the Syrian crisis will present a difficult political choice for certain communities, particularly the Christians. Lebanon's Christian community is generally split between support for pro and anti-Assad political parties, but in an environment where the fear of a rising militant Salafist presence amongst Christians is growing, tenuous political allegiances may be switched to support parties, particularly the Free Patriotic Movement, that are aligned with what is widely seen in Lebanon as the greatest guarantee against Sunni militancy in Lebanon, Hezbollah. [3]
Notes
1. Information in this paragraph is based on interviews conducted by the author with a Lebanese Army source with extensive operational experience throughout Lebanon who requested anonymity due to being on active duty. Interviews conducted on February 3 and 18, 2013.
2. Ibid
3. Interviews conducted by the author with Lebanese Christian youth between the ages of 17-35 from Christian-majority districts throughout Lebanon. Interviews conducted between November 2012 and February 2013.
Nicholas A. Heras is an independent analyst and consultant on Middle East issues and a former David L. Boren Fellow.