A GEORGIAN CHARM OFFENSIVE IN MOSCOW
Publication: Eurasia Daily Monitor Volume: 5 Issue: 98
By: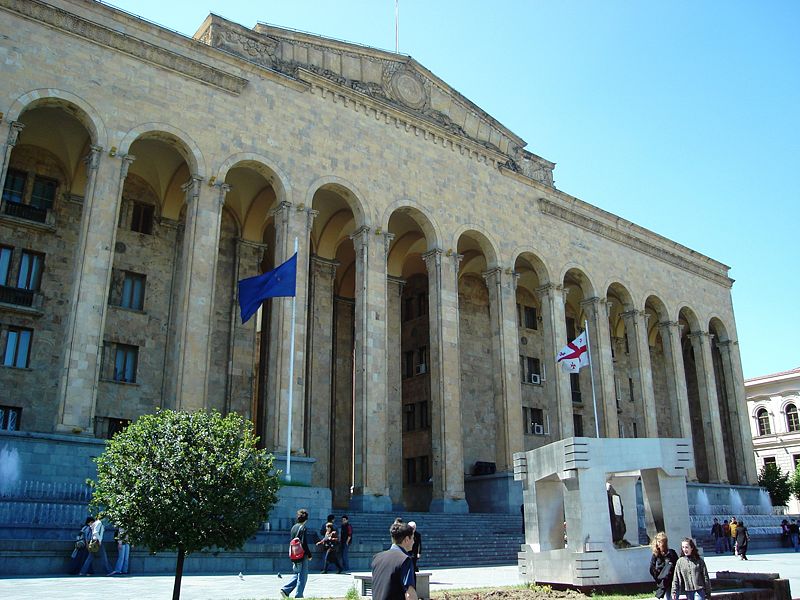 In an apparent attempt to defuse a tense diplomatic and military conflict with Russia over the breakaway provinces of Abkhazia and South Ossetia, the Georgian government is starting a major drive in Moscow to improve relations. The new Georgian ambassador to Moscow, Erosi Kicmarishvili, who is one of Georgia's best-known PR managers, has spearheaded this PR drive. In the 1990s Kicmarishvili organized one of Georgia's most popular TV channels, Rustavi-2, and the political daily, "24 hours." Kicmarishvili was the campaign manager for Georgian President Mikheil Saakashvili's reelection on January 5.
I first met Kicmarishvili in 2002 in Tbilisi with a group of visiting Russian journalists in the headquarters of Rustavi-2. In those days, Rustavi-2 was a highly critical opposition TV channel, constantly attacking the corrupt and ineffective government of President Eduard Shevardnadze. Opposition activity spearheaded by Rustavi-2 eventually lead to the so-called "Rose Revolution" in 2003 that ousted Shevardnadze and installed Saakashvili.
According to exit polls, Saakashvili's ruling party United National Movement won the parliamentary elections on May 21, gaining more than half of the vote (Interfax, May 21). The opposition in Georgia has been claiming foul play, however, accusing the government of vote rigging. Although the opposition has promised protests and rallies, the election campaigning in Georgia is over. At the same time, relations between Moscow and Tbilisi have deteriorated to the breaking point, and war over Abkhazia and South Ossetia still seems possible (see EDM, May 15). Saakashvili has apparently decided that he needs an effective PR manager in Moscow more than in Tbilisi.
In 2006 Russia broke normal relations with Georgia. Only the Foreign Ministry was authorized to continue formal contacts and in essence, Russian diplomats have been under orders since then to reject flatly anything their Georgian counterparts propose. Last week a Georgian delegation led by State Reintegration Minister Temur Iakobashvili visited Moscow to present a Georgian peace plan that included an international conference in Moscow on Abkhazia, an agreement by all sides not to use armed force, a return of Georgian refugees, an international force to police the peace that would include Russians and contingents from other nations. According to Russian Foreign Ministry special envoy Yury Popov, the result of Iakobashvili's visit to Moscow was zero: "We found no points of agreement. The Georgians did not present anything new." Russian diplomats said that Moscow would never agree to a change in format of the peacekeeping operation in Abkhazia. Russian commanders are reported to have been given orders to use heavy weapons and attack aircraft against the Georgians "in the event of a provocation," without conferring with Moscow (Nezavisimaya Gazeta, May 19).
The diplomatic process is in stalemate, but Kicmarishvili is not a career diplomat and does not keep a low profile. He has been giving interviews to the Russian media, talking about traditional friendship and expressing faith in a speedy improvement in relations. At a press conference this week in Moscow, Kicmarishvili took an oath on the health of his mother that Georgia had no intent "to fight with Abkhazia" (RIA-Novosti, May 20). Kicmarishvili is clearly attempting to overstep the diplomatic deadlock by addressing the Russian public directly.
The Russian press likes to work with PR managers who understand the principles of the system. I have been a professional journalist in Moscow since 1991. The Russian media is essentially corrupt. The practice of writing and publishing stories in exchange for bribes is widespread. I have been approached by pro-Kremlin and anti-Kremlin pressure groups in the past with offers of money in exchange for services, although I have an unusual reputation in Moscow for not accepting additional fees and for writing what I consider proper for only a standard honorarium. I know other journalists who are not corrupt, but with the right connections and money, virtually anything can be circulated in Moscow.
This week a peculiar story appeared–that Georgia and Abkhazia were close to an agreement on settling their differences and that this had happened more or less behind Russia's back. Georgia's UN representative Irakliy Alasania visited Sokhumi on May 12 and in negotiations with Abkhaz president Sergei Bagapsh reportedly reached a package agreement to resettle Georgian refugees and pull back forces (Kommersant, May 19). Bagapsh later repudiated the report as baseless (RIA-Novosti, May 19). Bagapsh was not Moscow's choice to head Abkhazia; he has been suspected of being too soft and ready to compromise with Tbilisi. Despite the public repudiation, the story may have caused tension in relations between Sokhumi and Moscow. At a press conference in Moscow on May 21, Bagapsh suddenly announced, "Russia must be kept out of Georgia-Abkhaz negotiations" (Interfax, May 21).
Russia is utterly corrupt, with the state and its major institutions open to manipulation by almost anyone. As his first major policy initiative after assuming office, the new president Dmitry Medvedev has announced a plan to fight corruption (www.kremlin.ru, May 19). Surely, curtailing corruption would be much more beneficial for the country than a senseless military standoff over Abkhazia.