A Mixed Bag of News in Belarus to Start off the Year
Publication: Eurasia Daily Monitor Volume: 10 Issue: 19
By: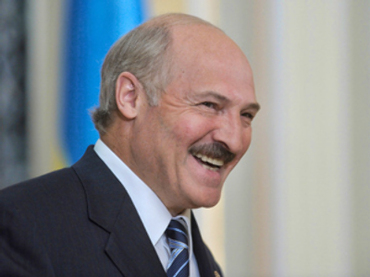 Perhaps the greatest recent news involving Belarus—news, which all Belarusian regardless of political stripes considered to be great—is Victoria Azarenka's second tennis victory at the Australian Open on January 26. Her other achievements include winning the Bronze medal at the 2012 Summer Olympics in London, two mixed doubles Grand Slam titles—the 2007 US Open with Max Mirnyi, and the 2008 French Open with Bob Bryan—and a gold medal in mixed doubles at the 2012 London Olympics with Max Mirnyi. Belarus's President Alyaksandr Lukashenka made a telephone call to Azarenka congratulating her warmly on her victory in Melbourne. Earlier, at a press conference on January 15, Lukashenka referred to Azarenka's tennis victories as "boosting the prestige of our state" (https://news.open.by/country/97377).
Although it lasted more than four hours, Lukashenka's January 15 press conference revealed no new ideas except perhaps for the Belarusian president's reluctance to allow ratification of the earlier signed trans-border agreements with Lithuania and Poland until these countries change their Belarus policies (https://naviny.by/rubrics/eu/2013/01/26/ic_articles_627_180635/). The agreements in question would facilitate border crossings without a visa for the residents of 50- kilometer-wide zones on both sides of the Belarusian-Lithuanian and Belarusian-Polish borders. Nevertheless, his skills of working the audience were on full display when Lukashenka addressed questions by the least friendly media outlets, particularly of Radio Liberty, whose correspondent (Ales Plashchinsky) tried his best to corner Lukashenka with accusations of excessive personal consumption.
Lukashenka can also boast of having overcome the starkest deficit of Belarusian society's trust in him as evidenced by the December 2012 national survey by the Independent Institute for Socio-Economic and Political Studies (IISEPS). Previously, several opposition-minded pundits welcomed the seeming formation of the new anti-Lukashenka majority in Belarus. However, an in-depth statistical analysis of the aforementioned survey by the IISEPS has shattered the belief in that majority. Although only 31.5 percent of Belarusians were ready to vote for Lukashenka if the presidential elections were held in December 2012 (up from 20.5 percent in September 2011), there is no indication that somebody from the ranks of the opposition had filled the ensuing vacuum of public trust. In fact, the distant second presidential hopeful in December 2012 was Andrei Sannikov (now in exile in the UK) with only 4.8 percent of Belarusians willing to vote for him. It appears that among Lukashenka's supporters, people with college educations are no less numerous than among his detractors—a result that flies in the face of a well-worn cliché, according to which Lukashenka is an idol of the poorly educated. Furthermore, President Lukashenka's detractors are in favor of tightening control over bureaucrats of all levels, which compelled the author of the statistical analysis (Yury Drakakhrust, a doctor of mathematics and an associate of the Belarusian Service of Radio Liberty) to opine that Belarusians still place order and fairness well above democracy. Also, it turns out that only ten percent of Belarusians are categorically against Lukashenka. Most of his other detractors combine a criticism of certain aspects of Lukashenka's activities with recognition of his strengths in other areas (https://nmnby.eu/news/analytics/5060.html).
Whereas the above-mentioned Belarusian triumph in women's tennis has been lauded by the country's media, one more important hallmark has remained largely unnoticed. According to Gartner.com, in late 2012 Belarus entered the circle of 30 countries that lead the world in offshore programming and software development. Within the region that encompasses Europe, the Middle East and Africa, Belarus accounts for 6.6 percent of international purchase orders on software products. This region's leaders are Poland with 25.3 percent of the orders and Russia with 19.2 percent (https://news.tut.by/economics/330696.html). It is all the more intriguing that Belarus has lured some software developers from Russia. For example, the Minsk-based War-Gaming group, famous for its World of Tanks computer game that has about 20 million registered users worldwide (https://www.gamesindustry.biz/articles/2012-03-19-world-of-tanks-monthly-profits-hitting-double-digit-millions), has already attracted some 50 employees from Russia, including from Moscow and Saint Petersburg (personal data obtained through one such employee). The software application Viber, a competitor to the well-known online video-chat program Skype, was also developed in Minsk (see EDM, October 2, 2012).
All of those and other success stories remain largely unnoticed because they do not fit well with the narrative of "Europe's last dictatorship," due to which Belarus is ostracized by some prestigious international forums. For example at the Global Economic Forum in Davos, Switzerland (January 2013), the participants from the post-Soviet states included Ilham Aliyev of Azerbaijan, not to mention Viktor Yanukovich of Ukraine and Dmitry Medvedev of Russia. But there was no representative from Belarus because Switzerland upholds the EU's travel sanctions on the country. Yet, in Aliyev's prisons, there are many more political prisoners recognized as such by the international community than in Lukashenka's (https://news.tut.by/politics/331857_print.html). As a result, the West has yielded Belarus to Russia's sphere of influence without a fight.
In the meantime, by December 2012, the Belarusian ruble had increased its value 13.44 percent over what it was worth one year earlier, which does not bode well for Belarus's exports. Additionally, late last year Russia closed some loopholes for duty-free exports of paint-thinners and solvents produced in Belarus. Some commentators believe that as a result, further growth of Belarus's exports will only be possible via political agreements with Russia that might create or expand a market niche for Belarus's products in Russia by fiat (https://naviny.by/rubrics/finance/2013/01/28/ic_articles_114_180650/). Nevertheless, there is no sign of manual steering of the Belarusian ruble's exchange rate. At least in this area, Minsk is sticking to its earlier decision to allow the free float of its national currency. Such diverging economic trends make it difficult to predict what general direction Belarus's economy will take over the coming year. But it is nonetheless clear that Lukashenka will attempt to preserve the domestic industry at all costs.