A New Version of the 'Gerasimov Doctrine'?
Publication: Eurasia Daily Monitor Volume: 16 Issue: 32
By: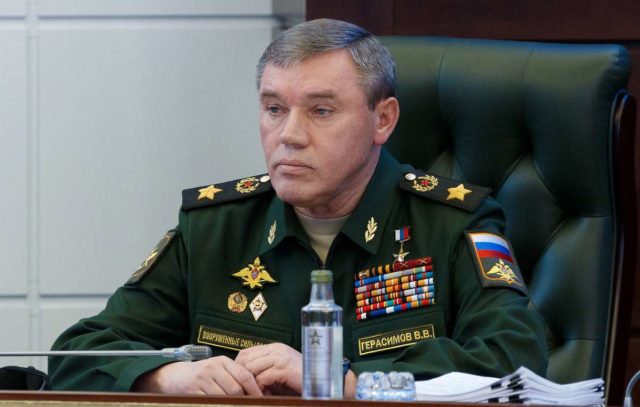 In January 2013, the newly appointed first deputy defense minister and chief of the General Staff, Army General Valery Gerasimov, spoke in Moscow at a meeting of the Academy of Military Science about modern war-making. In his remarks, he described so-called "hybrid warfare," touting the use of nonmilitary means to achieve strategic aims and using as an example the events of the "Arab Spring," in which anti-government protests and armed rebellions consumed much of the Middle East from 2010 to 2012. Gerasimov implied that these new nonmilitary or "hybrid" tactics were a Western invention, cooked up in Washington to achieve global domination as a supplement to more regular military capabilities like Prompt Global Strike (PGS). He declared that Moscow must find ways to counter all possible threats, including hybrid (Vpk-news, February 26, 2013). Yet, in March 2014, it was the Russians that, in fact, deployed such hybrid warfare tactics to covertly infiltrate, take over and eventually annex Crimea. Similar hybrid tactics were used to instigate a separatist pro-Russian armed rebellion in the Donbas region of Ukraine. As a result, hybrid warfare tactics became popularly linked in the West with the notion of a "Gerasimov doctrine." But this connection has been misleading for several reasons, not least of which being the fact that Gerasimov originally had applied the concept of hybrid warfare to how the West allegedly pursues conflict. Furthermore, Gerasimov's background is as a Russian tank general—not the domain of special forces operations methods and tactics. As such, he staunchly supports the massive use of armor, motorized infantry, heavy guns, missiles and air power to achieve practical strategic goals.
Some six years later, on March 2, 2019, again speaking at a meeting of the Academy of Military Science, Gerasimov restated his understanding of modern warfare. Under orders from the Kremlin, Russia is readying to adopt a new Military Doctrine (see EDM, March 6, 2019), and Gerasimov's presentation last week may, in the meantime, be considered the semiofficial "doctrine" of the Russian Armed Forces and its General Staff. The overall tone of Gerasimov's remarks was much more hostile toward the West than in 2013, with the United States and its allies openly branded as "aggressors" and "probable enemies," in similar terms as during the Cold War. Gerasimov accused the US of "expanding [its] military capabilities and deploying forces directly on Russia's borders." In 2002, the US abandoned the 1972 Anti-Ballistic Missile (ABM) Treaty; now, Washington has suspended the 1987 Intermediate-Range Nuclear Forces (INF) Treaty and may not prolong the New START nuclear arms limitation treaty, which is set to expire in 2021. The US is also in the process of establishing a Space Force as a new branch of service and preparing to militarize space (Krasnaya Zvezda, March 4).
Gerasimov talked about the need to prepare to fight different types of battles with the "probable enemies [the US and its allies]," using military and nonmilitary (information warfare) means. Gerasimov accused the West of covert preparations to instigate mass public protests and so-called "color revolutions" as well as of using "soft power" to overthrow objectionable regimes in order to undermine and eventually destroy (break up) undesirable states. As an example of the most recent manifestation of these vicious US regime-change practices, Gerasimov named Venezuela. In addition to PGS, the chief of the General Staff implied the Pentagon is developing a new aggressive strategy nicknamed "Trojan Horse," which may involve the use of "fifth-column protest potential" to destabilize its opponents in combination with long-range precision strikes on strategically important targets (Krasnaya Zvezda, March 4). Commentators in Moscow consider Gerasimov's description of this alleged "Trojan Horse" strategy perhaps the most important part of his speech. And it could provide an excuse for Russia to use the military to suppress any possible future internal protests that the Kremlin chooses to understand as part of a US-sponsored covert operation masterminded in the Pentagon.
Continuing his remarks, Gerasimov implied the Russian military overwhelmingly increased its battle readiness (compared with 2013) and the General Staff has developed plans to defend against aggressive treats both purely military or nonmilitary (hybrid) in nature. At the same time, clearly irritated, he pushed back against the aforementioned popular Western interpretations of the "Gerasimov doctrine," declaring, "The main substance of [Russia's] military strategy is preparation for war using primarily the Armed Forces." Nonmilitary (hybrid) measures may help achieve military goals, influence the course and outcome of war, and facilitate the use of conventional military force, according to Gerasimov. But confrontations "in other spheres" are different: they use their own strategies, and the military and the General Staff must coordinate them in achieving their common goal, but not directly lead them (Krasnaya Zvezda, March 4).
Gerasimov also referenced the new nuclear "superweapons" President Vladimir Putin has been recently promoting as an example of Russia's abilities to achieve world supremacy in the military (nuclear) realm (see EDM, February 21). According to Gerasimov, Russia's response to threats is based on the "strategy of active defense," which entails "a complex of preventive measures to neutralize threats to state security" (Krasnaya Zvezda, March 4). During the Cold War, the Russian military planned for a massive tank invasion of Western Europe, aiming to rapidly crush opposing North Atlantic Treaty Organization (NATO) forces and reach the Chanel, utilizing tactical nuclear strikes to clear the way for this lightning advance. At that time, this strategy was likewise seen as an active defensive measure to win the battle for Europe before US reinforcements could cross the Atlantic and overwhelm and defeat the Soviet Union.
In what seems to be another reenactment of Cold War–era military planning, Gerasimov stated, "Modern weapons are so high-tech and complex, it is impossible to expand their production promptly when military hostilities have commenced. It is imperative that everything we need be produced and supplied to troops in peacetime. We must, by all means, achieve technical, technological and organizational supremacy over any potential adversary" (Krasnaya Zvezda, March 4). Building up vast stockpiles of tanks and other hardware in a vain attempt to achieve global military supremacy—as promoted for decades by the Soviet General Staff—pushed the mighty Soviet Union to economic and social ruin and eventual disintegration in 1991.
Gerasimov and the Russian Armed Forces are clearly not content to limit their ambitions by the subtle 2013 "Gerasimov doctrine." Today, they are boldly challenging the entire world and pledging to build the biggest military they can. The end result may prove as devastating as in 1991.