A Profile of China's Public Gem: China's Aerospace Science and Technology Corporation
Publication: China Brief Volume: 9 Issue: 19
By: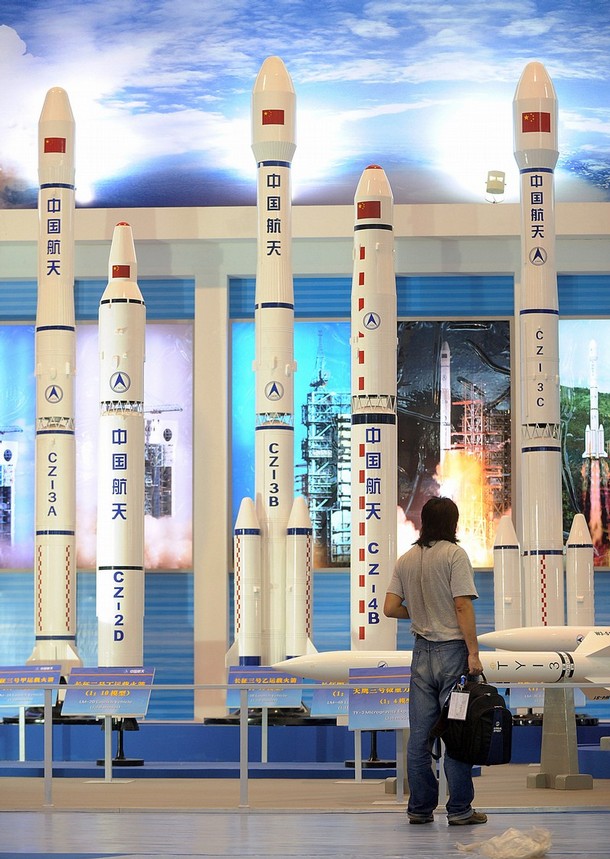 On September 6, the China National Space Administration—the national space agency for the People's Republic of China (PRC)—announced that it has started developing the Long March 6 (Changzheng 6) carrier rockets for its burgeoning space program, which is backed by an industry that has rapidly advanced in nature and scope during the past decade (China Daily; Xinhua News Agency, September 6). The rockets are reportedly being designed by the 8th Academy at the China Aerospace Science and Technology Corporation (CASTC, also known as CASC), a large state-owned holding company composed of a number of subsidiaries that design, develop and manufacture a range of spacecraft, launch vehicles, strategic and missile systems and ground equipment along with a number of high-end civilian products (People's Daily Online, September 4). Even as a relative newcomer in the market, CASC provides commercial launch services to the international market and is recognized as one of the world's most advanced organizations in terms of the development and deployment of high energy propellant technology, strap-on boosters, and demonstrated capability to launch multiple satellites atop a single rocket. Back in 1999, CASC together with China Aerospace Science and Industry Corporation (CASIC) were separated from a single company in order to promote greater competition within its space industries. Since then CASC has undergone gradual streamlining and reorganization to improve internal integration, cut excessive waste, and spin-off peripheral operations. A decade later, signs of progress underscore the success of these structural and management reforms to the space industry, which are beginning to bear fruit [1]. According to some estimates, the corporation had a registered capital of $1.3 billion in 2005 and employs over 110,000 people (GlobalSecurity.org; Techinfo.gov.cn; Jane's Defence Weekly, July 30 2008, 27) [2].
CASC's Primary Subsidiaries
• China Academy of Launch Vehicle Technology (CALT, also referred to as the 1st Academy) carries out research and development (R&D) for long-range ballistic missiles (LRBM) and space launch vehicles (SLV) (https://www.sinodefence.com/space/organisation/casc.asp). CALT is based in Beijing. Li Hong is president of CALT, while Liang Xiahong is vice president and Secretary of the Party Committee of the 1st Academy (China Internet Information Center, July 3, 2008; Xinhua News Agency, July 19). CALT currently employs 22,000 staff, including 8,000 engineers, and 1,800 senior engineers and scientists. In order to provide a wide range of launch capabilities, CALT has established a comprehensive organization including ten research institutes, two manufacturing plants and various administration units (China Great Wall Industry Corporation Website, https://www.cgwic.com/Partner/index.html). Jane's Defence Weekly noted that the government currently holds the majority of shares in CALT and other defense-related companies, but under the defense-industrial reforms outlined in China's National Defense White Paper in 2008 investors are being urged to purchase stakes in CALT. The same Jane's report also revealed that the publishing of the White Paper had an almost instant impact on most of the defense companies listed on the Shanghai, Shenzhen and Hong Kong stock exchanges. Among the most active defense and aerospace stocks were aircraft specialist Hafei Aviation and aviation component manufacturer Long March CALT, whose stocks surged from January 20 to January 22, 2008 by 10 percent to 11.3 renminbi (RMB) (Jane's Defence Weekly, February 4). Whether this was 11.3 billion was not disclosed.
• Academy of Aerospace Solid Propulsion Technology (AASPT, also referred to as the 4th Academy) carries out the design of solid-propellant rocket motors (https://www.sinodefence.com/space/organisation/casc.asp). The Academy is directed by Weimin Zhou [3] and it is the country's largest development and production base for solid rockets. As can be seen above, the Fourth Academy is an integral part of CASC. What is important, however, is that according to Tai Ming Cheng, since the end of the 1990s, the 4th Academy has restructured its preliminary R&D system by adopting a new project management model. Under the new framework, projects are assigned to managers who are chosen by a transparent competitive process and are then entrusted with full responsibility for planning, funding, daily management, research, implementation, and the selection of project staff. These managers are, in theory at least, able to offer rewards and administer punishments necessary to create an effective incentive-centered system to motivate employees. This new management system is said to have contributed to several of the academy's achievements in solid-fuel rocket motor technology. The progress and performance of projects are separately monitored and evaluated by appraisal committees at both the institute and academy level [4]. According to Tai Ming Cheung, the defense-related R&D work undertaken by the 4th Academy played a major role in improving the financial and technological performance of its parent company [5]. Yet, there are no financial data to back up this assertion.
• China Academy of Space Technology (CAST, also referred to as the 5th Academy) is responsible for all spacecraft development management and the Academy develops and manufactures most of the Chinese satellites (https://www.sinodefence.com/space/organisation/casc.asp). Although the English website is useful [6], it is not up to date. For instance, Liu Fang, who appears on the management chart (see R. Battiston, "The Chinese") is no longer on the board, but has been promoted to the position of vice president of CASC. On the other hand, Yang Baohua, who appeared on the management chart as vice president (Ibid.), became president of CAST (Xinhua News Agency, July 19, 2008). CAST is located in Beijing [7].
• The Academy of Aerospace Liquid Propulsion Technology (AALPT, also referred to as former Base 067) is China's sole producer of liquid-propellant rocket motors. AALPT is headquartered in Xi'an and produces a variety of different types of motors for ballistic missiles and space launch vehicles. No further information about the location of CAPA has been disclosed.
• Sichuan Academy of Space Flight Technology, or Sichuan Aerospace Industry Corporation (SCAIC, also referred to as former Base 062), designs, develops and manufactures various spacecraft and missile components as well as series multiple rocket launchers (https://www.sinodefence.com/space/organisation/casc.asp). In addition, SCAIC develops and manufactures many civilian products, including automobile components, engineering plastic-pressure units, security products, optoelectronic products, construction materials and environment protection sets. SCAIC is located in Chengdu, Sichuan Province.
• Shanghai Academy of Space Flight Technology (SAST), or Shanghai Bureau of Aeronautics (also referred to as the 8th Academy), designs and develops the Long March-4 family of launch vehicles and FY weather satellites (Jane's Defence Weekly, June 13, 2007, 25) (https://www.sinodefence.com/space/organisation/casc.asp). Furthermore, SAST develops and produces ballistic missiles, space launch vehicles, satellites, manned spacecraft, SAMs, and AAMs. SAST is also involved in the development of civilian products, such as automobile air-conditioners, office automation, home appliances, mechanical and electronic products, import and export trade, and property management. SAST currently employs about 20,000 staff, including 6,000 engineers (https://www.cgwic.com/Partner/index.html).
• China Aerospace Times Electronics Corporation (CATEC) is mainly engaged in the research, development, production and sales of the technologies and products in the fields of aerospace electronics (https://www.sinodefence.com/space/organisation/casc.asp). CATEC is located in Beijing and employs 16,000 people (China Beijing Equity Exchange's Website, https://www.cbex.com.cn/article/en/projects/200811/20081100005651.shtml).
• China Academy of Aerospace Aerodynamics (CAAA, also referred to as former Beijing Institute of Aerodynamics (BIA) or the 701 Institute of CASC) is China's principal missile and rocket manufacturer, first institute for theoretical research and aerodynamic testing in China, and is located in Beijing (https://www.sinodefence.com/space/organisation/casc.asp). CAAA employs 1,000 workers, over 60 percent of whom are researchers, engineers and technicians [8].
"Special Businesses"
• China Great Wall Industry Corporation (CGWIC) is the only organization authorized by the Chinese government to provide satellite in-orbit delivery (IOD) services, commercial launch services and aerospace technology applications. Yin Liming was appointed president of CGWIC in March 2009, while Zhang Xinqiang was appointed vice president of CGWIC in January 2007 [9]. CGWIC is located in Beijing. It has a U.S. subsidiary, Great Wall Aerospace Inc. of Torrance, California (Aviation Week and Space Technology, June 26, 2006, 24).
• The China Aerospace Engineering Consultation Center (or CAECC) encompasses several former engineering consultancies centers for aerospace and Center for Economic Research and, as such, was established in 2003 (https://www.sinodefence.com/space/organisation/casc.asp). Some 168 people work at the Center. Ma Xingrui is the general manager [10].
• China Satellite Communication Corporation (or China Satcom) as the state-owned enterprise (SOE) was founded on December 19, 2001 (https://www.e-expo365.com/eng/pcen_pcindex.asp?peid=878). The main services of China Satcom include satellite special services in communications, broadcast and other fields, satellite mobile communications services, internet services and VSAT services, network services etc. On 10 April 2009 China Satcom (Xinhua News Agency, April 10) became a fully-owned subsidiary company of CASC. Total assets of China Satcom transferred to CASC came to 6.6 billion renminbi ($965.81 million). CASC deputy director-general Rui Xiaowu, who was director-general of China Satcom prior to the merger, said that China Satcom will now mainly focus on three service aspects: satellite spatial operations, provision of geographic data and locations, and satellite-ground-communications.
CASC and its subsidiaries business involvement
At the 2004 Air Show China, CASC exhibited a range of previously unknown unmanned aerial vehicle (UAV) projects including a new tactical UAV. CASC's involvement in the UAV field is a clear sign of just how energized the scope of China's UAV development has become (Jane's Defence Weekly, May 10, 2006, 26) [11]. At the Air Show China 2008, CASC revealed several new designs described as "micro UAV concept demonstrators" (Robert Hewson and Reuven Johnson, "China displays," 34).
The West's air campaigns in various conflicts have been closely watched in China, and some of the impact of these observations was evident at the Air Show China, held between October 31 and November 5, 2006. China Aerospace Science and Technology Corporation FT-1 and FT-3 satellite navigation guided bombs were presented there. FT-1 and FT-3 are aimed at potential export customers for the combat aircraft FC-1, with Pakistan first in line. They are also probably intended to address national requirements (Aviation Week and Space Technology, November 6, 2006, 26; November 20, 2006, 45).
CGWIC and CAST
Despite disappointing in-orbit failures and a relatively effective U.S. embargo, China is slowly becoming a player in the international telecom market. China first broke into the telecom market in the late 1990's when CGWIC landed contracts from Chinese and southeast Asian operators to launch American and European spacecraft on the Long March-3B (LM-3B). The market opening closed abruptly at the turn of the century when the U.S. government, stung by a series of security lapses, barred Chinese launches for spacecraft equipped with American components. Yet, China, with a fast-growing domestic market and growing international clout, persisted. In 2004, China reorganized its space industry under CASC with the goal of making its satellites and launch services competitive with Western and Russian suppliers.
Over the years, the U.S. government has sanctioned CGWIC on many occasions for being a serial supplier of weapons to Iran, North Korea, Pakistan and Syria. Yet, to the mystification of all, in June 2008, the State Department dropped sanctions against the CGWIC (Space News, April 13).
In addition to launching spacecraft, as long ago as June 2006 it was reported that CGWIC was involved in commercial aviation via its airliner Great Wall Airlines [12].
CAST, which like CWGIC became a wholly-owned subsidiary of CASC, was entrusted with developing a new high-power long-life telecom bus, the DFH-4, while CGWIC was tasked with improving launch and production processes and developing a turnkey in-orbit delivery service offering (Aviation Week and Space Technology, June 15, 148-149).
A Chinese LM-3B rocket successfully placed Venezuela's Venesat-1 telecommunications satellite into orbit on October 30, 2008. Venesat-1 was built by the CAST and is the third of the high-power DFH-4 platforms to be built. An official with CGWIC said that China would be launching a replacement satellite for Nigcomsat-1, orbited in May 2007. China signed a contract on October 16, 2008 with the Pakistani government to build and launch the Paksat-1R telecommunications satellite in 2011 (Space News, November 3, 2008; Aviation Week and Space Technology, June 15, 2009, 149). Speaking at the margins of the Pagnanelli Space Insurance Conference in Venice in April 2009, He Xing, vice president of CGWIC, said that the company has three or four additional contracts in "serious negotiations." He Xing noted that since 1996, the Long March family had had a perfect launch record, with 73 straight successful liftoffs (Aviation Week and Space Technology, June 15, 149). In addition to the LM-3B, China is developing the Long March 5 rocket launcher. According to Liang Xiaohong, vice president of the CALT, these launchers will ultimately be used to send astronauts to the Moon (Aviation Week and Space Technology, March 9, 35).
To conclude, although it is very difficult to assess the financial operations of both corporations because they are not disclosed, it can be said, however, that both corporations' business involvement demonstrate their fortitude and ability to withstand sanctions imposed by the United States. The case of the CGWIC has been highlighted in particular. Furthermore, CASC broke into a new business venue—the development of the UAVs. CASC streamlining and reorganization in general of AASPT in particular clearly demonstrate that the management of the corporation does not shy away from reforms. It appears that CALT is the next CASC's subsidiary that is likely to undergo reforms. The CALT path of reforms might be easier and quicker to undertake since the experience of CASC and AASPT can be very useful. The reform experience gained by the management of CASC and its subsidiaries would help to streamline and reorganize the rest of CASC's subsidiaries. Yet, such reforms would take some time to pursue.
[The author would like to thank Tai Ming Cheung, Associate Research Scientist, Institute of Global Conflict and Cooperation (IGCC), University of California San Diego (UCSA) and School of International Relations and Pacific Studies, UCSA.]
Notes
1. Tai Ming Cheung, Fortifying China. The struggle to build a modern defense economy. Ithaca and London: Cornell University Press, 2009, 255. Hereafter cited as Tai Ming Cheung, Fortifying China.
2. According to Tai Ming Cheung, CASTC's workforce numbers more than 100,000, of which 40 percent are scientists and engineers. Fortifying China, 120t. The financial information for CASTC is not publicly disclosed. Tai Ming Cheng in an e-mail to the author, July 22 2009.
3. https://www.ista-net.net/agm13/Participants%20list_E.pdf – online on November 1, 2008.
4. Ibid, 151-152. According to Christian Lardier, the 4th Academy (ARMT) is one of the CASIC's main subsidiaries. "Restructuration de l'Organisation Spatiale Chinoise" ("Restructuring of the Chinese Space Organization"), Air et Cosmos, no. 2132 (July 2008), 33. Hereafter cited as Christian Lardier, "Restructuration de l'Organisation". This information is, however, incorrect.
5. Tai Ming Cheung, Fortifying China, 152.
6. https://www.cast.cn/CastEN/index.asp. See also R. Battiston, "The Chinese Space Program" online https://www.Inf.infn/conference/2005/spazio/ChinaSpace_Battiston.pdf. Hereafter cited as R. Battiston, "The Chinese". For the current post of Liu Fang, see Aviation Week and Space Technology, May 5, 2008, 29.
7. Christian Lardier, "Restructuration de l'Organisation", 33.
8.https://ssp07.buaa.edu.cn/department/unit/China%20Academy%20of%20Aerospace%.
9. For further information, see https://www.cgwic.com/About/index.html. The official English website is very useful and provides information about corporate leadership, organizational structure, and shareholder profile.
10.https://74.125.77.132/translate_c?hl=de&sl=zh-CN&u=https://www.spacetalent.com.cn/comintroduce/cascgczxa.asp&prev=/search%3Fq. For the corporate leadership click on Führende Mitglieder des (German).
11. For the continued CASC's involvement in design of the UAVs, see Aviation Week and Space Technology, November 10, 2008, 27; Jane's Defence Weekly, November 12, 2008, 14. See also Robert Hewson and Reuben Johnson, "China displays airpower credentials with glimpse of new weapon systems", Jane's International Defence Review (February 2009), 34. Hereafter cited as Robert Hewson and Reuven Johnson, "China displays".
12. Aviation Week and Space Technology, June 5, 2006, 17. According to the Great Wall Airlines website (https://www.gwairlines.en/aboutus.asp?id=6), Great Wall Airlines has three shareholders – Beijing Aerospace Satellite Application Corporation (BASA), which is a fully-owned subsidiary of CASC, Singapore Airlines Cargo and Dahlia Investments Pte Limited. What is important is that BASA is a subsidiary of CASC.