A Restart of U.S.-Russian Relations
Publication: Eurasia Daily Monitor Volume: 6 Issue: 9
By: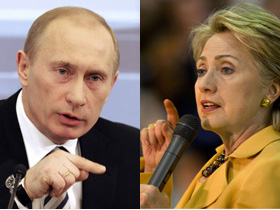 During a confirmation hearing before the Senate Foreign Relations Committee, President-elect Barack Obama's choice for secretary of state, Hillary Rodham Clinton, criticized the outgoing Bush administration for having downgraded the role of arms control and announced the new administration's intention to engage Russia in more nuclear arms control talks as well as other security and economic issues. Clinton promised to appoint a negotiator to resume arms control talks "almost immediately" (RIA-Novosti, January 13). Clinton's statement received cautious positive comments from the Kremlin-controlled media in Moscow as a possible attempt in the future to avoid unnecessary tension, choose areas where security interests coincide, and abandon "the unipolar approach in foreign policy" (RIA-Novosti, January 14).
Moscow in turn is clearly eager to talk and make deals with the incoming Obama administration. Last month Russian Foreign Minister Sergei Lavrov told journalists, "We are open to having an honest dialogue on multiple urgent issues of mutual interest." Lavrov added that he hopes Clinton will be an easier negotiating partner than the Bush foreign policy team (RIA-Novosti, December 11).
It has been suggested in a U.S. think-tank publication that the Obama administration must revive the nuclear arms control dialogue; impose a moratorium on the construction of the missile defense facilities in Central Europe that Moscow opposes; expand commercial links by bringing Russia into the World Trade Organization and removing the Jackson-Vanik Amendment trade constraints; increase NATO-Russia cooperation, such as counter-piracy operations; and show greater transparency about NATO plans (www.brookings.edu/papers/<wbr></wbr>2009/01_us_russia_relations_<wbr></wbr>pifer.asp). Still, the optimism in Moscow about possible coming detente with Washington is guarded. Russia wants to see real progress in areas where it believes the West has trampled on its legitimate security, business, and geopolitical interests. Moscow is ready in principle for a far-reaching political and strategic compromise with the United States and the West, but the price will be high.
The Russian Defense Ministry has announced it is ready to resume military cooperation with the United States and NATO "only on questions, meeting its national interests," if Washington "apologies" for breaking off relations last August. According to General Anatoly Nogovitsyn, the United States must also apologize "for putting the responsibility for the events in South Ossetia on us and accusing us of unleashing aggression against Georgia and the excessive use of force during the operation in forcing Georgia to peace, although it knew pretty well who the real aggressor was" (ITAR-TASS, January 13). Such an "apology" would legitimize the Russian invasion of Georgia last August and, by implication, Moscow's right in the future to impose its will on former Soviet republics such as Georgia and Ukraine, its so-called sphere of privileged interests.
Obama has called for active engagement of former adversaries, but can this work if the strategic intentions of the present leaders of autocracies such as Russia and Iran are basically incompatible with those of democratic Western nations? Arms control, preventing Iran from going nuclear, and fighting pirates in cooperation with NATO are not the most important issues in Moscow. The political power and personal economic interests of the present corrupt Russian leadership are fundamentally different: to control the production and access to world markets of oil, natural gas, metals, and other commodities from Russia and the former Soviet republics and to use its monopoly to extract the highest possible price.
During the current conflict with Ukraine over gas supplies and transit to Europe, Russia has not only been trying to undermine Ukrainian political and economic sovereignty but is also apparently promoting an energy shortage in Europe deliberately to prevent gas prices from collapsing. At present, natural gas prices in Europe are linked to the market price of crude, and in six months they will be one-third of what they are now. This could cause the financial collapse of the badly managed and heavily indebted Russian state-controlled gas monopoly Gazprom, something that the Kremlin seems ready to avoid at any cost, including deliberately provoking a partial gas blockade of Europe in hope that the energy shortage might lead to the undoing of its long-term oil-like export contracts (see EDM, January 12, 13, 14; The New York Times, January 14).
Clinton has announced that the new administration was troubled by Moscow's use of gas supplies as a political weapon and its attempts to put together an international OPEC-type gas cartel to control prices (RIA-Novosti, January 13). Is she, however, ready to compromise on these core issues to engage Russia on other points?
Using some armed incident as a pretext, Russian tanks might move deeper into Georgia in the coming summer to establish Moscow's effective control over the territory that is at present the only channel for bypassing Russia to bring Caspian and Central Asian gas and oil to Europe. This central issue directly involves the survival of the Gazprom monopoly and Vladimir Putin's regime. In such a situation will the Obama administration do better than the Bush team did when it tried its best to engage Vladimir Putin?