A Scandal In Serbia?
Publication: Eurasia Daily Monitor Volume: 8 Issue: 201
By: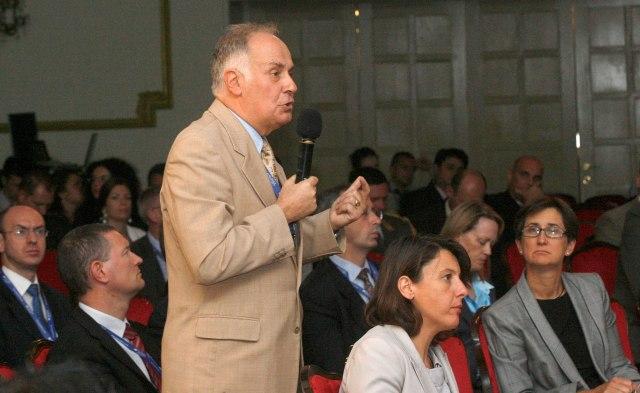 On September 15, on the eve of the NATO EULEX mission's takeover of the Kosovo customs' points Brnjak and Jarinje, Russian Ambassador Aleksandr Konuzin created a diplomatic scandal in Serbia that has apparently since grown. Speaking at the Belgrade Security Forum, Konuzin lambasted the audience and program leaders for not raising questions about this alleged violation of UN Resolution 1244 and other UN Security Council decisions and asked if there were any Serbs in the audience (Tanjug, September 16). Subsequently he told another Serbian audience in the town of Lazarevac that while Serbia needs to cooperate with other countries on economic deals it should not do so to the detriment of Russian-Serbian relations "because that could prove more harmful than useful" (Belgrade, Bizness Online, October 12). Thus, he added threats to his earlier comments. Konuzin's impolitic outburst was bad enough but events since then, including this implicit threat, have only intensified the outcry against Moscow's interference in Serbian domestic affairs and unhappiness with the government's pro-Western policy (Danas Online, October 1).
Whatever the merits of the Kosovo issue may be, it appears that this interference is precisely the case. After Konuzin's speech there was high-profile media coverage of the visit to Russia by leaders of the Serbian Progressive Party (SNS) and Democratic Party of Serbia (DSS) who attended the conference of the ruling United Russia (Edinaya Rossiya) party. At this meeting there was mention of 1 billion Euros ($1.4 billion) in Russian investments should a "nationally responsible government" be formed (Danas, October 1, 2011). Furthermore, the Danas newspaper's collaborators, including former and incumbent government officials in Belgrade outlined what amounts to a network of political officials, in the government, Serbian Assembly, various government bodies and business sectors who advocate on behalf of whatever Moscow's interests are –these people are very well paid for their work and this activity has gone on for at least a decade (Danas, October 1).
Thus, Vladimir Beba Popovic, former chief of the Serbian government's Communications Bureau, told the newspaper: "Russia's role in appointing and dismissing governments in Belgrade was notorious." He also claimed that Russian power centers in the Serbian government and army supported the 2003 assassination of Prime Minister Zoran Djindjic with the support of agents from the Federal Security Service (FSB). Similarly, Radomir Naumov, the Chairman of the Serbian Power Company's Board of Directors and then in 2004 serving as the Energy Minister was "inspired" by his Russian connections into making dozens of contracts with Russian firms (Danas, October 1).
Russian TV reporters then interviewed the reporters who broke this story and they admitted that Konuzin's outburst had inspired them to publish their reporting (Danas October 6). But these events clearly ignited a scandal in Serbia. Right wing parties, including the DSS, SNS, and the Serbian Radical Party (SRS) boast of their close ties with analogous organizations in Russia and there is a lot of smoke suggesting that these organizations are funded by Moscow as well as the fact that some of their leaders have grown rich through business deals with Russia. Naturally, however, these parties deny any and all such charges (Danas, October 3).
However, these phenomena fit a long-standing pattern. Numerous Russian ambassadors in both Eastern Europe and the CIS have repeatedly and publicly insulted their host countries' sovereignty, made clear that they feel they have the right, if not duty, to interfere publicly in their hosts' domestic governance and make abundantly clear that they do not truly believe in their host country's genuine independence and sovereignty. In this respect they continue the old Soviet if not Tsarist tradition whereby Russian ambassadors to client states or small states near Russia acted more like proconsuls than as envoys and diplomats. The second pattern that is prevalent across Eastern Europe is the intermingling of Russian energy officials, diplomats, intelligence operatives, both overt and covert, and members of organized crime in both Russia and the host country in efforts to obtain lucrative contracts, buy influence, and interfere with domestic and foreign policy, and generally corrupt political and other public institutions. Such phenomena from the Baltic Sea to the Black Sea have been repeatedly exposed and are clearly linked to the enormous expansion of intelligence apparatus as an instrument of foreign policy since Putin assumed the presidency in 2000. Therefore, the recent revelations in Belgrade should not come as a surprise to anyone familiar with the modus operandi of Russian foreign policy in Eastern Europe. For example, Czech counter-intelligence has long been worried that Russian firms might win the tender for the Temelin nuclear plant and cause harm to Czech interests and security (www.aktualne.cz, October 14).
Nor is such behavior confined to Eastern Europe. Kuwaiti sources recently reported that 300 million Kuwaiti dinars ($1.09 billion) was laundered from Russia and Iran into Kuwait and that large sums of money were deposited in the account of a company in Kuwait to evade international monitoring, i.e. UN-imposed sanctions (The Arab Times Online, October 13).
Thus, it is clear that UN resolutions have different meanings for Russia depending on whose ox is being gored. But beyond that unsurprising point we should understand that when the heads of East European governments like President Trajan Basescu of Romania display public opposition to and suspicion of Russian policies, they have very good reasons for doing so whatever Moscow's propaganda machine might say to the contrary (Romania Libera Online, September 21).