A String of Intrigues on Putin's Eastern Tour
Publication: Eurasia Daily Monitor Volume: 13 Issue: 143
By: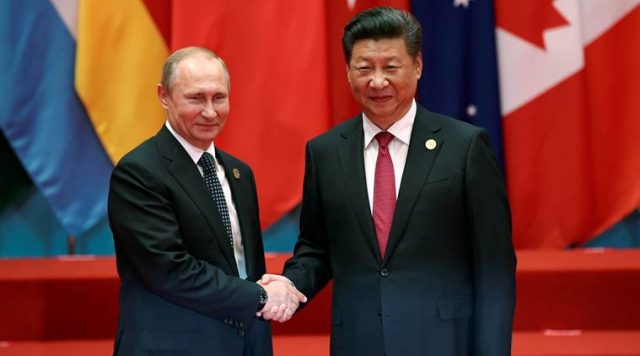 The G20 summit in Hangzhou, China (September 4–5), was not expected to produce major news in global governance. But for Russian President Vladimir Putin, it opened a unique opportunity to assert his place among top world leaders. His press secretary, Dmitry Peskov, assured that Russia would not accept any conditions for returning to the G7 (thus turning it back into the G8), because it is "quite satisfied" with the broader G20 format (RBC, August 31). Russia had little to contribute to the substance of the proceedings in Hangzhou, which ranged from stimulating economic growth to sustaining efforts at containing climate change; but Putin definitely did not want to be seen as a supernumerary. The Kremlin had taken pains to spin several high-stakes intrigues, which compelled many key participants—from British Prime Minister Theresa May to Turkish President Recep Tayyip Erdoğan—to schedule separate meetings with the Russian head of state. These talks yielded little fruit, but what matters for Putin is reinforcing the impression of his "indispensable" role in international affairs.
The crudest of these intrigues was launched in mid-August in Crimea, where Russian special services staged an awkward provocation camouflaged as a "terrorist incursion" (Kommersant, August 17). Putin condemned the Ukrainian leadership for resorting to "tactics of terror" and ordered massive snap military exercises featuring the deployment of a combat-ready grouping of forces in the southwestern "theater" (Gazeta.ru, August 31). He also announced that further negotiations on the implementation of the deadlocked Minsk agreement made no sense and would be discontinued (Nezavisimaya Gazeta, August 16). European leaders were alarmed with that sudden escalation of the conflict, which had never been safely "frozen," and insisted on continuing the dialogue (Carnegie.ru, August 12). Putin agreed to have meetings in Hangzhou with German Chancellor Angela Merkel and French President François Hollande, assuming that such talks amounted to an achievement of his old proposition—discussing Ukraine without Ukraine.
A parallel intrigue involved a reconfiguration of the Russian military intervention in Syria; its aim was to induce the United States government to make a deal with the Kremlin on the coordination of air strikes and special operations. To this end, Moscow reached an agreement with Tehran on using the Hamadan air base for refueling its long-range Tu-22M bombers engaged in combat missions in Syria (Carnegie.ru, August 29). That expansion of Russian ties with Iran made a strong impression in Washington, but Moscow's attempts to maximize the political impact irked Tehran so much that after only a few days the permission to use the base was revoked (Ezhednevny Zhurnal, August 25). Another unexpected development was the beginning of the cross-border operation of Turkish armed forces against Syrian Kurds, which made it impossible for General Valery Gerasimov, the chief of the Russian General Staff, to pay a visit to Ankara (RBC, August 26). In negotiating a normalization of bilateral relations, Putin and Erdoğan carefully bracketed out their disagreements over Syria, so presently Moscow is at a loss about responding to the Turkish intervention (Nezavisimaya Gazeta, August 30).
Yet another bit of intrigue was centered on tempting Japan to withdraw from the sanctions regime against Russia. Putin is keen to exploit the sincere interest of Prime Minister Shinzō Abe to overcome the old deadlock in bilateral relations caused by the dispute about the South Kurile Islands (RBC, September 1). Abe was treated as the guest of honor at the Eastern Economic Forum in Vladivostok last week (September 2–3), and his plans for expanding Japanese investments in the infrastructure of the Russian Far East were approved with great enthusiasm (Nezavisimaya Gazeta, September 2). Putin's space for compromise on the island dispute is, nevertheless, quite limited because he has to keep playing the role of the champion of the "patriotic" cause (Kommersant, September 2). Earlier this year, the Russian Ministry of Defense was given the major responsibility to rebuild bases and settlements on the Kurile Islands. And this militarization, which also includes the deployment of a new coastal defense division on Chukotka, effectively precludes foreign investment and tourism (Nezavisimaya Gazeta, May 31; Interfax, August 23).
High-profile intrigue also persists in Russia's relations with China, and the G20 summit provided Putin yet another opportunity to demonstrate his friendly rapport with President Xi Jinping (Newsru.com, September 4). The limits of this political friendship became apparent in mid-July, when Moscow responded with impeccable neutrality to the Hague arbitration tribunal verdict on the South China Sea, much to Beijing's disappointment (Russiancouncil.ru, July 14). Seeking to placate its senior strategic partner, Russia has agreed to partake in joint naval exercises with China in the South China Sea later this month, but this symbolic gesture cannot compensate for growing doubts in Beijing about the predictability of Putin's decision-making (Carnegie.ru, July 27). Xi, increasingly concerned about China's economic slowdown, probably does not appreciate Putin's Middle Eastern intrigues: specifically, Russian collusion with Saudi Arabia on cuts in oil production aimed at pushing the price up (RBC, September 5).
Spinning his intrigues, Putin plays on painful global problems for which Western leaders have no solutions but are urgently seeking to alleviate. Merkel and Hollande surely realize that the Minsk agreement cannot be implemented but feel obliged to insist on preserving this deal and may even be grateful to Putin for taking a step back last month from breaking it. US Secretary of State John Kerry has invested so much effort in negotiating an agreement on yet another Syrian ceasefire that he wants to believe Moscow will agree not to treat every anti–Bashar al-Assad rebel as a terrorist. Whereas President Barack Obama presumably relies on the counsel of his top brass, who have a better picture of the targeting of Russian air-strikes. Thus, he probably knows better and so is not disappointed in Putin's inability to commit to a meaningful joint effort to defeat the Islamic State.
In assuming Western leaders are weaklings and losers, Putin is seriously fooling himself. Indeed, by routinely making them sit down with him and repeatedly offering no long-lasting results, he is only reminding them that he cannot be treated as a responsible stakeholder in any international crisis. All his counterparts want to see a stable Russia that follows a predictable course, but Putin is presiding over fast-eroding stability—and has to turn unpredictability into a major foreign policy asset. He may feel satisfied with his meetings in Hangzhou, but the widespread and deepening frustration with his intrigues denies his country the necessary support for checking Russia's decline.