A Theme Exaggerated: The Muslim Battalion in Ukraine
Publication: Eurasia Daily Monitor Volume: 12 Issue: 162
By: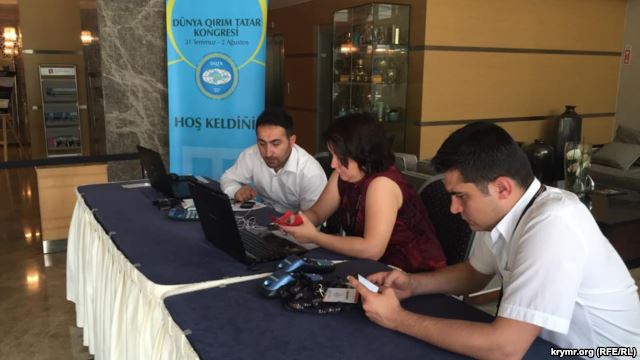 The Second World Congress of Crimean Tatars (Butun Dunya Qirim Kongresi—BDQK) took place in Ankara, Turkey, from July 31 to August 2. Among the 600 participants, 410 were registered delegates representing 184 Crimean Tatar organizations from twelve different countries: Ukraine, Turkey, Uzbekistan, Kazakhstan, Kyrgyzstan, Latvia, Romania, Poland, France, Russia, Canada and the United States (Krymr.com, August 31).
Since the majority of the Crimean Tatar leadership loyal to Kyiv, including Mustafa Cemilev and Refat Chubarov, have been declared persona non grata in Crimea and barred from entering the peninsula (Lpravda.com, July 8, 2014), they arrived in Ankara from Kyiv. Also, some groups of activists arrived from Lviv and other regions of Ukraine. There were no representatives from Crimea itself, because the Crimean government declined the travel requests of five former Mejlis activists and placed other Mejlis loyalists who still live in Crimea under close supervision (Obozrevatel.com, July 29).
Among the Ukrainian guests, Pavlo Klimkin, the country's minister of foreign affairs, who came to the Congress on behalf of President Petro Poroshenko, delivered a powerful message to the audience, stating that the all the former heads of state of Ukraine should apologize to Crimean Tatars for not resolving their crucial issues within the past two decades. According to Poroshenko's road map, Foreign Minister Klimkin asserted, once Crimea is reunified with Ukraine, Crimean Tatars will be given national-territorial autonomy within the framework of Ukraine (Nv.ua, August 1).
The July 31–August 2 Congress was held in Ankara due to the fact that there are approximately 200 diaspora organizations in Turkey who view Mustafa Cemilev as their "legendary leader" and circle around him as if he were the "totem pole" of the Crimean Tatar nation. These 200 or so organizations were, in fact, the ones that insisted the Congress should take place in Ankara, and they were willing to organize and also put up the bill for all the event's expenses. Moreover, Cemilev has good relations with the Turkish head of state, Recep Tayyip Erdoğan. In June 2015, President Erdoğan handed a 20-page expert report on the civil and cultural rights violations of Crimean Tatars to his Russian counterpart, President Vladimir Putin (Dunyabulteni.net, June 20; see EDM, June 25). Moreover, during their meeting in Azerbaijan, Erdoğan told Putin that Turks will always support their Crimean Tatar brethren (Al Jazeera, June 15).
Erdoğan himself could not attend the Crimean Tatar Congress, because he was on a visit to Indonesia. However, he sent his own representatives to the Congress, including then–Turkish Minister of Labor and Social Security Faruk Çelik as well as the Deputy Speaker of the Parliament Meral Akşener, with a loud and clear message: "Turkey never recognized Crimea's occupation by Russia and we will never recognize it" (Aydinlikgazete.com, August 10). In fact, as soon as he returned to Turkey, President Erdoğan invited Cemilev, Chubarov and their two associates to his residence and had a private meeting with them for approximately an hour and a half (Qha.com.ua, August 3).
Undoubtedly, Ankara's selection as the site for the Congress agitated the occupying Russian political elite of Crimea. Ironically, Natalya Poklonskaya, Crimea's general prosecutor, who labeled the elites of the Crimean Tatar leadership as extremists and banned their entry to the annexed peninsula, argued that Crimea's problems should have been discussed internally in Crimea and not in Ankara: "we do not discuss Africa's problems in Crimea as Africa's crisis should be discussed in Africa," she explained (Radikal.com.tr, August 2). Ruslan Balbec, the deputy prime minister of Crimea, described the BDQK as "Cemilev's Congress" and stated that the topics discussed in Ankara do not reflect the real problems of Crimean Tatars who live in Crimea (RIA Novosti, August 1). Similarly, earlier this year, the chairman of the Crimean State Committee for International Relations and Deported Citizens, Zaur Smirnov, tried to discredit the Congress by claiming that Fethullah Gülen—a US-backed Turkish preacher and a long-time nemesis of Recep Tayyip Erdoğan—was secretly sponsoring the BDQK in order to spoil Turkish-Russian relations (Krymedia.ru, April 16).
All at once, an interesting topic was served on a silver platter to those looking for a reason to denounce the Congress when Cemilev and Klimkin discussed the future possibility of establishing a Muslim Battalion within the Ukrainian army (Krymr.com, September 31). This proposed battalion, under the auspices of the Ministry of Defense of Ukraine, would consist of contractual volunteers within the framework of the Ukrainian Ground Forces (Yeniasya.com.tr, August 1). It would be deployed as a border control force in the Kherson region, a zone that separates Crimea from the rest of mainland Ukraine, to monitor the passage of goods and people between the two territories (Islahhaber.net, November 14, 2014).
The Russian media immediately claimed that the Muslim Battalion consists of Muslim fighters from the Islamic State, which is purportedly already in existence in Ukraine. The same sources also alleged that Turkey was the financial supporter of this Muslim Battalion (RIA Novosti, August 2).
In fact, at this juncture, such a Battalion does not exist. If and when it is formed, according to Cemilev, the Battalion will consist of 1,000 troops. Forms to register to join this particular unit will be provided at the military registration offices all over Ukraine. Although it will consist of mostly of Crimean Tatars, others from different ethnic backgrounds from the Caucasus and Central Asia will also be allowed to join (Qha.com.ua, July 11). According to a reliable source, so far only 50 Crimean Tatars submitted their applications for consideration (Author's interview, September 9).