A Year in Review: Uzbekistan Continues to Open Up at Home and to the World
Publication: Eurasia Daily Monitor Volume: 17 Issue: 3
By: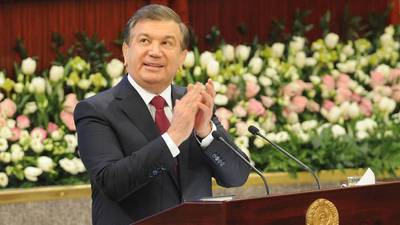 For Uzbekistan, 2019 was a turning point, marking the third year of President Shavkat Mirziyoyev's time as leader of Uzbekistan. That time frame is arguably long enough to enable a population to evaluate the activities of its government with a sober eye and expect results from its leaders. As the current Uzbekistani leadership continues its departure from previous president Islam Karimov's isolationist policies, it is looking for new possibilities both in the economic and political realms. During 2019, that ongoing course correction could be seen most clearly (in foreign affairs) with the announcement of Tashkent's possible accession to the Moscow-led Eurasian Economic Union (EEU) and (in domestic affairs) the parliamentary elections held at the end of 2019.
Although Uzbekistan has been reticent about the timeline and proposed terms of accession to the EEU, Mirziyoyev's statements on the topic last year nonetheless seem to indicate the country's unequivocal movement toward eventual membership. Perhaps unwilling to contradict the president, government officials and elected representatives expressed barely any dissent on the matter. The justification for joining the Russian-led integrationist bloc includes expected economic benefits for the people of Uzbekistan. The government asserts that those boons could be achieved while relatively easily navigating around any potential political entrapments. Independent experts both inside and outside Uzbekistan, however, voiced opposite opinions, warning of the heavy political price Uzbekistanis would have to pay in exchange for questionable economic gains, if any (see EDM, July 25, 2019 and October 14, 2019).
Another important event in Uzbekistan's foreign affairs was the second Consultative Meeting of the five Central Asian leaders, which finally took place in November of 2019, in Tashkent, after being postponed earlier that year (see EDM, December 13, 2019). The delay fed speculation of the demise of budding regionalism given the precarious nature of relations among the five Central Asian neighbors. At the meeting, however, the leaders of the countries openly promised to work together on the main regional issues—borders, water and transportation—in itself a major achievement. Overall, Mirziyoyev stayed true to his promise, declared at the outset of his presidency, of improving relations with his country's neighbors.
In the domestic realm, the parliamentary elections held on December 22, 2019, were the most interesting, heated, and therefore the most democratic, since the parliamentary system had been introduced in Uzbekistan back in 1994. For the first time, the heads of all five major parties as well as their candidates gave interviews, participated in televised debates, and answered impromptu questions from journalists and bloggers (see EDM, November 6, 2019). Although no stark differences of opinions or unique, party-specific ideology emerged from the candidates, last month's elections were as democratic as they probably could have been expected to be.
In fact, one of the main enablers of these relatively open parliamentary elections was the authorities' willingness to tolerate greater openness in the domestic media space and more freedom of opinion. The passing year will thus go down in history for seeing an explosion of independent opinion online and on social media—opinions that were mainly critical of the government in Tashkent. But importantly, the government largely (BBC News—Uzbek service, September 14, 2019) withheld major suppression and massive retaliation. Not sure how the authorities would actually react, Uzbekistanis risked the chance to express their opinions over social media on domestic as well as foreign matters; and for the first time in Uzbekistan's history, "bloggers" were recognized for their service to society and journalism by the prime minister and honored with medals (The Diplomat, July 8, 2019).
Looking ahead to 2020, one of the government's main challenges will be how to astutely navigate Uzbekistan's foreign relations—specifically the now-seemingly inevitable EEU membership. If Tashkent manages to defer full membership in favor of observer status, the country perhaps could use the borrowed time to conduct serious steps toward acceding to the World Trade Organization (WTO). The strongest intention to join the WTO was voiced by President Mirziyoyev during his last foreign trip of 2019, to Japan, where he called admission to the world's largest international trade regime Uzbekistan's "most urgent and important policy goal" (Nikkei, December 18, 2019).
Border delimitation and demarcation negotiations with the other four Central Asian states will also certainly continue in 2020. Tashkent was eager to finalize the negotiations sooner, but the unresolved border matters turned out to be far complicated than initially planned. Sustaining good neighborly relations and cooperation will greatly influence the finalization of the Uzbekistan–Kyrgyzstan–China and Mazari Sharif–Kabul–Peshawar railroad projects. The importance of those two rail lines were reiterated by several Uzbekistani officials in 2019, including the president himself. For Tashkent, these projects promise to finally turn the country into a global economic player.
At home, the gradual social awakening has brought a new challenge for the authorities regarding how to deliver on promises of economic or legal reforms; and this phenomenon will only grow. As the president and his administration enter their fourth year in power, Uzbekistanis will increasingly need more than just hopes and enthusiasm for gradual change: they will want to see tangible improvements to their quality of life. The government's hastened decisions in 2019 pertaining to various major renovation projects across the country resulted in serious disruptions to utility services and botched compensation schemes, which were met with several small, uncoordinated protests. A challenge for the government in 2020 will be not only to preempt more such protests but also, more importantly, to prevent their spread and escalation.
The year 2019 marked the beginning of a period of serious evaluation of the Mirziyoyev era as well as expectations about the authorities' delivering on their promises. Empty populistic promises no longer satisfy Uzbekistan's population. Undoubtedly, ongoing reforms during 2019 have remade the country, which, in some important respects, no longer resembles pre-2016 Uzbekistan. Yet, some of these new reforms and a reopening of Tashkent's foreign policy have created new challenges, such as growing pressure to sign on to the EEU. That said, last year's parliamentary elections, despite all their flaws, may ultimately be far more telling when it comes to predicting the future character of this Eurasian republic.