Acute Anti-Americanism Is Now Official Policy in Moscow
Publication: Eurasia Daily Monitor Volume: 9 Issue: 18
By: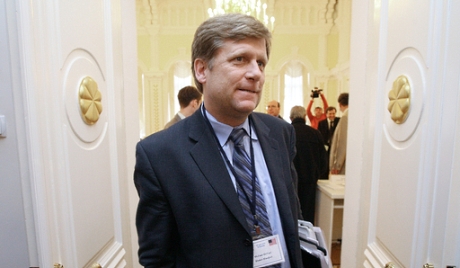 As the new American ambassador – Michael McFaul – arrived in Moscow, the policy of improving Russo-US relations, known as "reset," began to unravel. McFaul, as director for Russia and Eurasia on the US National Security Council, was considered the designer of the reset policy. It is a terrible irony the Russian authorities used his arrival as a pretext to launch a massive anti-American PR assault. This week, speaking in parliament (the Duma), the flamboyant leader of the populist and nationalist Liberal Democratic Party (LDPR) Vladimir Zhirinovsky condemned deputies from the Just Russia (JR) fraction Ilia Ponomarev and Oksana Dmitryeva and Communist Leonid Kalashnikov, who together with the organizers of pro-democracy rallies attended a meeting at the US embassy with McFaul and Deputy Secretary of State William Burns on January 17. "What are deputies doing in an embassy of a nation that is plotting a war against Russia when a presidential election campaign is in full swing? They are traitors," roared Zhirinovsky from the Duma podium and demanded the guilty must be kicked out of the Duma or be permanently denied the right to address the house till December 2016 by the Duma ethics committee (RIA Novosti, January 24).
LDPR has been represented in the Duma since 1993, and Zhirinovsky is known to have always closely coordinated his political actions with the Kremlin. This week, the ruling United Russia (UR) without hesitation joined the fray: one of its leaders Andrei Isayev accused McFaul of being a "specialist in Orange revolutions" and supported deferring the case to the ethics committee. "Why are you deputies meeting the US ambassador behind closed doors? What are you hiding from the Russian citizens?" Isayev exclaimed and accused the JR leader Sergei Mironov, a candidate in the March 4 presidential elections, of "running to become a US resident." Isayev alleged that the white ribbon, which has become a popular symbol of the mass pro-democracy movement "for just elections," was invented by unnamed "US propaganda warfare specialists." Isayev concluded: "The LDPR is an opposition party, but unlike JR, it is statist and patriotic, while JR is known more and more as a party of national treason" (RIA Novosti, January 24).
For more than 20 years, since communist rule began to crumble at the end of the 1980s, authorities in Moscow have refrained from calling "treason" a visit to a foreign embassy without an official vetting. In recent months, the Russian police has been screening Russians who attend any receptions or meetings in embassies. Foreign embassies have their own security services that screen each visitor to establish whether or not that person was legitimately invited. The Russian police at the entries to foreign institutions in Moscow has been acting independently, demanding from Russians an ID "to register them," as the policemen explain, in a centralized computer database. This practice has often created ugly human jams at foreign embassies during large receptions, but now it is clear why the effort and inconvenience – the Russian authorities have a full roster of all Russians who have contacts with the enemies that are "contriving a war against Russia."
The Duma ethics committee announced it is ready to look into the matter. Mironov's defense of Dmitrieva, who is the number two in JR and Ponomarev was halfhearted, deferring any personal blame by telling reporters the offenders did not report or ask for approval in advance. The Communist leader Gennady Zuganov defended Kalashnikov's attendance of the meeting in the US embassy by telling journalists "he was sent by the party to tell the Americans we will fight to the hilt the 'orange plague' the US is spreading" (Interfax, January 24).
When Ponomarev, Dmitryeva and Kalashnikov, together with other opposition leaders, arrived at the US embassy on January 17, they were harassed by pro-government Nashi youth movement activists. The same day during the evening prime time "Vremya" news broadcast on state TV, prominent commentator Mikhail Leontyev accused McFaul of being an old time enemy of Vladimir Putin, who came to Moscow to organize a revolution. The footage showed the opposition figures arriving at the US mission, fending off the Nashi activists (Channel One, January 17).
McFaul went into damage control and gave a large interview to Kommersant, stressing the entire fracas was a misunderstanding, that Barack Obama sent him to Moscow to enhance "reset," that the meeting was between the opposition activists and Burns, while the ambassador was obliged to participate, that Nashi were also welcome at the US mission and that the Foreign Ministry received him cordially. McFaul implied the PR assault was not official Russian policy, since the reset was mutually beneficial (Kommersant, January 25). The reset with Russia seems to be Obama's only foreign policy success in office and it would be unpleasant, if it is proven to be a failure in an election year. Of course, McFaul's interview explaining in detail that Russo-US relations are much better than they seem was given before the Duma fracas lead by Zhirinovsky and Isayev exposed it as wishful thinking.
Foreign Minister Sergey Lavrov has stated Moscow will defend the Syrian and Iranian regimes against alleged US-lead encroachments and categorically refused to support any sanctions. Lavrov stated: "We will not apologize or give explanations why we sell arms and ammunition to Syria" (www.mid.ru, January 18). The time of reset niceties is clearly over, but aggressive anti-Americanism has been previously used during electioneering by Russia's rulers and might be scaled down after the March 4 elections, or it may not.
The chairman of Russia's Constitutional Court, Judge Valery Zhorkin (a man seemingly having little in common with Zhirinovsky), published this week an essay in a government newspaper explaining that NATO destroyed Libya by illegally killing Moammar Gaddafi and toppling the regime that was falsely declared "illegitimate." Today, argues Zhorkin, a tiny, but vocal minority is staging rallies in Russia, aiming to destroy the regime by declaring elections rigged and the Duma and Putin as third term president – illegitimate. The minority protesters are, according to Zhorkin, vocally supported by the US, while NATO bombers and Special Forces will come into Russia later, like into Libya (Rossiyskaya Gazeta, January 26). While mass pro-democracy protests continue, relations with the US will go from bad to worse. The threatened and frightened rulers of Russia will not believe McFaul's or any other's words or deeds.