Adaptation and Response in the Hamas-Israel Conflict
Publication: Terrorism Monitor Volume: 16 Issue: 5
By: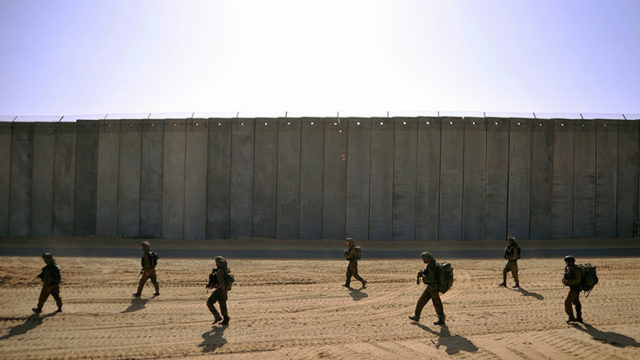 In the early hours of January 14, the Israeli Air Force bombed a one kilometer (km)-long Hamas tunnel connecting Israel, Egypt and the Gaza Strip, dug deep below the Kerem Shalom border crossing (Jerusalem Post, January 14). The tunnel stretched from Gaza across 180 meters of Israeli territory—including below strategic gas and diesel pipelines—into the Egyptian Sinai Peninsula. [1] According to Israeli officials, it was intended not only for the smuggling of weapons and fighters into Gaza from Egypt, but also to permit simultaneous attacks on Israeli border facilities from multiple points (Jerusalem Post, January 15). This was one of six Gazan tunnels that Israel has destroyed since October (Jerusalem Post, February 19).
Israel is also now hard at work on a permanent solution—known as "the Obstacle"—to the cross-border tunnels (Jerusalem Post, January 14). The Obstacle's above-ground manifestation is a six-meter high wall, but below-ground there is a high-tech barrier of bentonite, concrete and "large iron cages" with a monitoring system and sensor equipment that detects tunnels (Jerusalem Post, February 22, 2017). [2] Only four of a planned 65 km has been built so far, but the Obstacle is due to be completed by the end of 2019. Once completed, it will entirely encircle Gaza, supposedly preventing future tunneling into Israel (Times of Israel, January 18).
Israel's anti-tunnel activities mark the latest round in an on-going struggle of strategic adaptation between Israel and Hamas (Jerusalem Post, January 15; Times of Israel, January 18). For as long as they have been in conflict, Israel and Hamas have been locked in a form of dialectic where one learns from the other. In essence, Hamas continually seeks to develop means to exploit Israeli vulnerabilities and, when it succeeds, Israel adapts its own capabilities, forcing Hamas to further innovate, which in turn instigates new Israeli responses. The pattern has been particularly clear since Israel's "disengagement" from Gaza in September 2005, but this pattern of adaptive learning requires closer analysis.
Taking to the Air
Prior to Israel's withdrawal from Gaza in 2005, armed conflicts with Hamas mainly involved conventional Israeli troops, and primarily revolved around the protection of Israeli settlements inside Gaza. With the settlements gone, however, Hamas no longer had Israeli targets inside Gaza it could attack. Moreover, Israel re-built an above-ground barrier around Gaza in 2000-2001, preventing cross-border attacks, such as the famous Fedayeen raids, and effectively neutralized Hamas' capability to carry out regular ground attacks (Byman, 2011).
Hamas responded by focusing its efforts on mortars and rockets. These weapons allowed it to circumvent the barricade around Gaza. [3] The weapons were cheap, relatively easy to produce and, Israel alleges, plentiful, as a result of Iranian help (Ynet, June 22, 2006; Times of Israel, April 13, 2015).
Consequently, Israel required public buildings in close proximity to Gaza to meet new standards of fortification capable of withstanding rocket impacts. Soon every newly built apartment in Israel, regardless of its proximity to Gaza, was required to install a safe-room (Times of Israel, November 28, 2012). Such measures limited the potential damage from rocket attacks, but they did not prevent the attacks.
In the spring of 2011, however, Israel responded more decisively by deploying its new Iron Dome system, and intercepted its first rocket (Haaretz, March 27, 2011; Haaretz, April 7, 2011). The Iron Dome is a proactive air-defense system designed to intercept projectiles fired from between four to 70 km  away. It calculates the object's trajectory and, if it finds the object would hit a populated area, it then launches a missile to intercept it (Jerusalem Post, March 10, 2012).
The Iron Dome's value was amply demonstrated during Israel's Operation Pillar of Defense in November 2012. One of the objectives of the operation was to dramatically diminish the ability of Hamas and other Gazan groups to manufacture and launch rockets and fire mortars. Because the Iron Dome considerably reduced the danger of lethal strikes on Israeli citizens, Israeli leadership had added leeway in choosing how to achieve its goals. Reluctant to risk soldiers' lives in a ground operation, Israel conducted the entire operation from the air, attacking targets in Gaza until Hamas agreed to a ceasefire (IAF, November 21, 2012). [4]
Going Underground
Israel's air-superiority drove Hamas to develop its impressive network of tunnels underneath Gaza. This underground infrastructure was built for logistical and operational purposes, especially for times of intensive ground combat. In particular, it has played a key role in the kidnapping of soldiers during ground military campaigns. Yet tunnels were also soon used for carrying out attacks into Israel (al-Monitor, July 20, 2014). One such instance was the abduction of Israeli soldier Gilad Shalit on June 25, 2006. Israel's willingness to pay a high price for the return of its soldiers, or for the bodies of dead ones, provided a powerful incentive for Hamas fighters to seize them. Hamas held Shalit until October 11, 2011. In the exchange deal, the group enjoyed the credit for forcing the release of more than 1,000 Palestinian prisoners from Israeli jails (Daily News, 9 October 2011).
Furthermore, tunnels have permitted surprise attacks and abductions during recent military campaigns, when Israeli forces entered Gaza. For example, during Operation Protective Edge, a tunnel inside Gaza was used to seize Lt. Hadar Goldin's body, and another Hamas (cross-border) tunnel was used to attack an outpost near the border, killing 11 soldiers (Times of Israel, August 3, 2014; Times of Israel, April 16, 2015). [5] Building each of those tunnels required Hamas to invest millions of dollars, but the network has proved to be of strategic value (Times of Israel, October 16, 2013; Times of Israel, January 18).
Israel was aware of the dangers posed by Hamas' tunnels, yet it initially struggled to take effective counter-measures. Cross-border tunnels were occasionally found, but until recently Israel had not developed an effective solution (Ynet, July 17, 2014; Ynet, August 27, 2014).
Future Developments
With Israel's construction of the Obstacle as a response to Hamas' underground cross-border attacks, Israeli security officials report that Hamas has begun working on a "drone army" and has renewed an old focus on attacks via the sea. In fact, Hamas has already established an amphibious commando unit. It launched an assault on July 8, 2014, but its fighters were killed before they were able to leave the shoreline. [6] Moreover, when completed, the Obstacle is intended to reach into the sea in order to block similar assaults in the future (Times of Israel, January 18).
The real emerging threat that troubles Israeli security officials is that of drones, since there is to date no specific technological solution or physical barrier to decisively counter these small, agile machines. One possible strategic response would be further improvement of the Iron Dome, which has already proved capable of intercepting some primitive devices (Jerusalem Post, February 22, 2017). However, the economic and technological challenges to developing a general counter-drone capability are considerable. For the moment, the next move appears to be down to Hamas, which will be keen to find innovative means to significantly expand and upgrade its drone armada, even as Israel steps up efforts to interdict the transfer of the necessary technology and hardware into the enclave (Jerusalem Post, November 14, 2017).
Shahaf Rabi is a researcher at CSTK, specializes in Israeli targeted killings. 
Avery Plaw is a Professor of Political Science at the University of Massachusetts Dartmouth. He is the author of several articles on drones and books entitled Targeting Terrorists (Ashgate, 2008) and co-author of the Drone Debate (Rowman & Littlefield, 2016), among others.
NOTES
[1] For visual simulation, see IDF on YouTube (January 14).
[2] Gaza is close to the sea so it is not too deep until sea-level water underground are reached. At that depth, the water makes it impossible for Hamas to dig tunnels so that is probably how the depth of the underground obstacle is determined.
[3] There were 510 mortar launch-sessions during 2001 (and no rocket fire), but by 2005 there were 860 attacks, consisting of a total of 1,255 mortars and rockets. By 2006, there were 1,275 attacks, consisting of 1,777 mortars and rockets. These attacks continued to escalate until 2009.
[4] Satisfied with the Iron Dome system, Israel equipped itself with ten Iron Dome batteries. See: Jerusalem Post (July 15, 2014).
[5] Hamas has also kidnapped Israelis in the West Bank. See: Ynet (August 23, 2014).
[6] For Israeli army footage of the incident, see: IDF on YouTube (July 8, 2014).