After the Tour: Xi Jinping's Southeast Asian Diplomacy
Publication: China Brief Volume: 15 Issue: 22
By: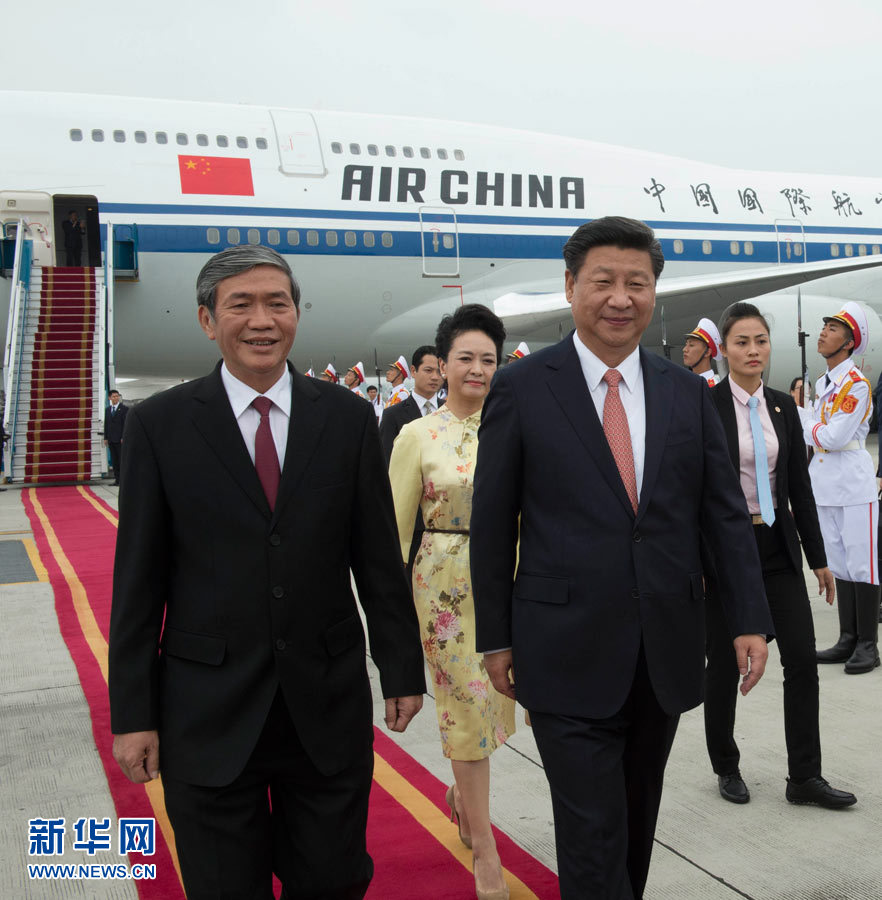 Even for China's unusually well-traveled president, Xi Jinping, the past month has seen a large number of important visits, culminating in the Asia Pacific Economic Partnership (APEC) Economic Leaders Meeting in Manila. Xi conducted his first state visits to Vietnam and Singapore, which included the historic face-to-face with Taiwan's President Ma Ying-jeou, as part of a flurry of meetings on his way to the G20 Summit in Antalya, Turkey. Singapore and Vietnam represent an important legs of China's "One Belt, One Road" initiative, and are part of a region where tensions have the biggest chance of derailing China's plans. Of the meetings, Xi Jinping's discussions with Southeast Asian leaders—during the state visits and at APEC—are likely to have the greatest meaning for the region.
China is shoring up its relations with Southeast Asian states, attempting to reassure them of China's peaceful intentions and undercut the emerging alliances that are tying states like Vietnam and the Philippines closer to each other, and to outside balancers, such as Japan and the United States. People's Daily described the state visits to Singapore and Vietnam as representing a "new height of regional relations," built on more than a decade of major investments by Singapore (such as a development zone in Suzhou) and close trade and financial relations with Vietnam (People's Daily Online, November 4).
As Xi attends APEC this week, some of the results of this diplomatic offensive are already in evidence. While this year's location for the meeting might have suggested an opportunity to discuss the biggest issue of contention between Beijing and Manila, Chinese Ministry of Foreign Affairs spokesperson Hong Lei announced that the issue of territorial disputes in the South China Sea would be tabled for the APEC summit (Ministry of Foreign Affairs [China], November 13). In response, U.S. President Barack Obama made a point of reaffirming the United States' military alliance with Philippines, which recent saw the transfer of two naval vessels to bolster Philippine maritime capabilities (Global Times, November 18).
Unlike the Philippines, whose use of international arbitration and close relations with the U.S. has made their position on the South China Sea less tractable, Singapore and Vietnam, among others, represent opportunities for greater Chinese influence in the region. China uses cultural ties and calls for investment by overseas Chinese in its relationship with Singapore, and communist ideology, where it shares a close "Party-to-Party" relationship with the ruling Communist Party of Vietnam (CPV). These "softer" routes have allowed China to sidestep popular national discontent or more general unease about Chinese assertiveness.
Vietnam, then, is in the unusual position of having close governmental relations despite popular animosity and strong national positions in conflict with Chinese territorial claims. Vietnamese Ministry of Foreign Affairs Spokesperson Le Hai Binh, for example, recently stated
The declaration of the so-called "Sansha City Administration" on the completion of two lighthouses on Vietnamese features in the Hoang Sa Archipelago [Paracel Islands] is yet another serious violation of Viet Nam's sovereignty…China's actions in Viet Nam's Hoang Sa Archipelago, in any form and on any purpose, are null and void" (Ministry of Foreign Affairs [Vietnam], October 13).
Moreover, Vietnam has committed to building a strategic partnership—which includes defense and security cooperation—with the Philippines (Tuoi Tre News, October 22). With major city streets named after a number of national heroes and heroines who threw off successive waves of Chinese domination, the Communist Party of Vietnam will have to tread a fine line to maintain, as put by China, the "deep, traditional friendship" between the two nations (People's Daily Online, November 4).
Although the focus of President Xi's speeches during this diplomatic sprint has been the economic benefits of relations with China—particularly the role Southeast Asian nations can play in the "21st Century Maritime Silk Road" initiative, he did not shy away from security issues. During his subsequent stop in Singapore, Xi restated China's claim that "since ancient times the islands of the South China Sea have been Chinese territory" in a speech at Singapore's National University (Xinhua Online, November 7). China's non-negotiable stance on territory and need to expand trade lock it into a stance that combines confrontational rhetoric with offers of enhanced trade. In several cases in the region, such a stance might still pay off.
Xi's visits take place against a background of deeper Chinese engagement throughout Southeast Asia. Thailand, for example, represents a tremendous opportunity for China. Its military junta is lukewarm in its relations with the United States—traditionally one of Thailand's strongest allies. Dating back to the Vietnam War, the U.S. has used Thai airbases as regional logistics hubs, and has held the large annual U.S.-Thai Cobra Gold military exercise for decades.
Though the exercises continue to be held, Thailand has clearly expanded its options. Thailand's prime minister met with Chinese Central Military Commission Vice-Chairman Xu Qiliang in April, with both sides promising to "deepen military training" and "industrial cooperation" (Chinese Ministry of Defense Online, April 24). The meeting recently bore fruit in the first Joint Sino-Thai air force exercise at Korat air base in Thailand (People's Daily Online, November 17). Chinese diplomacy traditionally characterizes Thailand and China as "One Family," a phrase used by Xi during a state visit in 2011 (China Online, December 25, 2011).
China continues to deepen its defense and security relationships throughout the region, selling shoulder launched anti-aircraft missiles and other military equipment to Cambodia, and working to improve coordination between security services throughout the region (Global Times, November 10; Xinhua, October 24; Defense Ministry Online, October 29). These, latter links between the security agencies in the region may be viewed by China as a path toward normatization and acceptance of a more active Chinese military in the region.
China's economic diplomacy has been warmly welcomed along the western route of its Silk Road Economic Belt. The 21st-Century Maritime Silk Road's path through the contentious South China Sea will make this component of the Belt and Road Initiatives much more difficult to implement. It remains to be seen if Chinese economic and cultural power can override other nations concerns and competing territorial claims—and the influence of external balancers like Japan and the United Stat