Ahmadinejad Raises Questions With Last-Minute Cancellation Of Armenia Visit
Publication: Eurasia Daily Monitor Volume: 8 Issue: 114
By: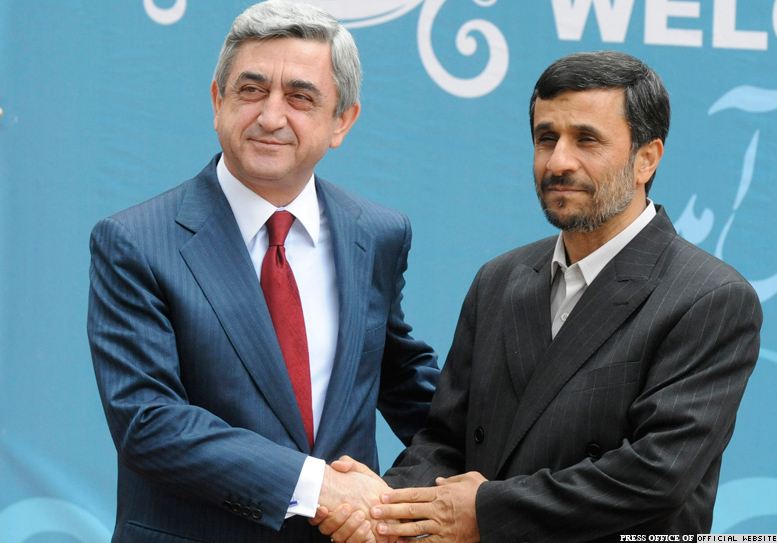 Iran's embattled President Mahmuod Ahmadinejad has caused a stir by his last-minute cancellation of a visit to Armenia that was intended to highlight and cement close ties between the two neighboring states. The unexpected move rekindled speculation in Yerevan about Tehran's unease over a resolution of the Karabakh conflict favored by the West and Russia. Prospects for such a settlement have recently become more realistic.
Ahmadinejad was due to fly to Yerevan on June 6 on a one-day visit that was announced by the Iranian government in late May and officially confirmed by Armenian President Serzh Sargsyan's office on June 4. "Ahmadinejad's official visit to Armenia is in line with developing and deepening relations between the two countries and in response to a [late-March] trip to Iran by Armenian President Serzh Sargsyan," the Iranian Embassy in Yerevan said in a June 5 statement cited by Iran's Press TV.
The visit was postponed indefinitely just hours before Ahmadinejad's planned arrival in the Armenian capital. Sargsyan's press secretary, Armen Arzumanian, vaguely attributed the postponement to "mutual consent" and said the trip will take place "at a more convenient time" (Statement by the Armenian presidential press service, June 6).
A spokesman for Ahmadinejad, Mohammad-Hassan Salehi-Maram, was quoted by the official Iranian IRNA news agency as saying that the Armenian side "did not prepare documents" that were due to be signed in Yerevan. Iranian Foreign Ministry spokesman, Ramin Mehmanparast, gave a similar reason for the extraordinary delay and said these documents will be finalized by the time the Iranian president visits Armenia "in the near future." "The Islamic Republic of Iran and Armenia enjoy friendly relations and good neighborliness and authorities of the two countries are continuously in contact," Mehmanparast said (ISNA, June 6).
Neither side specified the agreements that Ahmadinejad and Sargsyan could have sealed in Yerevan. An Armenian-Iranian inter-governmental commission on economic cooperation held a regular session in Tehran on May 30. Its two co-chairs, Iranian Foreign Minister Ali-Akbar Salehi and Armenian Energy and Natural Resources Minister Armen Movsisian, signed a memorandum of understanding that reaffirmed their governments' intention to boost bilateral trade and implement more Armenian-Iranian energy projects (www.armenialiberty.org, May 31).
Those projects include the construction of two hydro-electric plants on the Arax River marking the Armenian-Iranian border and a pipeline that will ship Iranian fuel to Armenia. The two sides also plan to start building soon a third high-voltage transmission line connecting their power grids. None of these projects presumably requires the signing of more agreements at the presidential level. The Armenian and Iranian leaders might have fleshed out ambitious plans to build a railway connecting their countries. In their meetings with Movsisian, Iranian officials reportedly reaffirmed Tehran's strong interest in the $2.5 billion project, with Salehi saying that it would allow for direct rail communication between the Persian Gulf and Georgia's Black Sea ports. The project is still in the early stages of development, however.
Naturally Armenian media commentators and other pundits were skeptical about the official Iranian explanation for the cancellation of the visit. Some suggested that Ahmadinejad decided not to leave his country now that he is increasingly at loggerheads with the Islamic Republic's clerical leadership. The latter has thwarted his attempt to appoint an oil minister and OPEC envoy ahead of a meeting of the oil-exporting group scheduled for June 8. According to Vahan Hovannisian, a well-informed leader of the opposition Armenian Revolutionary Federation party, Ahmadinejad decided not to travel to Armenia because the Sargsyan administration needed time to clarify its position on "some issues" which the Iranian side added to the visit agenda at the last moment. Hovannisian did not specify what these issues were (Regnum, June 6).
The veteran politician, whose party was part of Armenia's governing coalition until 2009, may well have referred to recent developments in international efforts to settle the Karabakh conflict. Sargsyan and Azerbaijan's President Ilham Aliyev are due to meet in the Russian city of Kazan on June 25 for talks which the United States, Russia and France hope will prove decisive in the long-running Armenian-Azerbaijani negotiating process. In a joint statement issued during the recent G8 summit in France, the presidents of the three mediating powers urged Aliyev and Sargsyan to finalize the "basic principles" of a peaceful settlement at that meeting. "Further delay would only call into question the commitment of the sides to reach an agreement," they warned (www.whitehouse.gov, May 26).
According to a widely-held belief in Armenian political and expert circles, Iran is not quite interested in a change in the Karabakh status quo which might weaken the Iranian presence in the region and Armenia in particular. A key reason for the presumed Iranian fears is that an international peacekeeping force would have to be deployed around Karabakh (and in the vicinity of Iran) in the event of the conflict's resolution. Iranian diplomats have repeatedly stated that Tehran would not tolerate any US role in that force. Seyed Ali Saghaeyan, the Iranian ambassador to Armenia, claimed last year that Washington is keen to have troops in Azerbaijan's Fizuli district, which borders Iran and was mostly occupied by Karabakh Armenian forces in 1993.
Such concerns can hardly go unheeded in Yerevan given the warm relations existing between the Islamic Republic and its sole Christian neighbor, a rare issue of national consensus in Armenia. Just how much of an impact they can have on the Armenian policy toward the Karabakh dispute remains to be seen.