Akhalaia Acquittal Causes Mini Political Earthquake in Georgia
Publication: Eurasia Daily Monitor Volume: 10 Issue: 148
By: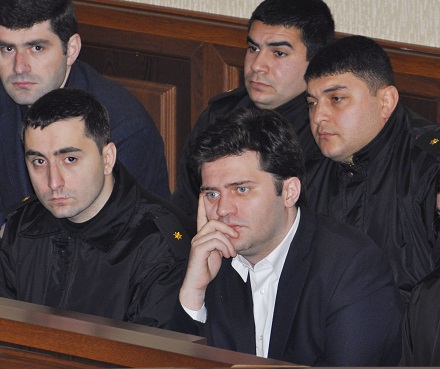 On August 1, Tbilisi City Court acquitted former Defense and then Interior Minister Bacho Akhalaia on charges that involved exceeding official powers, illegal confinement and torture in three separate cases. However, Akhalaia remains in custody, awaiting trial on separate, unrelated cases. The court's verdict follows five months of trial and testimonies of about 150 prosecution and defense witnesses (www.civil.ge, August 1).
President Mikheil Saakashvili welcomed the court's verdict (www.newposts.ge, August 5). However, Akhalaia's acquittal caused outrage among the ruling Georgian Dream (GD) coalition supporters. Akhalaia, along with his family (brother, Data, and father, Roland), were seen as the backbone and the symbol of Saakashvili's coercive apparatus. Moreover, Akhalaia, during his time in the government, was constantly accused of harsh treatment of prisoners and soldiers and was widely believed to be one of the main perpetrators in last year's notorious prison abuse scandal that emerged on the eve of the parliamentary elections (Info 9 TV, September 18, 2012).
Although, some even within GD assessed the court's decision as proof that courts finally have become independent in Georgia (www.interpressnews.ge, August 1), not many shared such a sense of optimism. GD's main pre-election promise has been the "restoration of justice," by which GD meant prosecuting Saakashvili-era officials for alleged power abuses and high-level corruption. Above all, Bacho Akhalaia has been sought after as a primary target of prosecution. His acquittal now casts a shadow on GD's promise and adds to the increasing public disappointment with the work of the government. Moreover, the court's decision gave rise to theories that the new regime actually made a secret deal with the old regime, relieving Saakashvili-era officials from responsibility for alleged past abuses (www.timer.ge, August 2).
Moreover, Akhalaia's acquittal caused a mini political earthquake within GD and in the Georgian political system more generally. Koba Davitashvili, who heads the People's Party, one of the leading members of GD, left the coalition, declaring that he would run for president in October. He cited the Tbilisi City Court's verdict on Akhalaia and the government's failure to restore justice, as the main reason behind his move (www.radiotavisupleba.ge, August 2). Some are planning to stage protests, demanding Prosecutor General Archil Kbilashvili's resignation for failing to handle the case properly to avoid Akhalaia's acquittal (www.frontnews.ge, August 2). Kbiliashvili tried to defend himself, stating that Akhalaia's acquittal was a wrong decision; however, he declared that the prosecutor general's office did everything to prepare a strong case against Akhalaia (www.news.ge, August 5).
Presidential candidate Nino Burjanadze, the leader of the Democratic Movement–United Georgia, quickly jumped on the bandwagon and declared that the court's acquittal is further proof of the GD-led government's feebleness and warned against the increasing public anger about taking similar decisions in the future (www.news.ge, August 1). Burjanadze has frequently demanded more wide-scale prosecutions of Saakashvili-era high-ranking officials, including of Saakashvili himself (www.topnews.mediamall.ge, April 5).
Others, however, resorted to more extreme forms of protest. For instance, inmate Kakha Khardziani from the 15th prison in Ksani sewed his lips and eyes shut after learning about Akhalaia's acquittal by the court (www.cci.ge, August 3). Some even called on Georgians to take to the streets and stage a non-violent popular uprising to protest the court's decision and the government's, specifically the prosecutor general's office's, inadequate work on Akhalaia's case (www.kvirispalitra.ge, August 1). Such protests now are planned for the coming fall (www.newposts.ge, August 5).
The government has moved to calm nerves. Prosecutor General Kbilashvili stated that the assumptions about President Saakasvhili possibly pardoning and releasing Akhalaia from jail, in the case that the latter was found guilty now, is in fact plausible (www.timer.ge, August 5). This statement aroused popular speculations that the government actually preferred to delay Akhalaia's guilty sentence until Saakashvili leaves office in October. On July 30, Saakashvili pardoned and released from jail another high-ranking official, Tengiz Gunava, the former governor of Samegrelo-Zemo Svaneti region, and even reinstated him on August 1 as governor of the region. On July 12, Gunava had been found guilty on embezzlement charges and sentenced to four years in prison (www.civil.ge, August 1).
Akhalaia's acquittal clearly indicates several trends within current Georgian politics. First, the court's verdict has widened the cracks within GD and revealed the political fragility of the coalition. Although widely expected for months, Davitashvili's withdrawal from the coalition could mark the beginning of the actual disintegration of GD. Indeed, this was the first case since GD's ascent to power that a member party left the coalition. It is highly likely that the process of disintegration will accelerate in the coming months as more coalition member try to capitalize on rising public disappointment against the government. Second, Akhalaia's acquittal once again reveals the still prevailing widespread public anger against Saakashvili and his United National Movement (UNM). Hence, political analysts and politicians alike should note that popular disappointment with the GD-led government will likely not ultimately transform into a resurrection of popular support for UNM. Subsequently, political bets on UNM should be made only with a great sense of skepticism.