Al-Qaeda in the Arabian Peninsula Makes Inroads in Southern Yemen but Reveals Limits to Its Operational Capabilities
Publication: Terrorism Monitor Volume: 11 Issue: 13
By: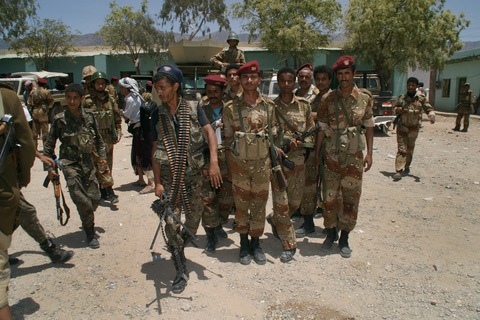 The recent operations carried out by al-Qaeda in the Arabian Peninsula (AQAP) and allied Ansar al-Shari'a militants seem to confirm that South Yemen has finally become the battleground on which both groups are testing the Yemeni Army's ability to contain the insurgents' ambitions. While AQAP has not thus far shown an operational capability to mount sophisticated attacks as it did in the past, jihadi militants have, however, been able to sustain a more circumscribed and incisive campaign against security and military forces. Although insurgent attempts to strike more resonating targets remain constant, as suggested by the thwarted May plot to detonate a seven kilogram C4-type IED in a Sana'a street where President Hadi's convoy was due to drive, it is in the south where AQAP and Ansar al-Shari's have extended their reach and resumed regular attacks on the army (Yemencom.net, May 12; Yemen Post, May 18). In addition to AQAP's presence in Hadramawt governorate, which remains a key corridor for AQAP members and weapons due to its porous border on the north and the presence of al-Shihr and al-Mukalla ports in the south, the group's militants have reportedly managed to enter the Ibb governorate in the last months, especially in the al-Odain, al-Sadda and al-Nadera districts of Lahj and al-Bayda governorates, while strengthen their grasp on the al-Mahfald and Mudiyah districts of Abyan governorate (Marib Press, May 6; Yemen Times, May 24; June 9; June 10).
Several factors can explain these geographic inroads:
AQAP and Ansar al-Shari'a are managing to partially exploit the overall security deterioration in the South. The latter is, to a certain extent, the result of the increasing anti-Government stance embraced by factions of the Herak secessionist movement, with the most militant factions located within a broad and heterogeneous secessionist spectrum that has started to target security forces with a certain consistency in the last two months (

Yemen Times,

May 24;

Aden Tribune,

May 15; May 31). The military overhaul decreed by President Hadi last April has also played a significant role in deepening the perception of increasing insecurity in some areas of the country, especially in Ma'rib and in the South, where over 40 military camps have reportedly rebelled against their commanders, leaving certain districts unguarded (

Yemen Times,

May 13; Barakish.net

,

6 June).

On the other side, the insurgents' stretch across the southern governorates has been probably enabled by the groups' ability to maintain a stronghold in northern Abyan, despite the massive offensive launched by the Army in the governorate in July 2012 (Yemen Times, June 3).
Additionally, militant movements across the southern governorates have been facilitated by their theft of cars bearing government licence plates, which, according to security sources, has allowed operatives to pass freely through inter-provincial security checkpoints (Yemen Times, June 6). The July 2012 military push effectively forced AQAP militants to adopt a more defensive stance in the following months, with the group resorting to hit-and-run operations and more classic insurgent tactics while launching a sustained campaign of almost 100 assassinations of security and military personnel beginning in January, 2013 (Yemen Fox, June 2). This phase has possibly allowed AQAP and Ansar al-Shari'a militants to gradually reorganize their ranks ahead of their planned southern offensive.
At the beginning of May, residents of al-Hawta, provincial capital of Lahij, told the local press that AQAP and Ansar al-Shari'a militants were distributing leaflets warning about their upcoming offensive in the governorates of Hadramawt, al-Baydah and Lahij just a few days before suspected AQAP militants killed three Yemeni Air Force pilots on their way to al-Anad military airbase in al-Hawta (al-Masdar Online, May 8; Yemen Post, May 10, May 26). The largest airbase in Yemen, al-Anad, the base for U.S. drone operations since 2012, was targeted on May 6 by suspected AQAP militants, who set on fire three gas tanks containing 6,000 liters of fuel, causing a massive explosion but no casualties (Marib Press, May 6; Yemen Times, May 9).
The insurgent push moved a few days later to Abyan, where three days of open fighting between the army and Ansar al-Shari'a left 11 militants and five soldiers dead in Wadi Marjan and al-Murakasha. In al-Baydah, AQAP gunmen attacked military positions near Tha'alib Mountain, killing two soldiers (Yemencom.net, May 14, Yemen Post, May 24). In this scheme falls also AQAP's June 2 attempt to target the infrastructure of the Yemen Liquefied Natural Gas Company in Shabwa governorate, the biggest project of its kind in the country. Two attacks on the gas pipeline linking Marib to the Balhaf liquefied natural gas facilities in the Gulf of Aden were successfully repelled by security forces 80 kilometers north of Balhaf (Saba News, June 2). After a few hours, AQAP militants again attempted to target the Balhaf gas export terminal with two car bombs, but Yemeni soldiers foiled the attack, detonating the explosives in one vehicle with gunfire and forcing the second vehicle to flee (Saba News, June 2, Yemen Times, June 3). Although the army claimed that only three soldiers were injured, local media reported that at least five soldiers were killed in the blast along with the attacker (Marib Press, June 2).
Conflicting reports also surround the events in al-Mukalla between the last days of May and the beginning of June. On May 23, the Yemeni Interior Ministry stated that AQAP and Ansar al-Shari'a militants had captured areas around the port city and managed to establish Islamic Emirates in al-Shihr and Ghayl Ba Wazir. The ministry then announced the beginning of an army offensive to retake control of the area (Yemen Post, May 24; al-Shorfa, May 30; National Yemen, May 31). Over 10,000 troops backed by tanks and helicopters took part in a week-long operation that ultimately pushed the insurgents away from their positions, killed seven militants and destroyed the groups' hideouts (26September.info, June 5; Yemen Post, June 6; Yemen Times, June 10). The military and government accounts have, however, been disputed by Yemeni journalist Abdurrazaq al-Jamal, who, quoting sources close to AQAP, stated that only one militant was killed and suggested that the groups did not actually declare Islamic Emirates in the cities (National Yemen, June 20). No statement claiming the establishment of the Emirates was published by AQAP or Ansar al-Shari'a in the days following the events in Ghayl Ba Wazir.
The recent AQAP and Ansar al-Shari'a operations indicate an ongoing attempt by militants to extend their reach across southern Yemen. Although the accounts regarding the alleged establishment of Islamic Emirates in Hadramawt remain difficult to confirm at this stage, they point to the strategic priority that the seizure and the control of territory maintains in the current insurgent scheme, whether by means of establishing an Islamic Emirate or a more classic stronghold. The army's ability to repel major attacks, such as the one in Balhaf against the liquefied natural gas facility, and to contain attempts by the militants to establish new bases, as in al-Shihr and Ghayl Ba Wazir, also suggest there are limits to the insurgents' ability to realize their ambitions. This in turn might push AQAP and Ansar al-Shari'a to increase their recourse to hit-and-run operations and assassinations, in which they have proved particularly adept thus far, even replicating these tactics in Yemen's northern governorates.
Ludovico Carlino is a Ph.D. Candidate in the Department of International Politics at the University of Reading, specializing in al-Qaeda and its affiliated movements. He is currently Director of the International Terrorism program at CISIP, the Italian Center for the Study of Political Islam.