Al-Shabaab's Attack in Ethiopia: One-off Incursion or Persistent Threat?
Publication: Terrorism Monitor Volume: 20 Issue: 17
By: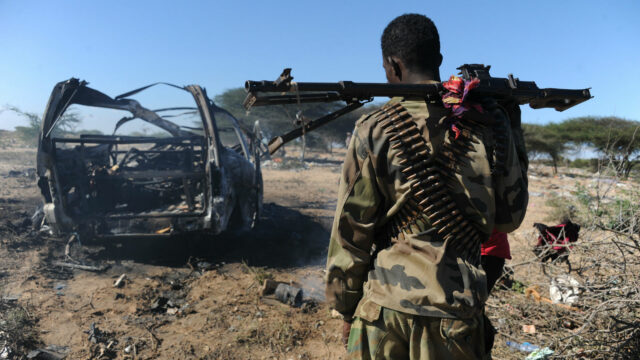 Al-Shabaab's Attack in Ethiopia: One-off Incursion or Persistent Threat? 
Ethiopian forces in July contained and repulsed an attack conducted in the eastern part of the country by Somalia-based al-Shabaab. Fighters from the militant group entered from southwestern Somalia and targeted four border towns in Ethiopia's Somali regional state known as Ogaden Region. The estimated 500 al-Shabaab fighters had moved 150 kilometers inside Ethiopia before being met by the Ethiopian military and retreating (Garowe Online, July 30).
After several days of fighting, the Ethiopian military claimed it killed as many as 800 militants, including Fuad Mohammad Khalaf, who is also know as Fuad Shangole and was a senior al-Shabaab leader. The U.S designated Shangole as a foreign terrorist in 2010 and placed a $5 million bounty on his head in 2012 (People Dispatch, August 1). Al-Shabaab, however, later denied the Ethiopian claims about the death totals and asserted it had killed at least 100 Ethiopian servicemen, including policemen, before taking control of the town of Aoto (Sudan Tribune, August 7).
The attack came as surprise since al-Shabaab had not launched cross-border attacks into Ethiopia in years. However, the group has frequently targeted the nearly 4,000 Ethiopian troops operating in Somalia under the African Union Transition Mission in Somalia (ATMIS), which was formerly known as the African Union Mission in Somalia (AMISOM). On August 21, Somali security forces, which are backed by ATMIS, for example, fought off a 30-hour al-Shabaab attack on Hotel Hayat in Mogadishu, which left at least 21 people dead. The attack was the first major attack since Somali President Hassan Sheikh Mohammud took office in May (Nation, August 22).
A More Confident and Expansionist Al-Shabaab
The attempt by al-Shabaab to spread to Ethiopia appears to have been thwarted by Ethiopian forces, but the attack underlines a resurgent, more confident, and strengthened al-Shabaab. Despite the group losing key territories to ATMIS forces and some of its top leaders in U.S airstrikes, such as Aden Hashi Farah "Ayro" in 2008 and Moktar Ali Zubeyr in 2014, the group continues to show resilience after each setback, always launching fresh attacks. It has also carried out continuous recruitment campaigns throughout the East Africa region (Garowe Online, January 1).
At the same time, the current political circumstances in Ethiopia create favorable ground for the militant group's continued attacks. Ethiopia's security forces have been struggling with internal unrest since the launch of the military operation in the northern state of Tigray in November 2020 (Terrorism Monitor, December 7, 2021). As the conflict persists, it is likely that al-Shabaab will take advantage of the turmoil to launch more cross-border attacks (Africa News, August 5).
Additionally, the push into Ethiopia can be seen as part of al-Shabaab leaders' attempts to expand the conflict beyond Somalia. The vision was first articulated by the late Shaykh Ahmed Abdi Godane, who was the group's emir and was killed in a U.S. airstrike in 2014 (aljazeera.com, September 6, 2014). Less than a year before the attacks in Ethiopia, Ahmed Diriye, who is al-Shabaab's current emir, appeared to restate Godane's vision. He called for external attacks beyond Somalia with emphasis on American and French interests, especially in Djibouti (African News, March 29, 2021).
Northern Kenya Under Threat From a Financially Emboldened Al-Shabaab
Apart from the attack in Ethiopia, al-Shabaab has persistently attacked parts of the northern and coastal regions of Kenya. In one of the latest attacks, five policemen were injured in Mandera in northern Kenya after suspected al-Shabaab fighters ambushed them while they were on patrol. In January, six people were also killed in Lamu in another attack by suspected members of al-Shabaab (The Star, January 3).
Moreover, while controlling large swathes of territory in southern Somalia, the group has also outpaced the government in revenue collection. This provides al-Shabaab with the financial muscle it needs to further expand the insurgency (Somali Guardian, February 22). As a result, al-Shabaab has been strengthening its arsenal by spending a reported US$24 million out of its annual budget of US$180 million on arms purchases. The money is raised through taxation at checkpoints in Somalia or persuading or coercing the local population into paying tax (Hiraal Institute, October 2020).
Besides purchasing guns, ammunition, explosives and other heavy weapons, the manufacture of explosives and some ammunition also comprises part of al-Shabaab's budget. The weapons are being obtained from the local black market and international sources, with Yemen as a key exporter. Other weapons are also seized in battles with the Somali national army and ATMIS troops (Africa News, February 22).
Conclusion
Al-Shabaab's attempt to spread to Ethiopia appears to have been contained, but this was not a one–off attack and more attacks should be anticipated in the near future. At the same time, the current political circumstances in Ethiopia are creating fertile ground for the militant group's attacks. The resolution of the Tigray crisis is paramount if any further spread of al-Shabaab into Ethiopia is to be stopped.