Alyaksandr Lukashenka and the Martians
Publication: Eurasia Daily Monitor Volume: 9 Issue: 223
By: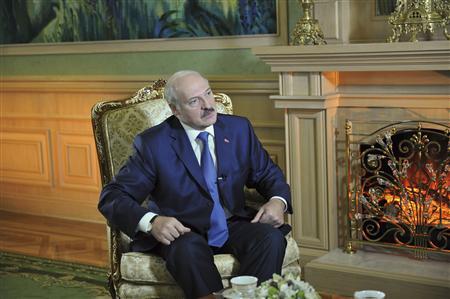 On November 26, Alyaksandr Lukashenka gave a 1.5-hour interview to Reuters. The text of the interview was published on the internet portal "Belorusskie Novosti" (https://naviny.by/rubrics/politic/2012/11/27/ic_articles_112_180033/), but Lukashenka's seemingly casual remark about Vladimir Putin "twisting his spine" during a recent bout of judo when "he lifted a guy and then threw him" was excluded from the text as it elicited displeasure from the Kremlin (https://charter97.org/en/news/2012/11/29/62066/). Ten mentions of the word "dictator," including nine by Lukashenka himself, are among the highlights of the interview. "I do not really understand what a dictator is," the Belarusian president claimed, "but on the other hand I sometimes, in a nice way, envy myself. I am the last and only dictator in Europe and indeed there are none anywhere else in the world. You came here and looked at a living dictator and where else would you see one? There is something in this. They say that even bad publicity is good publicity." During the interview, Lukashenka also added that the most fundamental human rights are the right to live as well as the rights to receive free health care and education and to have unlimited access to information; and such rights are guaranteed in Belarus, he argued. Talking about health care, Lukashenka expressed his pride that in Belarus infant mortality is somewhat lower than in the United Kingdom (4.0 versus 4.3 deaths per 1000 live births).
According to Lukashenka, Belarusian society must prepare for the coming of tougher competition for jobs and livelihood similar to that already faced in Britain. This ought to be done gradually, however, or else society could break down as happened in Greece and Spain. Lukashenka rejected the idea that an Arab Spring–like situation may arise in Belarus because "the policies of Belarus's leadership and that of the former Middle Eastern rulers are entirely different." Furthermore, an attempt to stir up a revolt in Belarus through social networks had previously failed. President Lukashenka also averred that he is not against privatization in principle but is reluctant to sell well-managed enterprises cheap. Considering his earlier suggestion that Belaruskalii, one of the world's leading producers of potash, is worth $30–32 billion, he said that this firm's recent appraisal by Bloomberg was exactly in that range, and on this basis five potential buyers of Belaruskalii are now negotiating its purchase. Regarding not reaching a deal with the International Monetary Fund (IMF) about a new loan, Lukashenka opined that if that institution stops playing politics and positions itself as a purely financial entity, "we will resolve all our contradictions within one day" (https://naviny.by/rubrics/politic/2012/11/27/ic_articles_112_180033/).
The president also commented on Russia's recent reproach that Belarus sold some refined oil products without paying requisite export fees to the Russian treasury. While admitting Russia's displeasure and alleging an end to the disputed exports, he denied any wrongdoing. Indeed, while Belarus took advantage of some loopholes in the mutually agreed rules on trade and re-export, the immediate users of those loopholes were Russian companies registered in Belarus. Addressing the question about excessive dependency on Russia, Lukashenka stated that the dependency is mutual and that it is an unavoidable consequence of Soviet developments whereby Belarus became specialized in the final stages of production cycles originating in Russia. Belarus, however, has diversified its trade links and is becoming increasingly reliant on local raw materials such as wood, potassium, granite and chalk.
During the interview, Lukashenka again repeated his favorite thesis that "[Belarusians] and Russians are historically one people." And he alleged that the West was punishing Belarus for its strong relations with its large eastern neighbor. Despite travel sanctions and some economic sanctions against Belarusian enterprises, Belarus maintains excellent conditions for freight transit and intercepting illegal immigrants who try to reach the West via Belarus. Lukashenka also reiterated his opinion that on December 19, 2010, the riot police in Minsk acted gently, not using any water cannons or tear gas of the kind repeatedly employed in the West against demonstrators. Belarus's President rejected a rumor that he is nurturing his successor and that the latter may be one of his children, and he pledged not to cling to power forever. He also departed from his earlier contention that political parties should not be boosted by changes in the electoral system. Moreover, he pledged to "nudge party-building" even though only 0.1 percent of Belarusians reportedly want to elect the MPs from the lists of candidates compiled by the parties. At present, in Lukashenka's opinion, only two full-fledged parties exist in Belarus—the Communist Party and Belarusian Popular Front.
While Lukashenka largely ignored the presence of the opposition in Belarus, the opposition continues to politically fixate on the president. Yet, Alexander Klaskovsky, a veteran opposition journalist, criticized an opinion dominant among opposition-minded Belarusians that getting rid of President Lukashenka is a goal important in and of itself. What is most important, according to Klaskovsky, is to prepare for a real fight for power that will commence after Lukashenka resigns. Otherwise a presidential hopeful nurtured by the Kremlin will prevail over any potential candidate from the ranks of the current opposition (https://naviny.by/rubrics/politic/2012/11/05/ic_articles_112_179789/).
Similarly, Yury Drakakhrust of the Belarusian Service of Radio Liberty (RL) opined that only someone with recent experience in Belarus's government, like the former Prime Minister Sergei Sidorsky, can realistically count on being elected the next president of Belarus (https://www.svaboda.org/content/article/24762321.html). Drakakhrust was refuting Siarhei Navumchik who thinks the opposition should put forward candidates who are political outsiders like Vaclav Havel of the Czech Republic, Lech Walesa of Poland or Zhelyu Zhelev of Bulgaria (https://www.svaboda.org/content/article/24764049.html). In his rebuttal, Drakakhrust criticized Navumchik for wishful thinking. The time of political outsiders has passed; everywhere in Eastern and Central Europe the existing systems of governance have been cemented and would not allow any upheaval of the kind that took place in the early 1990s. Drakakhrust also pointed to the fact that of all alternative presidential candidates who ran in 2001 (Vladimir Goncharik), 2006 (Alexander Milinkevich and Alexander Kozulin) and 2010 (nine candidates), the best electoral result ever was shown by Vladimir Goncharik (15 percent of the popular vote) precisely because he was the only former political insider with a career in Soviet-era administration and trade unions. Compared to Goncharik, the 2006 candidates as well as such 2010 presidential hopefuls as Andrei Sannikov, Vladimir Neklyaev and Nikolay Statkevich came across to ordinary Belarusians as creatures from the planet Mars, according to Drakakhrust. And no Martian will ever become president of Belarus (https://www.svaboda.org/content/article/24764259.html).