Amid Conflict with Bidzina Ivanishvili, Mikheil Saakashvili Returns to His Political Roots
Publication: Eurasia Daily Monitor Volume: 10 Issue: 40
By: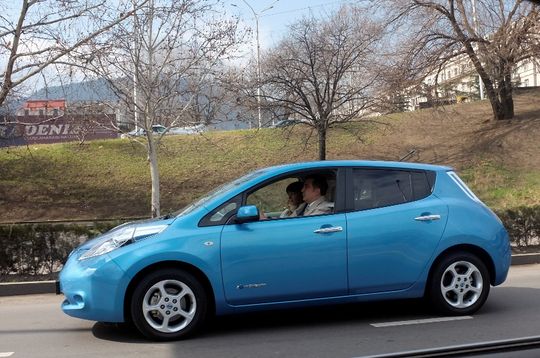 The political situation in Georgia in the past several weeks has rapidly deteriorated. Instead of co-habitation, the president and the prime minister of the country have reverted to playing a zero-sum game that may end in one of the sides completely losing and disappearing from the political landscape.
The presidential party, United National Movement (UNM), announced it would hold a large national rally on April 19 (https://www.civil.ge/eng/article.php?id=25775). The rally will take place along Rustaveli Boulevard by the previous parliament building, where all of the most important events in Georgia have taken place over the past 25 years. Both the civil war of 1991–1993 (https://www.onwar.com/aced/nation/gap/georgia/fgeorgia1991.htm) and the Rose Revolution of 2003 started on this spot.
In response, Bidzina Ivanishvili's government has initiated a criminal prosecution case against Tbilisi Mayor Gigi Ugulava, a close associate of President Mikheil Saakashvili. Ugulava is considered UNM's most likely candidate for the October 2013 presidential elections. "Accusations of party activists receiving municipal government positions and the illegal acquisition of controlling shares in the TV company Imedi are entirely groundless. Through these methods, the prime minister intends to take over Tbilisi's city administration," the leader of UNM's faction on the city council, Koki Ionatamishvili, told Jamestown. "Ivanishvili fears that Gigi Ugulava may be a serious contender for president during the elections. This is why Ivanishivili wants to put him in jail," independent expert Mikhail Tavkhelidze notes.
The court has refused to remove the mayor from his position or to apply any government sanctions against him (https://www.civil.ge/eng/article.php?id=25787). Yet, the pressure against Ugulava and other politicians associated with President Saakashvili is building up—in line with the general trend of the Ivanishvili government's efforts to discredit and gradually efface UNM from the political scene. Members of Ivanishvili's government do not even conceal their efforts. "We promised the voters that UNM's activities as an organization that supported the dictator [sic] would be investigated, and those who were guilty would be punished regardless of all the criticism of Saakashvili's Western friends against us," Koba Davitashvili, the chairman of the Party of the People and a member of parliament from the Georgian Dream (GD) coalition, remarked to Jamestown.
Negotiations over a possible UNM-GD compromise were stalled after the prime minister issued an ultimatum, demanding that Saakashvili approve constitutional reforms (https://www.civil.ge/eng/article.php?id=25789) that would strip the president of the power to form a government. In exchange, Georgian Dream made an offer to Saakashvili to end all criminal cases and provide a comprehensive amnesty to all members of UNM, if the party collectively pleads guilty and accepts a ban on political activities for the next five years. This would have meant essentially putting an end to UNM and to the political career of the 46-year-old Mikheil Saakashvili. "In turn, the president proposed to end the criminal prosecutions of members of his party, to retain the organization and provide some political future for himself, at least as an opposition figure," analyst Nika Imnaishvili, a blogger for the GHN news agency, told Jamestown.
However, it appears that Ivanishvili and his team members have allowed themselves to be influenced by individuals who completely rule out the possibility of any future return to Georgian politics for Saakashvili. A final straw that put the balance of political power in Georgia on display was when the bodyguard of Bidzina Ivanishvili, Anzor Chubinidze was appointed to head the state security service, which is responsible for the security of Georgia's top government officials (https://www.civil.ge/eng/article.php?id=25791). Consequently, the prime minister was able to establish full control over the government service that safeguards the president's travel throughout the country. Only the personal bodyguards of President Saakashvili are still under his control, but their financing has been cut substantially.
Saakashvili perceived Ivanishvili's move to be an open challenge, in essence transforming his personal guard service into a convoy that may be understood as a hint at a future investigation of the president. In response, Saakashvili renounced the security service, made up of hundreds of people and his personal guards, as well as decided to stop using government-issued vehicles, instead traveling via his own electric car. During his recent visit to Azerbaijan, he drove his electric car to the airport without his personal bodyguards, accompanied only by his wife Sandra Roelofs (https://www.kommersant.ua/doc/2138284). "If Ivanishvili is trying to turn my guards into his agents that follow me, then I do not need such an escort. I will drive the car myself and will travel without guards," the President stated.
Saakashvili's travel via his small car (https://www.youtube.com/watch?v=wSoJHQ1R4Q8) instead of in a large armored sport utility vehicle (SUV) reminded many of the first years after the Rose Revolution, when numerous Georgians called him "Misha" with adoration and his name symbolized democratic reforms in the former Soviet space. Back then, Saakashvili also often drove a car himself, made use of the popularity of his wife among the Georgian public, took economy-class flights when flying abroad, rode the metro and directly communicated with ordinary citizens.
The Rose Revolution served as a recognizable brand for the whole region. The leader of the Georgian revolution strolled in New York, ate hotdogs with US Secretary of State Colin Powell (https://www.svoboda.org/content/article/24194555.html), while President George W. Bush called Georgia "a beacon of liberty" for the region and the world (https://news.bbc.co.uk/2/hi/europe/4534267.stm).
Mikheil Saakashvili repeated many times that he considers those the best years of his life. Now, a decade later, will he be able to return to his political roots and again become a popular leader as well as a serious political contender for any existing authorities in Georgia? This is still an open question. The ancient saying goes: "You cannot step into the same river twice." However, Saakashvili has demonstrated his extraordinary political talent a number of times along with his ability to make the most of his strengths. "If [Vladimir] Putin himself failed to eliminate and drive me out of Georgia when his tanks were 20 kilometers from my residence, the current attempts of Ivanishvili in comparison to that danger are simply ludicrous," Saakashvili has remarked recently (https://newsland.com/news/detail/id/1129203/).