Andropov's Shadow over the Kremlin Clan Feuds
Publication: Eurasia Daily Monitor Volume: 9 Issue: 207
By: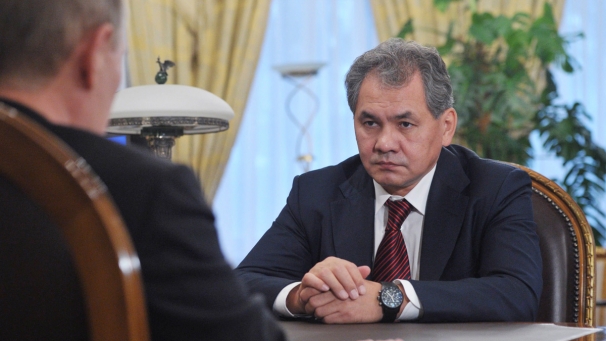 The Russian political class had hardly any time last week to contemplate the consequences of US President Barack Obama's re-election for a second term or to follow the tense atmosphere at the 18th Communist Party Congress in Beijing—it was the cutthroat clash of Kremlin clans that captured all the attention. That President Vladimir Putin has launched a major cadre reshuffle so soon after forming the new government in May is in itself unexpected; but what makes this round of hiring and firing really unique is that every supreme decision is being driven by force majeure (Vedomosti, November 7; Gazeta.ru, November 9). Defense Minister Anatoly Serdyukov was trapped in a skillfully advertised corruption scandal. Sergei Shoigu was the only strong candidate for the vacant position, and that necessitated further replacements, including the Chief of the General Staff, the governor of Moscow region, and the "whip" for the United Russia faction in the State Duma—none of which Putin was keen to make, but had to in order to demonstrate his dominance over the feuding gangs of courtiers and bureaucrats (Kommersant, November 10).
From what can be gathered from the poorly informed debates, Putin had complete trust in Serdyukov's loyalty and wanted to keep him in the job, to which he was unexpectedly promoted in February 2007—the same month that Putin made his famous "Munich speech," signaling readiness to take a tougher stance vis-à-vis the treacherous West (Nezavisimaya Gazeta, November 7). Serdyukov succeeded far beyond expectations in forcing radical reforms on the rigidly conservative military system, but what Putin valued particularly was the intense hatred that the minister attracted among the rank and file (Novaya Gazeta, November 9). Real problems for Serdyukov arrived with the approval of the massive rearmament program in 2010—Putin was worried that this heavy investment effort would be wasted and made his resourceful silovik responsible for ensuring the delivery of contracted modern weapons. Conflicts with directors of defense-industrial enterprises erupted predictably, and Putin played the role of benevolent arbiter harvesting the votes of "patriotic" workers (Ezhednevny Zhurnal, Kommersant, November 9). It did not take long for such heavyweights in the industrial lobby as Sergei Chemezov (the chief of Rostekhnologii corporation) to conclude that the irritating control over their appetites needs to be eliminated; their plot quite possibly involved support from the head of the presidential administration (and former defense minister) Sergei Ivanov and the outspoken Deputy Prime Minister Dmitry Rogozin. Consequently, Serdyukov was terminated with extreme prejudice (Moscow Echo, November 10).
Corruption scandals in Russia are a dime a dozen, and many ministers, for instance First Deputy Prime Minister Igor Shuvalov, have survived them with hardly a scratch. What made Serdyukov's case different was not the scale of embezzlement, which in the current investigation on under-pricing of released buildings and assets is in the range of a few hundred million dollars. Nor was this case's uniqueness tied to Serdyukov's alleged romantic involvement with the woman in charge of these sell-offs (Kommersant, November 8). The difference was in the instant revelation of all the juicy details in the TV news programs. While Putin's commitment to family values is ambivalent, his belief in the power of TV propaganda is unshakable. So he opted for sacrificing Serdyukov rather than sheltering him, to preserve the television propaganda's credibility (Ezhednevny Zhurnal, November 6). How this brazen coup against Putin's cadre policy was executed may never be known. But it is characteristic that the parallel investigation in the Roskosmos agency on misappropriating money allocated for the GLONASS satellite navigation program, which was Sergei Ivanov's pet project, has had a minuscule media profile (Kommersant, November 10). The fog of corruption scandals in Moscow is so thick that even the recent breakthrough $4.2 billion deal on selling arms to Iraq has been thwarted (Newsru.com, November 11).
The appointment of Shoigu was probably intended to prove that Putin remains able to deny the plotters the fruits of their victory by empowering the defense ministry to be able to take an even tougher stance in armaments bargaining. However, it may have a bouquet of unintended consequences (Nezavisimaya Gazeta, November 8). Shoigu is the only politician in Russia with an independent support base and high approval ratings, and his warm personal relations with Putin do not amount to blind loyalty. The top brass have instantly embraced the new minister, knowing that though he demands professionalism and discipline, he has a weakness for sycophancy and his own larger-than-life portraits on display (Moscow Echo, November 9). Shoigu retains effective control over the emergencies ministry, which he commanded for 20 years, and convinced Putin to appoint as his replacement in the position of Moscow region governor Andrei Vorobyev, an up-and-coming member of the "Shoigu family" (Moskovsky Komsomolets, November 8). What emerges from these intrigues is a super minister who controls not only vast financial flows but also many thousands of men under arms and has a greater authority than Prime Minister Dmitry Medvedev; small wonder that the talk in Moscow is about Shoigu as the obvious successor to Putin (Kommersant-FM, November 8).
The suddenly diminished and frail president may think that his cadre decisions are akin to the shake-up of the Soviet bureaucracy undertaken by his role model Yuri Andropov, who assumed the position of General Secretary of the Communist Party after Leonid Brezhnev's death exactly 30 years ago. In fact, however, Putin produces just further proof of the futility of attempts to reinvigorate corrupt authoritarian regimes by purging the most arrogant clans and fanning public expressions of patriotism and preferences for stability. Tougher repressions against the opposition come in the same package, but Putin does not understand the resentment and outrage that his "show trials" generate—he lacks knowledge about the chagrin in the ruling elite, which evacuates its fortunes to the West and perceives the "supreme arbiter" as a capricious and languid egocentric. Putin is scheduled but cannot really hope to break Brezhnev's record of clinging to power for 18 years. Whereas, the two qualities that underpinned Andropov's short reign—respect and fear—have gone missing. His courtiers are now driven by a different fear—of going down together with the sorry supremo—and it is a pro-active driver.